Maury Wills is looking forward to working with Yasiel Puig in spring training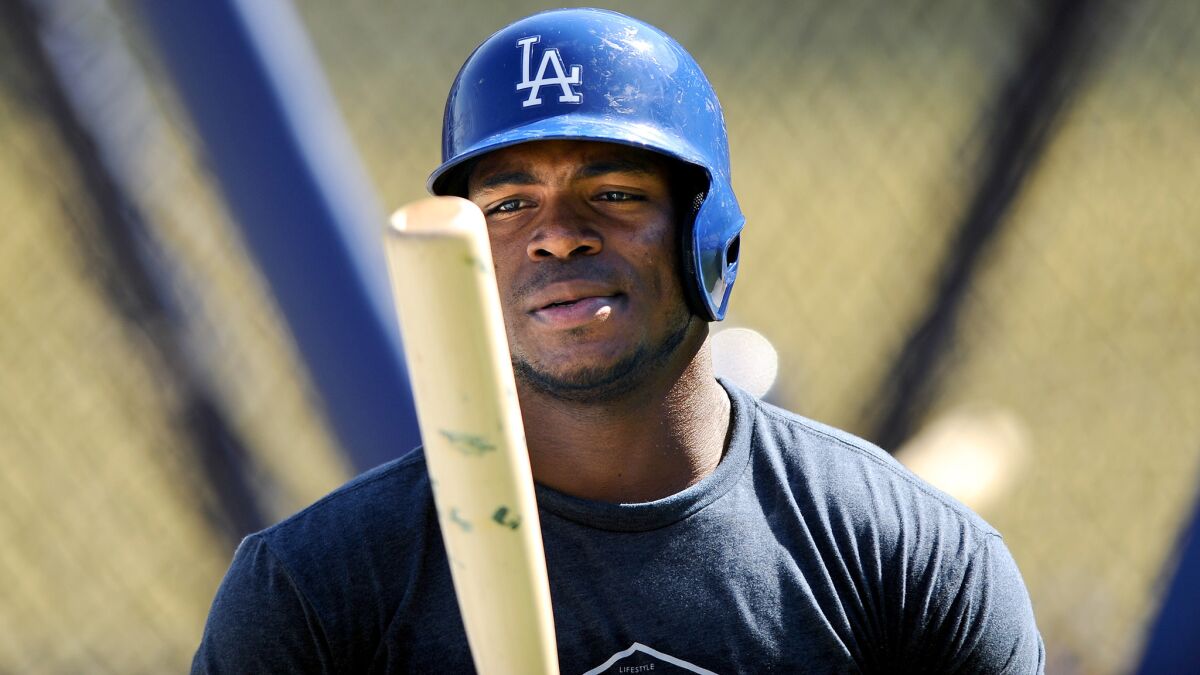 Maury Wills was 18 when he first reported to the Dodgers, as a prospect bound for the Class D Hornell (N.Y.) Dodgers, in 1951.
He is 83 now, still excited about reporting to spring training. He'll join the Dodgers when they assemble at Camelback Ranch in Arizona next month, with one particular player on his mind.
"One thing I look forward to in spring training is working with Yasiel Puig," Wills said. "He asked me to work with him. Whenever a player asks you, you know that you are more than halfway there. You got him. It's when you have to go and pull him out of the clubhouse that it's difficult.
"Puig has a lot of talent. I just hope and pray that we don't trade him. I feel I can turn him around, because of what I have been through."
Wills said he is excited about helping a onetime protege, Dave Roberts, the Dodgers' new manager, who wears No. 30 in tribute to Wills.
"My hope and prayer is that I get to work with the entire team on baserunning," Wills said. "Good baserunning wins more ballgames than any other facet of the game. I'm not talking about base stealing. Base stealing is for a select few. But baserunning is for everybody.
"The slowest runner on the team can be the best baserunner. Baserunning is just getting the most of what you have to work with, going from first to third on base hits you should go from first to third on, scoring on base hits you should score on, because you know what to do and how to do it."
The Dodgers acknowledged their weakness in that area last August, hiring Ron Roenicke as third-base coach and directing him to emphasize aggressive baserunning. Roenicke interviewed to become the Dodgers' manager, then rejoined the Angels as third-base coach.
Said Wills: "Pitching will go into a slump. Hitting will go into a slump. Fielding will go into a slump. Baserunning will always be there. I want to give that to Dave Roberts and the Dodger team this year, and I hope and pray that the front office lets me do it."
---
Get our Dodgers Dugout newsletter for insights, news and much more.
You may occasionally receive promotional content from the Los Angeles Times.