Column: Matt Kemp doesn't seem to fit in Dodgers' big picture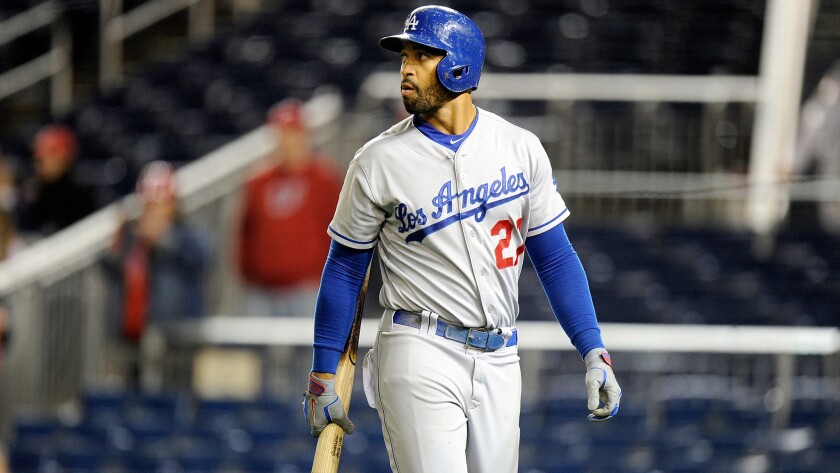 Matt Kemp sat up in his chair, paying rapt attention to the clubhouse television. The MLB Network was on the air, the Dodgers' starting lineup was on the screen, and Kemp could not help but notice whose name was missing.
His, for the fifth consecutive game.
These are uneasy times for Kemp, the latest odd man out on the team with too many outfielders.
In 2010, Joe Torre benched Kemp for several games, then said Kemp would have to come to him to get back in the lineup. Torre was the old-school manager, and he and Kemp did not hit it off. Don Mattingly, his protege, was heralded as a manager for the modern era, for a generation of players raised on constant communication and feedback, not a grunt and a nod at the lineup card.
On Tuesday, Mattingly said Kemp would have to come to him in to get back into the lineup.
"It's a matter of him saying, 'I'm comfortable, I'm ready to go,' " Mattingly said. "If he tells us he's comfortable, we'll go from there."
The Dodgers removed Kemp from center field last week, frustrated by his defensive shortcomings this season, and handed the position to Andre Ethier. They told Kemp to start working out in left field, where he has started eight games, all in 2006.
On Tuesday afternoon, Kemp worked out in left field. He spoke briefly, before Mattingly did, and scoffed at the question of whether he would be comfortable in left.
"I played left field in one game, man," he said, exaggerating to make his point. "I just want to play. It doesn't matter where I play."
Dave Stewart, the agent for Kemp, said he had been told by Dodgers General Manager Ned Colletti that Kemp would play some left field and center field. The Dodgers have played 44 defensive innings since then; Kemp has not played in any of them.
"He gave his body up for the organization," Stewart said. "He didn't ask to be in this situation in the first place."
When left fielder Carl Crawford left Tuesday's game, Scott Van Slyke replaced him.
Kemp emerged as one of baseball's brighest stars in 2011, when he batted .324 and finished one home run shy of a 40-40 season. Former owner Frank McCourt then signed Kemp to an eight-year, $160-million contract, hailed at the time as a wise investment in a young cornerstone.
Kemp hit 12 home runs the next April, then hit the disabled list in May. He was on the disabled list twice in 2012, three times last season and once already this season.
"I'm not in a position to make out the lineup," Stewart said. "In my opinion, he's capable of playing every day, no doubt about that."
Kemp is batting .264 with five home runs, fourth on the team behind Adrian Gonzalez, Yasiel Puig and Hanley Ramirez. But Kemp leads all major league center fielders with four errors, and advanced fielding metrics rank him at or near the bottom at the position.
Mattingly does not consider Kemp to be the defensive player he was before ankle and shoulder surgeries, but said he believes Kemp "has a chance" to recover his skill and confidence in the field.
As a group, the Dodgers' outfielders — primarily Puig, Crawford, Ethier, Kemp, and Van Slyke — rank among the top five in the major leagues in batting average, home runs, stolen bases, on-base percentage and slugging percentage.
"Our offense has been really good, in all spots, no matter who is out there," Colletti said. "I think it's a strength of ours."
That strength could be sapped with discontent in the clubhouse. Mattingly grew increasingly testy in his pregame meeting with the media Tuesday, at least so long as the Kemp questions persisted.
Colletti would not say whether he considered the outfield surplus a short-term or long-term situation.
"All I think about every day is how the Dodgers can win a game," he said. "That's all I really concern myself with."
Indeed, the short-term situation changed during Tuesday's game, when Crawford sprained his left ankle. He could go on the disabled list for the fifth time in four seasons, and Kemp could become the Dodgers' starting left fielder as soon as Wednesday.
The Dodgers are in no hurry to trade Kemp, or anyone else in their outfield, in large part because of the injury histories of Kemp and Crawford. Of course, their most advanced prospect is a highly regarded triple-A center fielder, Joc Pederson.
On the final night of last season, as the Dodgers' clubhouse slowly emptied in St. Louis, one of the pitchers approached Ethier and said he hoped to see Ethier back in center field this season. If the Dodgers' management now has come to the same conclusion, that Ethier is the best center fielder on the roster, then this might not end well for Kemp, at least not in Los Angeles.
Twitter: @BillShaikin
---
Get our Dodgers Dugout newsletter for insights, news and much more.
You may occasionally receive promotional content from the Los Angeles Times.