Three calls that are arguably Vin Scully's all-time best
Vin Scully called Sandy Koufax's perfect game and Los Angeles Times sports columnist Bill Plaschke thinks the call was also perfect.
His favorite call
It's a round number, and it's astounding: Vin Scully has called close to 10,000 Dodgers games. To ask Scully to identify his favorite call — one call, from one of those thousands of games — would appear to be a question best suited for one of his famously diplomatic answers. How, after all, could he pick only one?
But he did.
"I've been fortunate that I've been present at a lot of great events," Scully said. "I think, because I was so much younger and more impressionable and vulnerable to emotion, it was when the Brooklyn Dodgers won their only world championship.
"I had felt the frustration. I had known these players all those years. Plus, I was 25 years old.
"There have been [Kirk] Gibson and [Hank] Aaron and all, down the line. But that's probably the one I'll remember the most."
The year was 1955. At the time, players did not earn stratospheric salaries. They got jobs when baseball was out of season. They lived, year-round, in the communities in which they played.
Scully befriended them. He lived where they did, worked where they did, was as old as they were. And, because he grew up in New York, Scully was painfully aware of the legacy of a club once known as the Brooklyn Bridegrooms. Never had they won the World Series.
The Dodgers had gone to the World Series in 1941, 1947, 1949, 1952 and 1953 — every time against their New York neighbors, the Yankees. The Dodgers lost, every time.
On Oct. 4, 1955, the Dodgers won the World Series. They beat the Yankees.
"For one great big moment, to be able to say — in fact, I said, on the last out — 'Ladies and gentlemen, the Brooklyn Dodgers are the champions of the world.' And I never said another word," Scully said.
"And all that winter, people would say, 'How could you have been so calm?' And the answer was, I wasn't calm. I could not have said another word without starting to cry. It was that emotional for me, knowing all these players and how they had missed in so many years."
Dodgers broadcaster Vin Scully looks over Dodger Stadium before a game on July 3, 2012. Scully has worked as an announcer for the Dodgers organization for more than six decades.
(Gary Friedman / Los Angeles Times)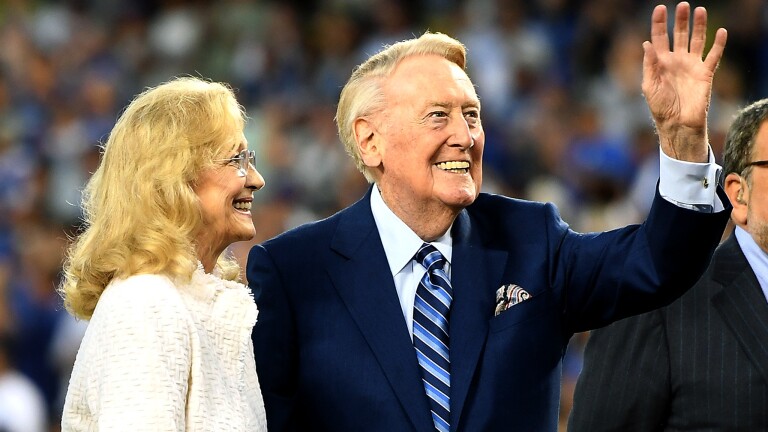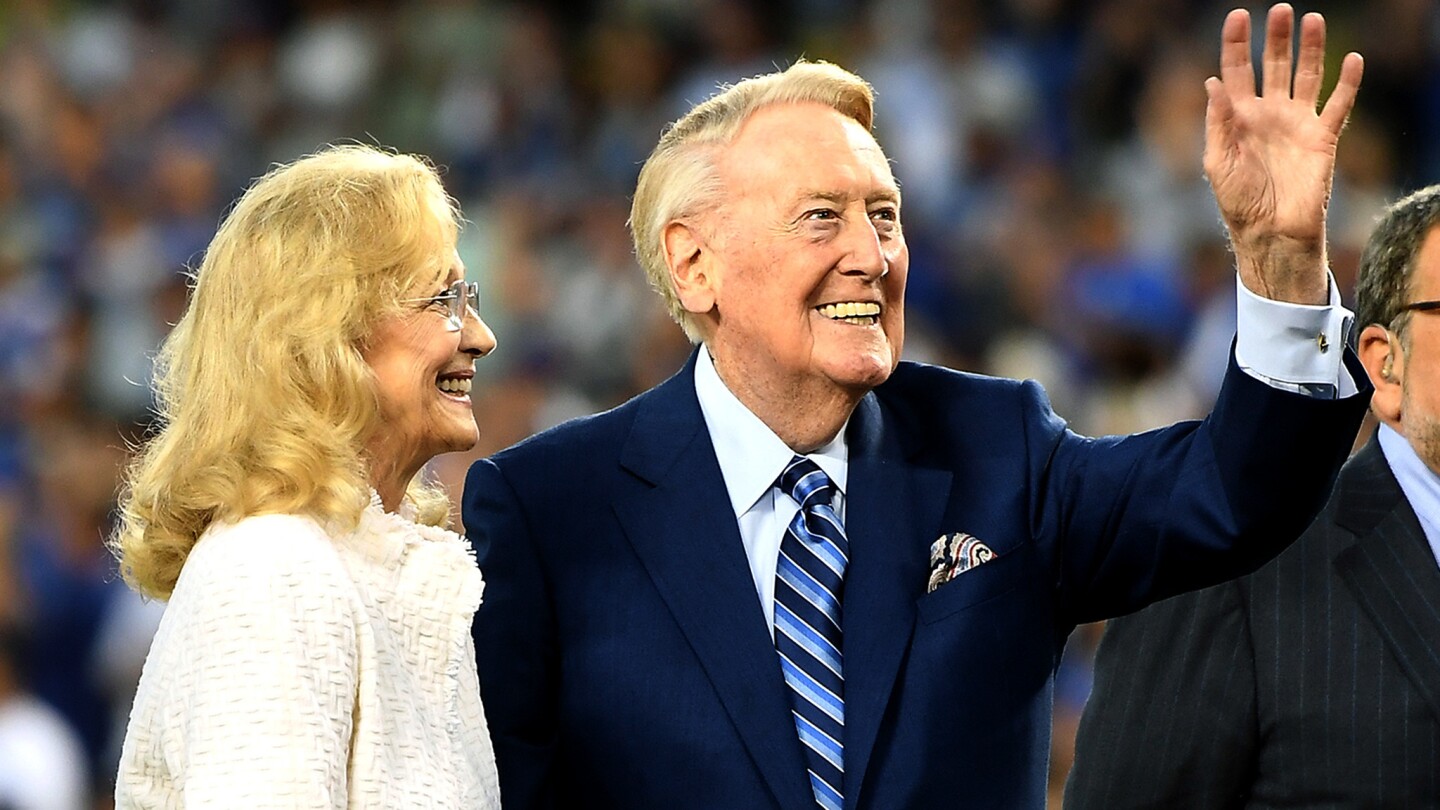 Vin Scully, with wife Sandi at his side, waves to the crowd during a ceremony honoring the Dodgers broadcaster before the game Sept. 23, 2016, at Dodger Stadium.
(Wally Skalij / Los Angeles Times)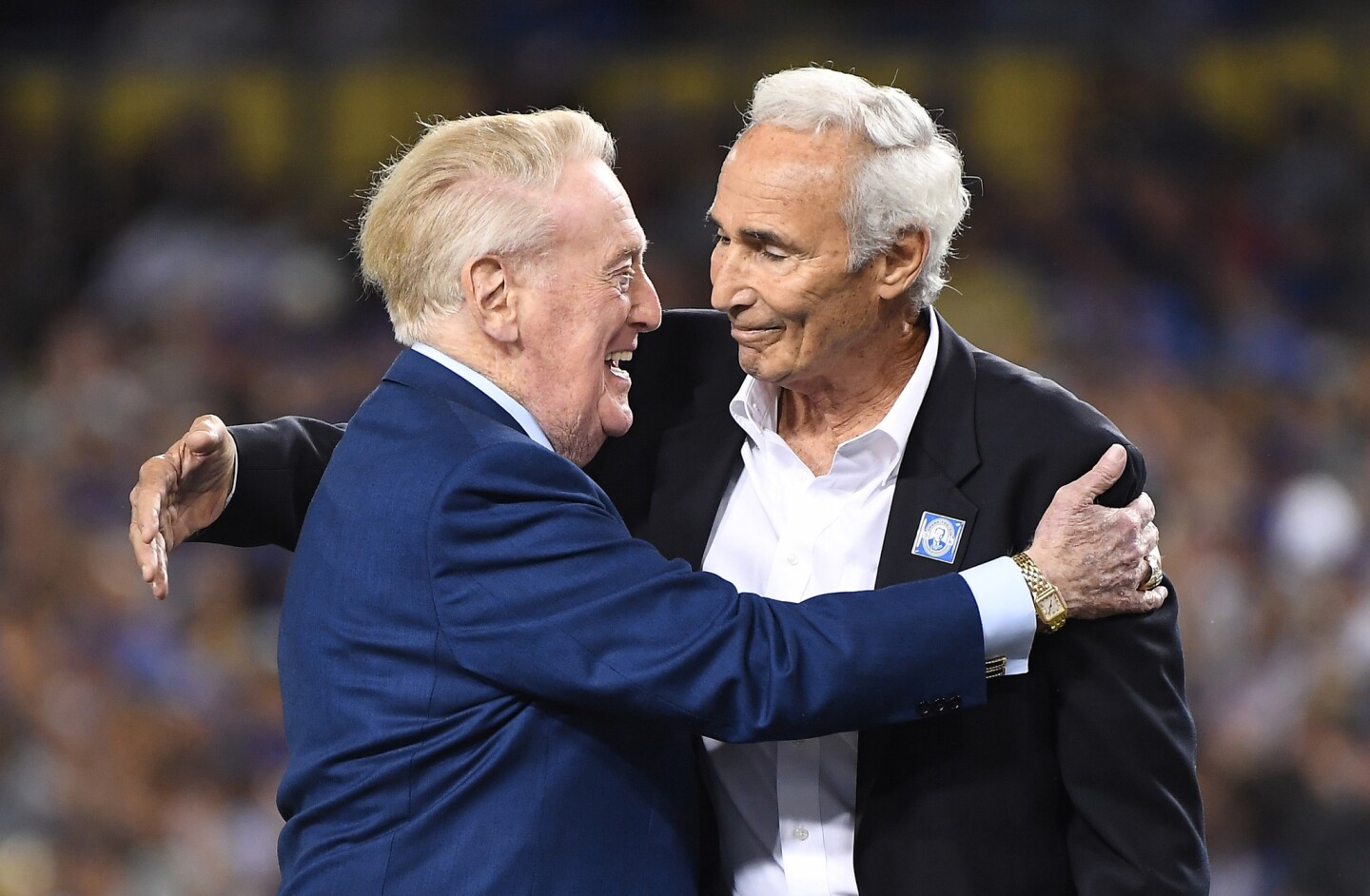 Vin Scully and Hall-of-Fame pitcher Sandy Koufax embrace during the pregame ceremony honoring the Dodgers broadcaster on Sept. 23, 2016.
(Wally Skalij / Los Angeles Times)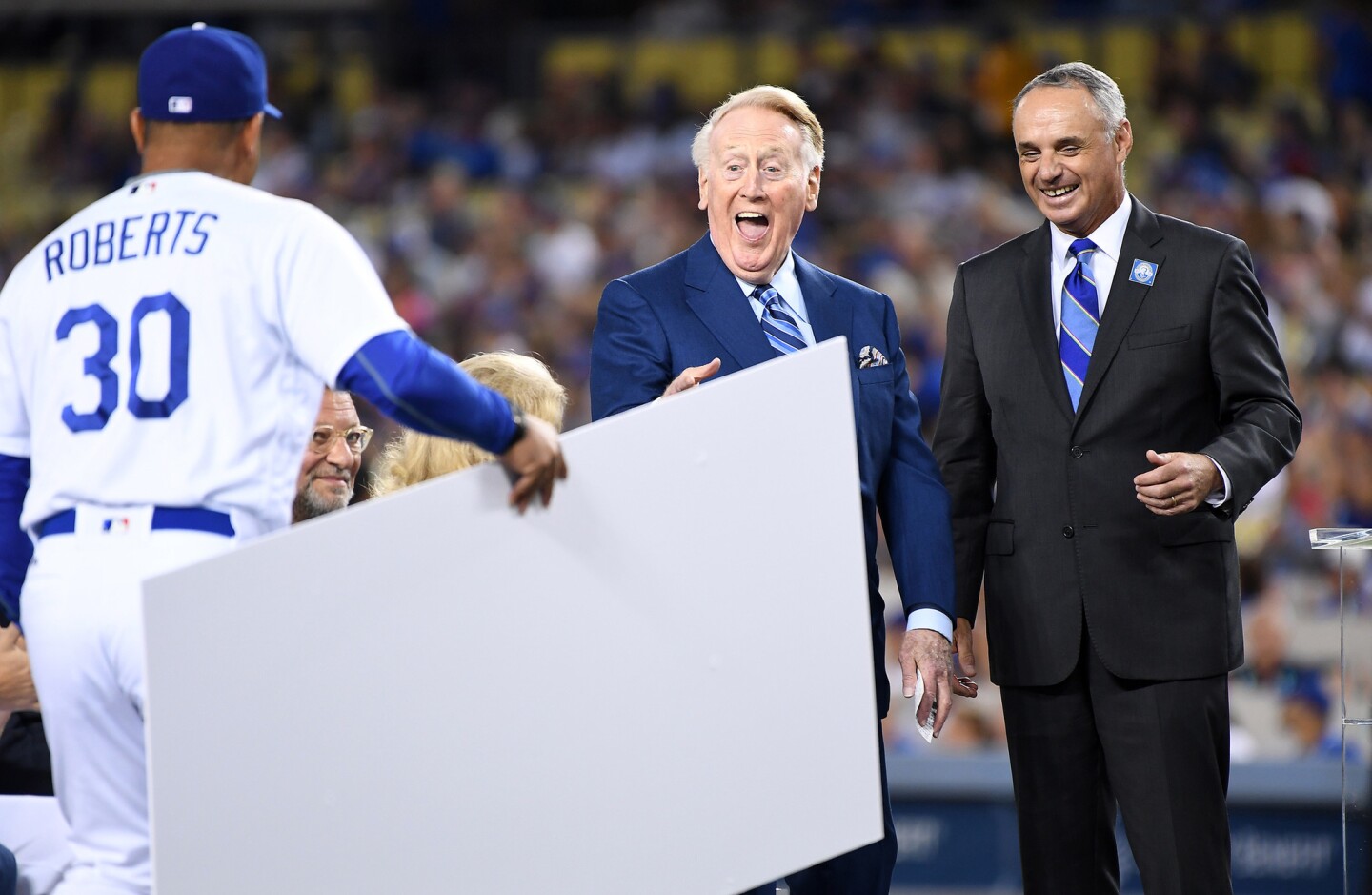 Dodgers Manager Dave Roberts (30) joins MLB Commissioner Rob Manfred, right, in presenting a check to Vin Scully to be donated to the Dodgers broadcaster's favorite charity during a pregame ceremoney Sept. 23, 2016.
(Wally Skalij / Los Angeles Times)
Vin Scully speaks to family, friends and fans during a pregame ceremony honoring the legendary Dodgers broadcaster Friday night.
(Wally Skalij / Los Angeles Times)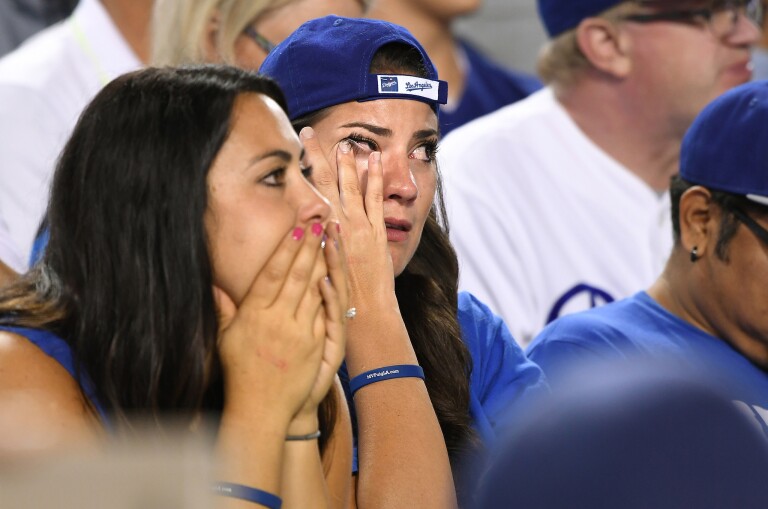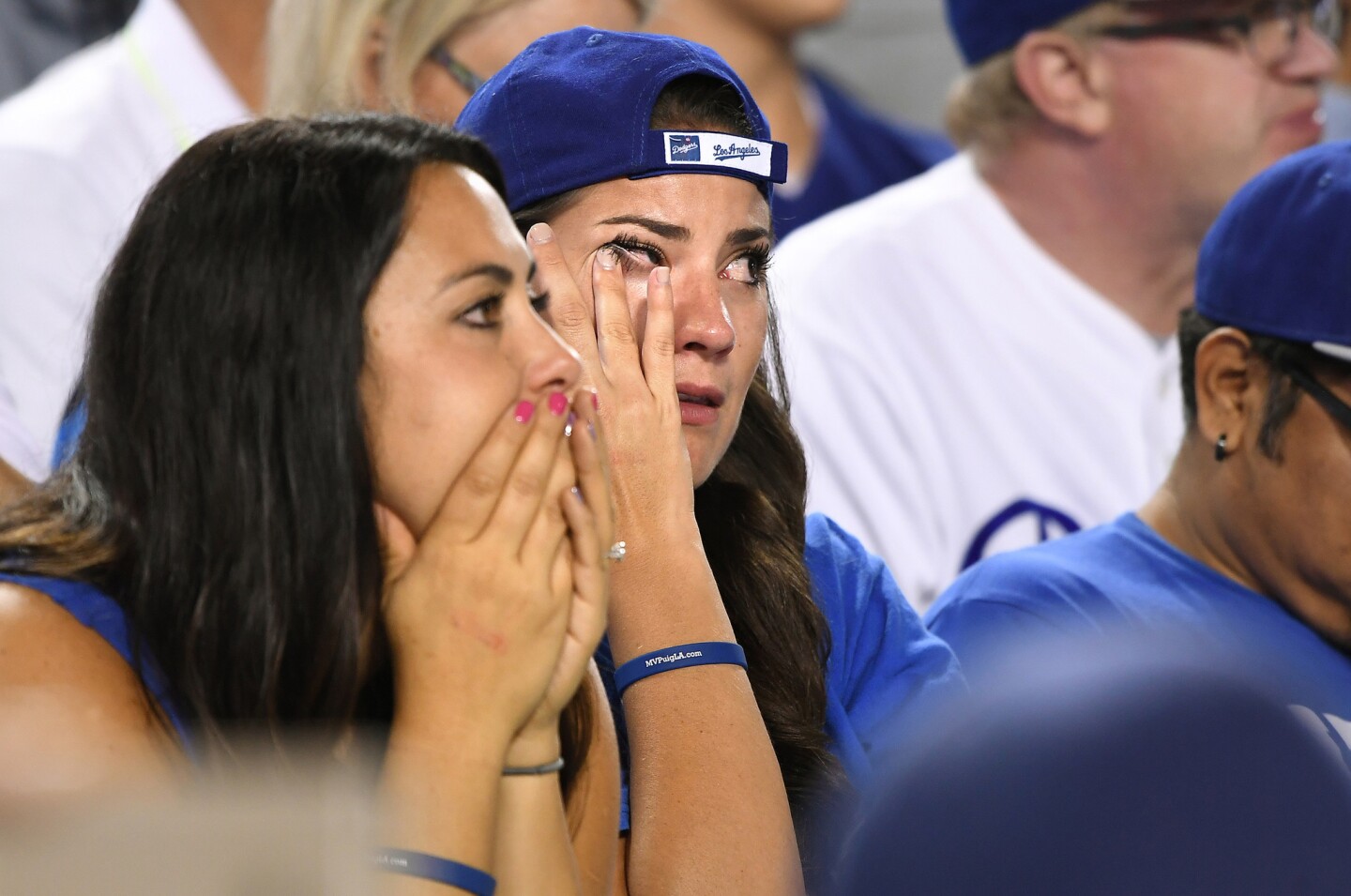 Fans wipe away tears during the pregame ceremony honoring Dodgers broadcaster Vin Scully.
(Wally Skalij / Los Angeles Times)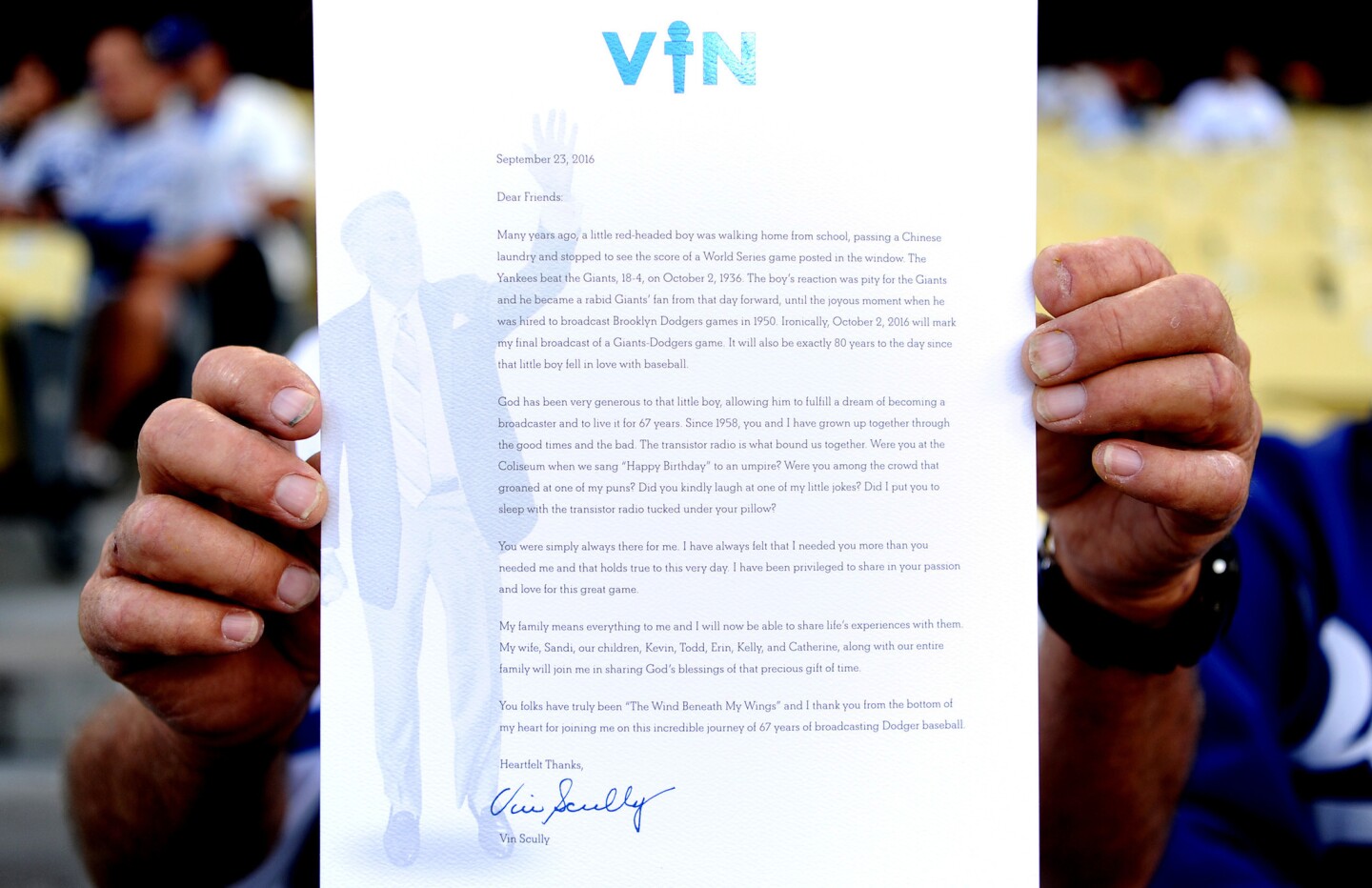 A fan holds a letter from Vin Scully that was given out before the Dodgers game on Friday night.
(Wally Skalij / Los Angeles Times)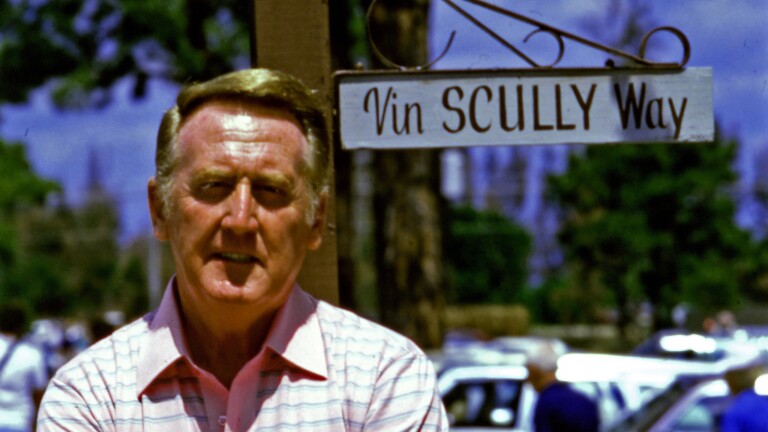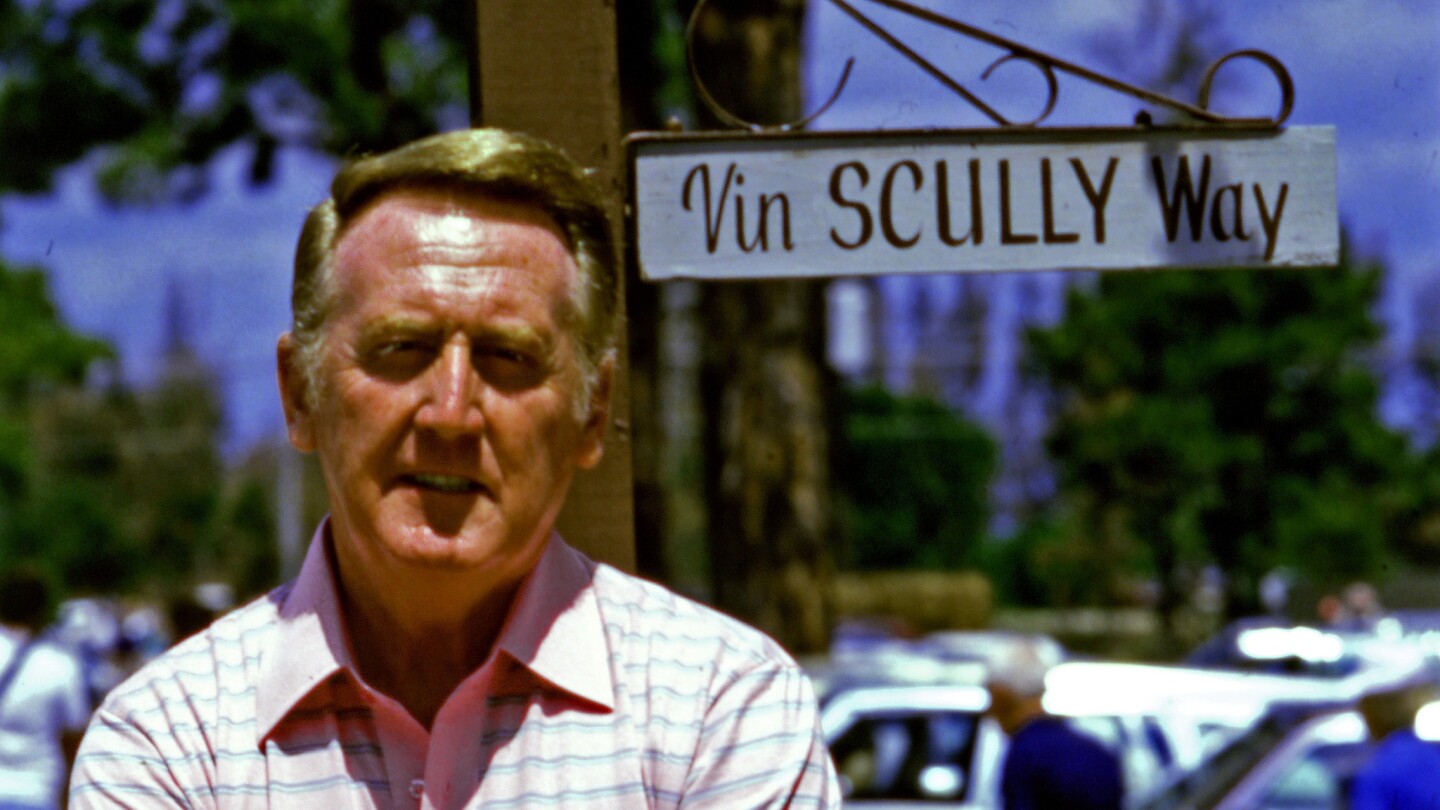 Vin Scully stands in front of street sign marking "Vin Scully Way" at the Dodgers' spring training complex in Vero Beach, Fla., in 1985.
(Jayne Kamin / Los Angeles Times)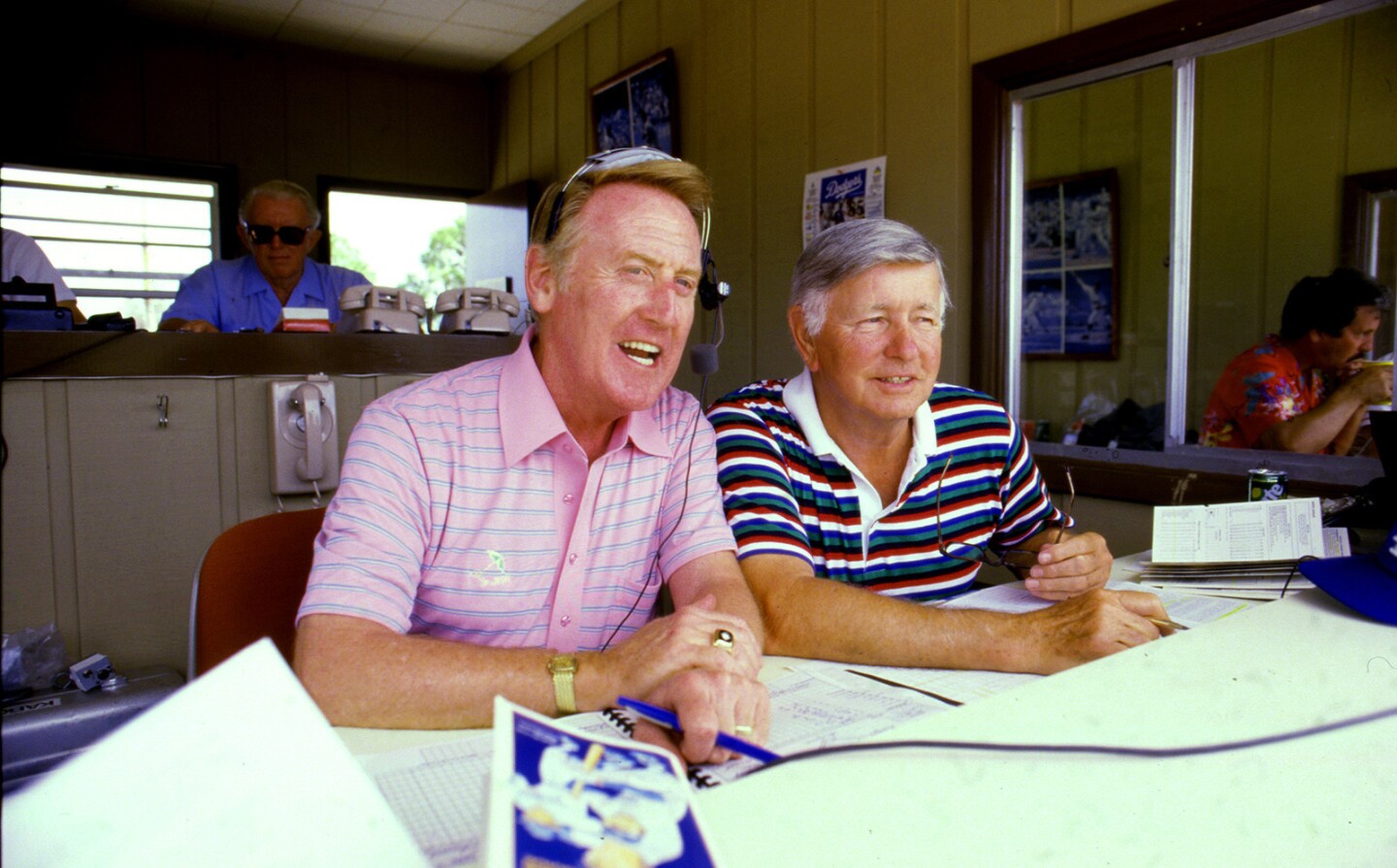 Vin Scully with Jerry Doggett in the announcer's booth at Dodgertown during spring training in Vero Beach, Florida on April 8, 1985.
(Jayne Kamin / Los Angeles Times)
Vin Scully, center, poses for a photo with Dodgers pitching greats Don Drysdale, left, and Sandy Koufax during spring training in Vero Beach, Fla., in 1985.
(Jayne Kamin / Los Angeles Times)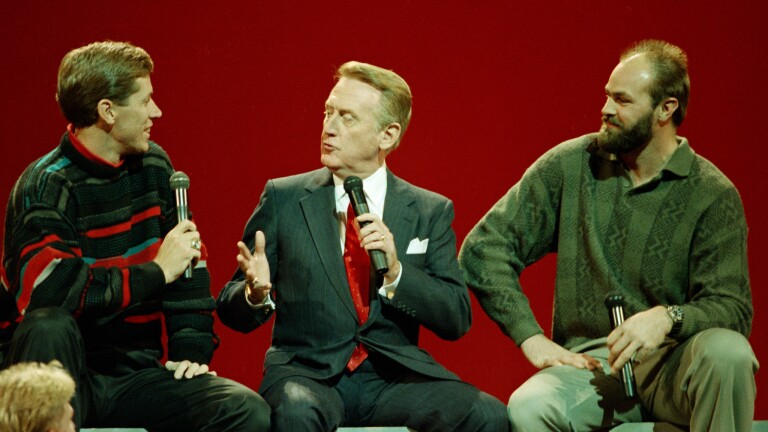 Vin Scully speaks to Dodgers pitcher Orel Hershiser, left, as Dodgers outfielder Kirk Gibson listens during a November 1989 charity benefit.
(Steve Lowry / Associated Press)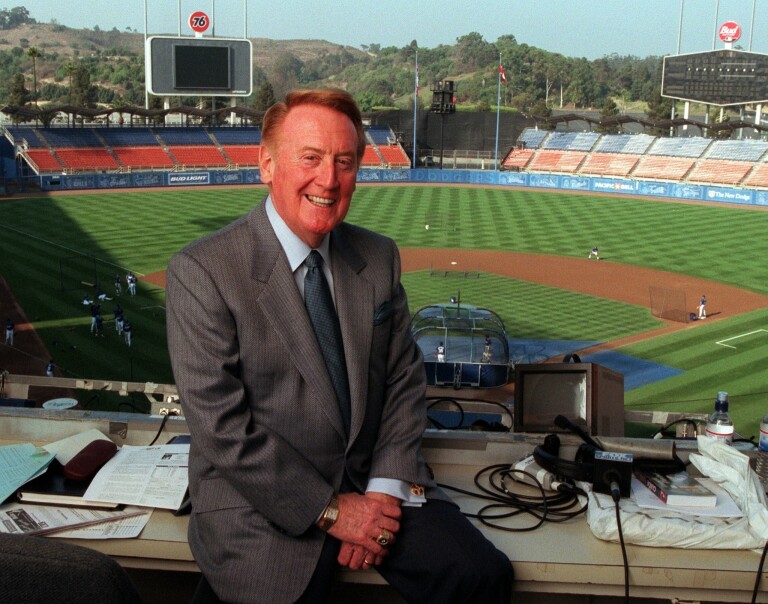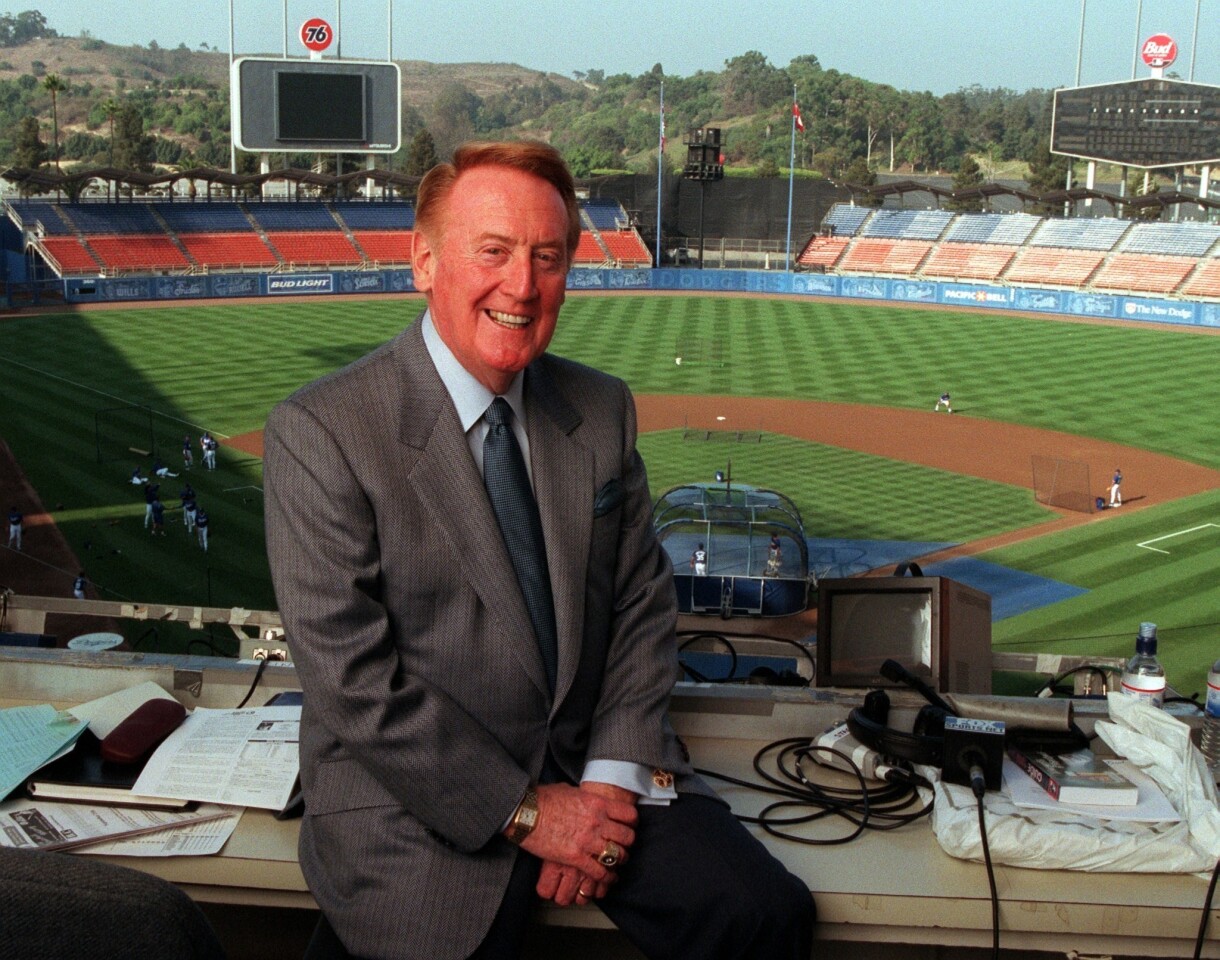 Vin Scully sits in the broadcast booth at Dodger Stadium in September 1999. Scully's talents have landed him speaking roles in several baseball-themed movies and television shows. He even served as a game show host.
(Bob Carey / Los Angeles Times)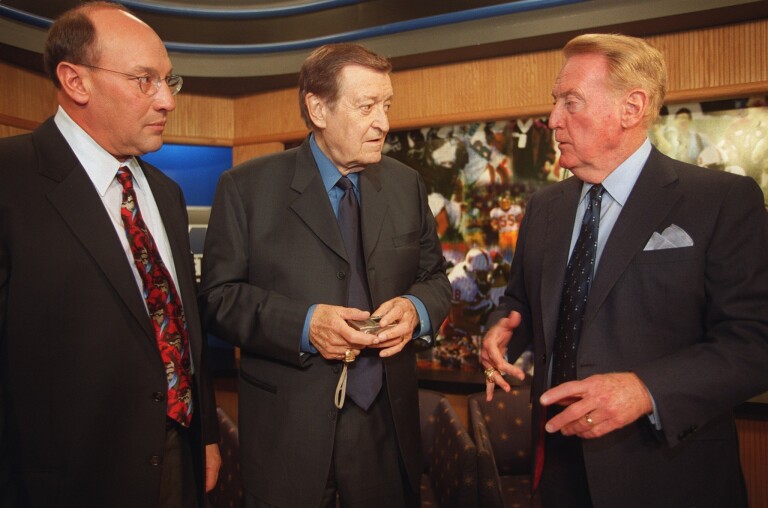 From left, longtime Kings announcer Bob Miller, legendary Lakers announcer Chick Hearn and Dodgers broadcaster Vin Scully talk before a show for Fox Sports in December 2000.
(Annie Wells / Los Angeles Times)
Vin Scully has broadcast Dodgers games since before the team moved to L.A. in 1958.
(Genaro Molina / Los Angeles Times)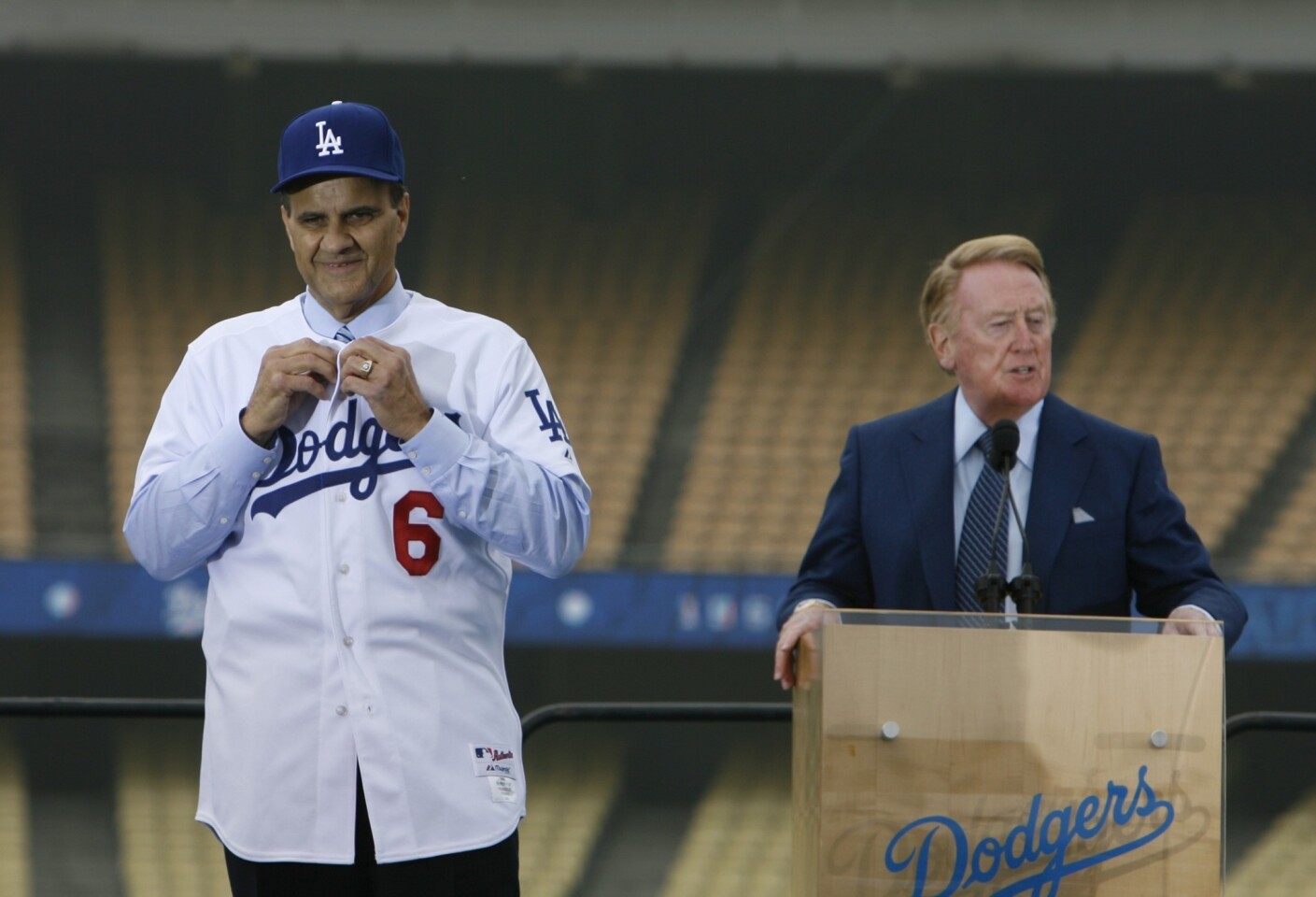 Vin Scully speaks during manager Joe Torre's introductory news conference at Dodger Stadium in November 2007.
(Rick Loomis / Los Angeles Times)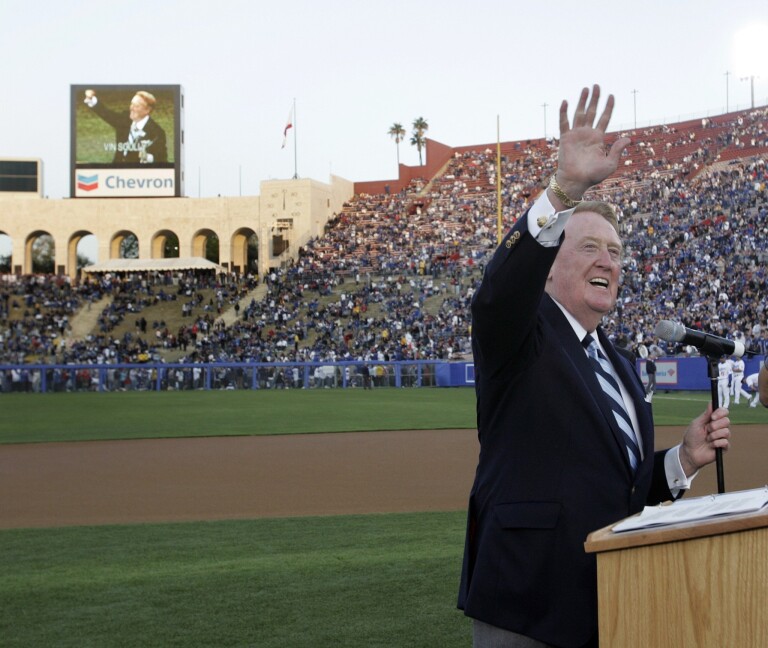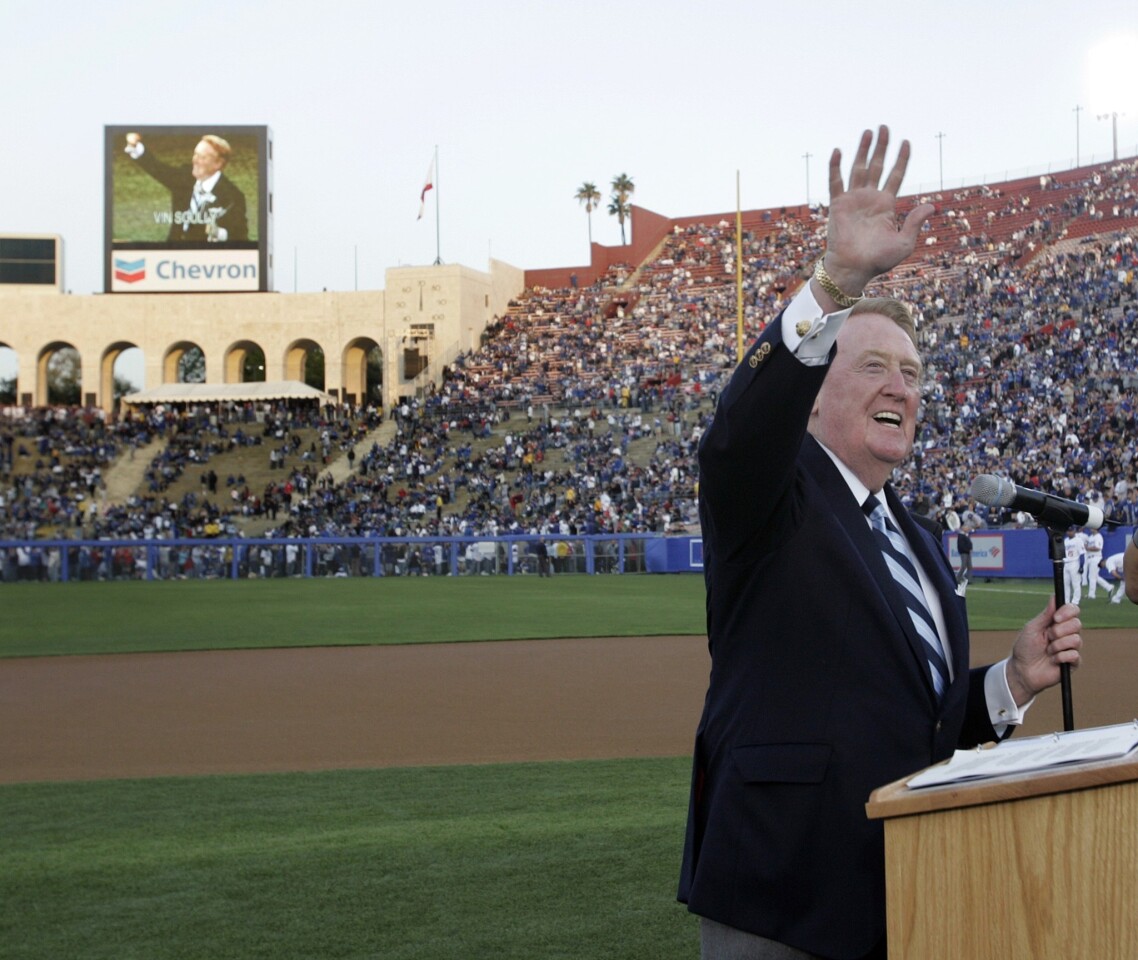 Vin Scully acknowledges the crowd after receiving a standing ovation before a game between the Dodgers and Boston Red Sox at the Coliseum in March 2008.
(Lori Shepler / Los Angeles Times)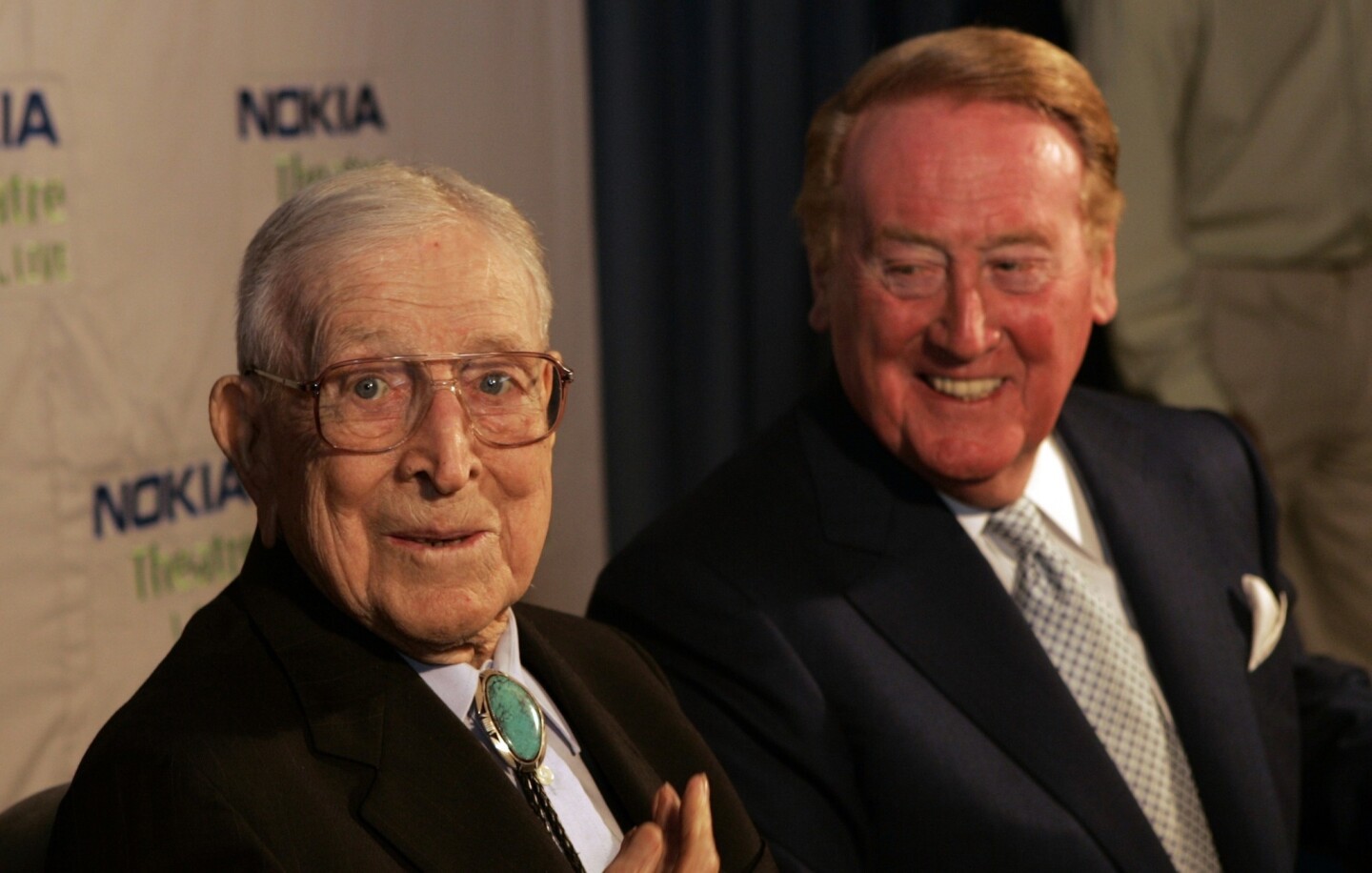 Vin Scully listens to legendary UCLA coach John Wooden at an interview in June 2008.
(Lori Shepler / Los Angeles Times)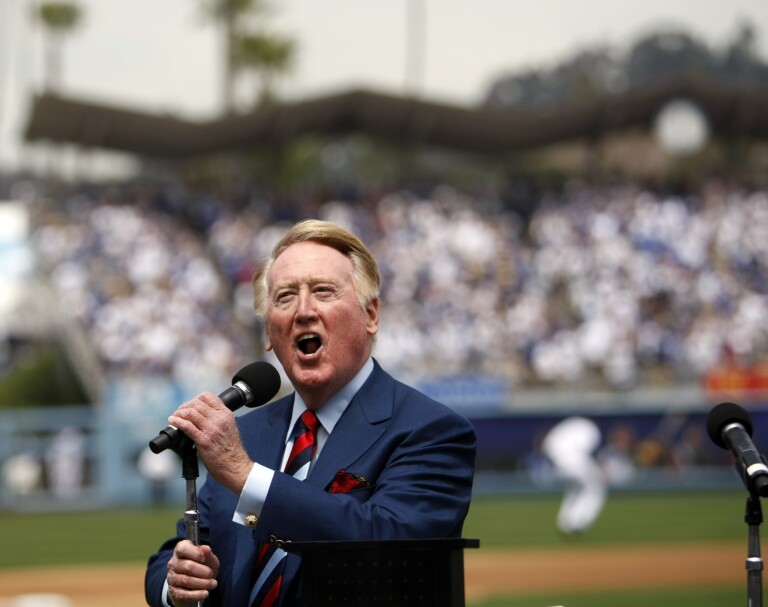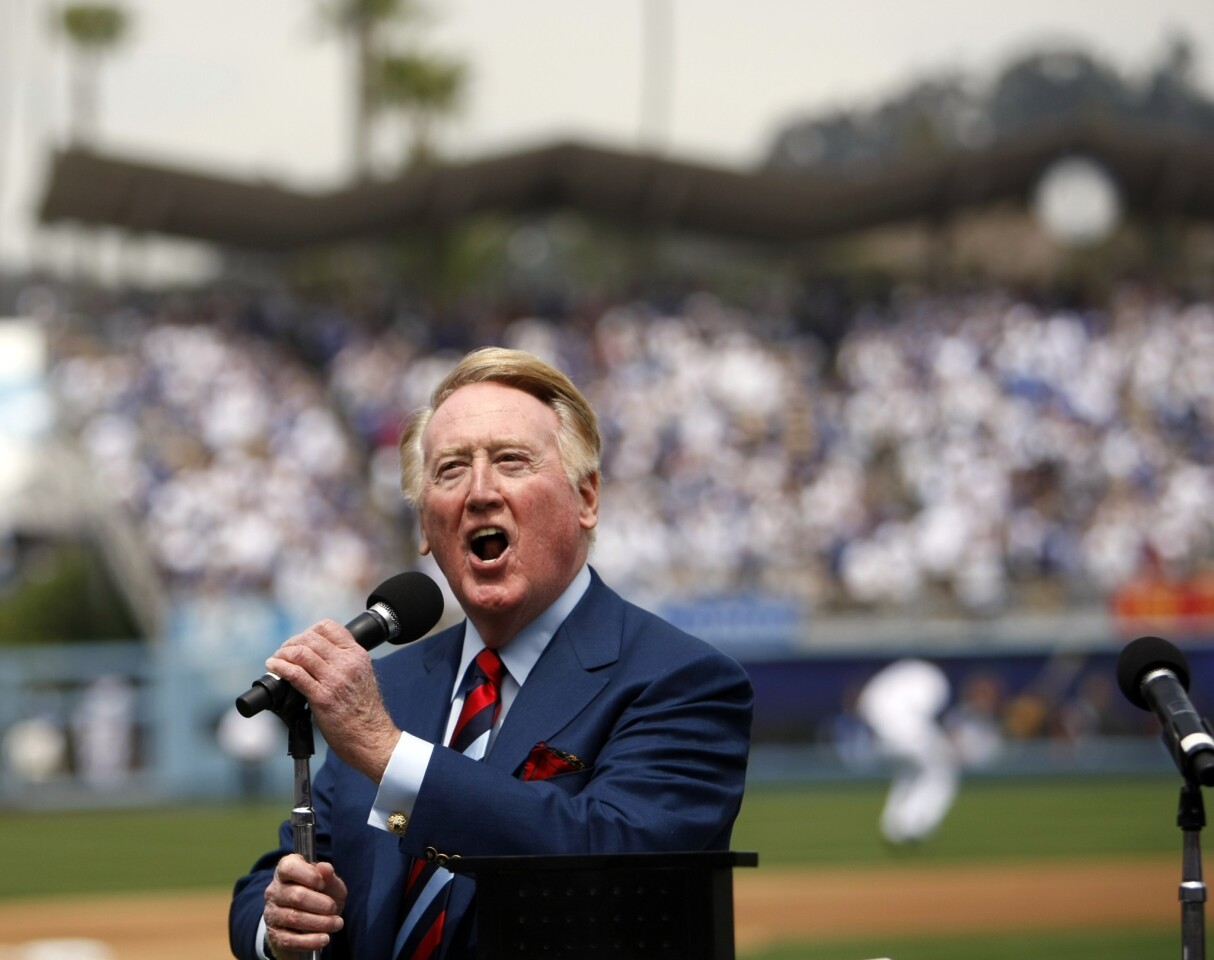 Vin Scully announces, "It's time for Dodgers baseball," before the team's season opener against the San Francisco Giants in April 2009.
(Allen J. Schaben / Los Angeles Times)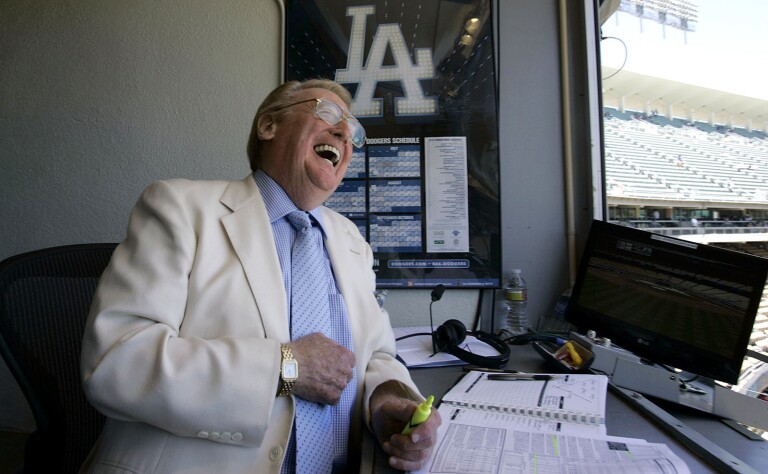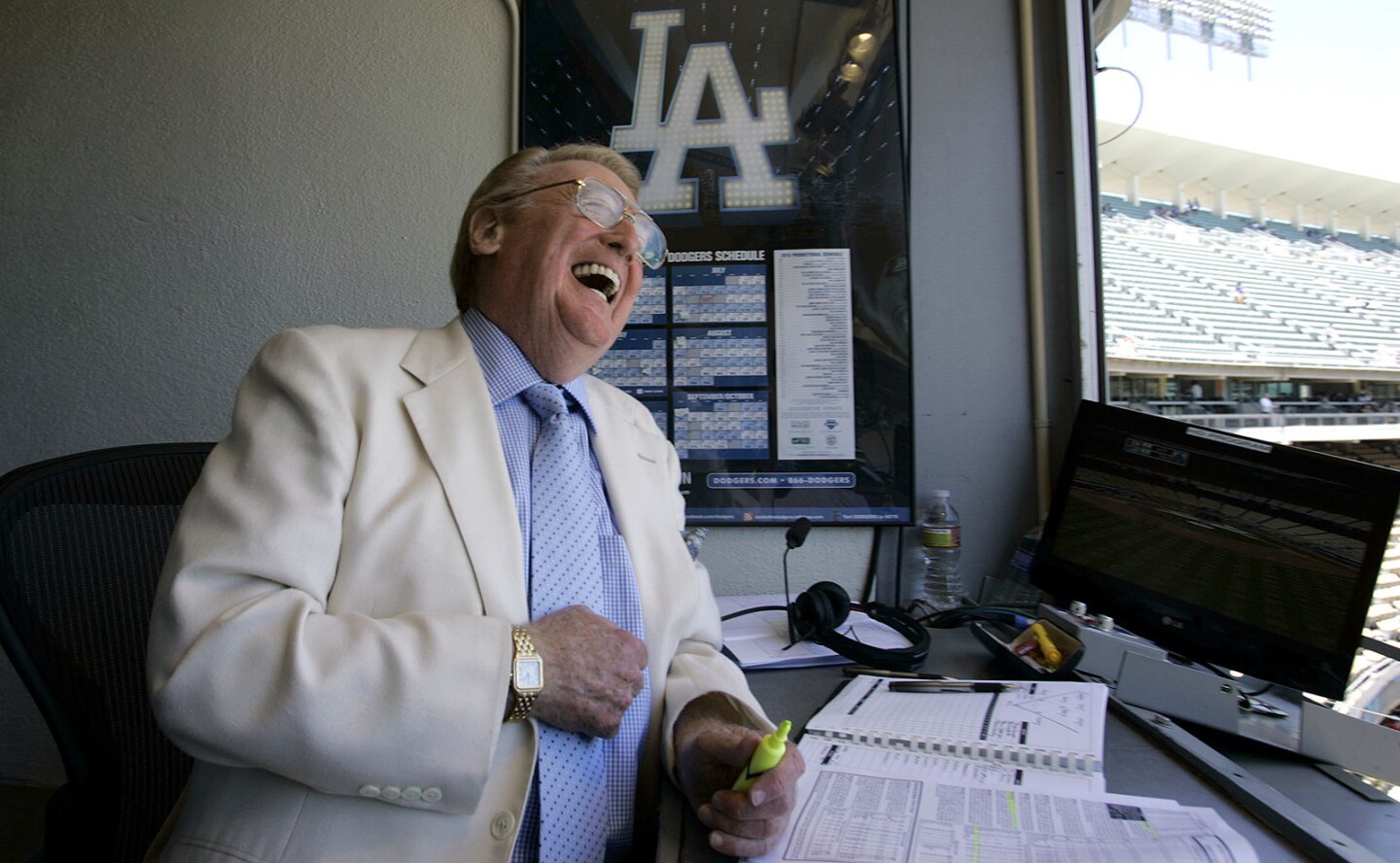 Hall of Fame Dodger announcer Vin Scully before the start of a Dodgers - Reds game at Dodger Stadium on August 22, 2010.
(Gary Friedman / Los Angeles Times)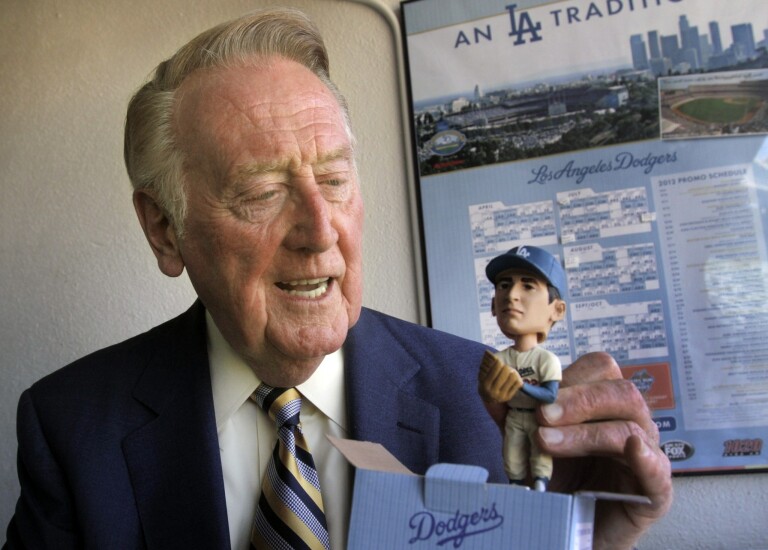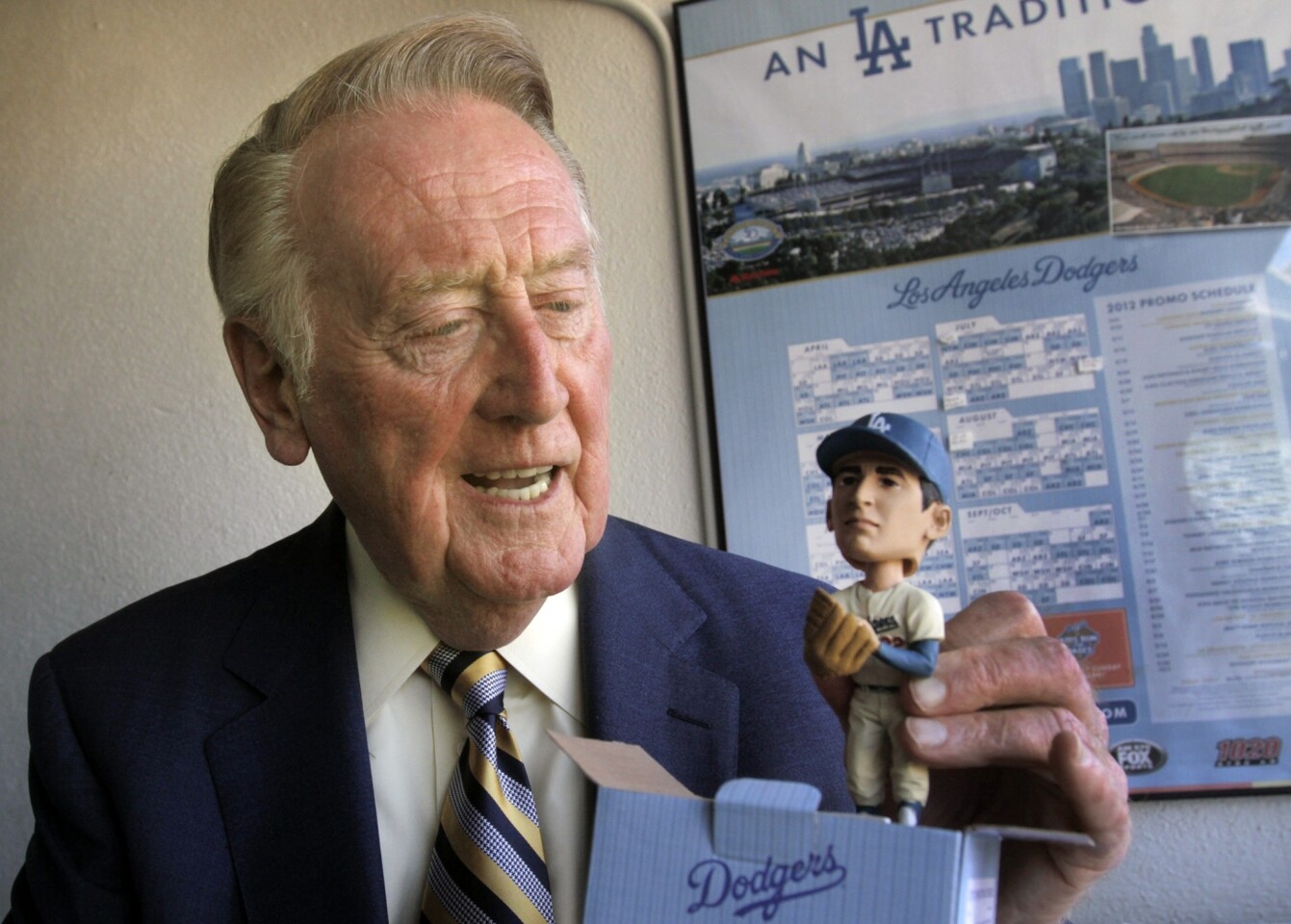 Vin Scully looks at a Sandy Koufax bobblehead doll while in the broadcast booth on Aug. 7, 2012.
(Lawrence K. Ho / Los Angeles Times)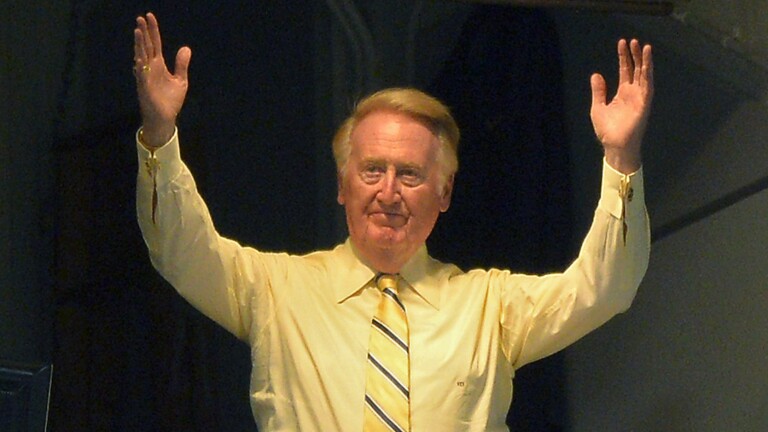 Vin Scully acknowledges the cheers of the crowd during his bobblehead night at Dodger Stadium on July 25, 2013.
(Mark J. Terrill / Associated Press)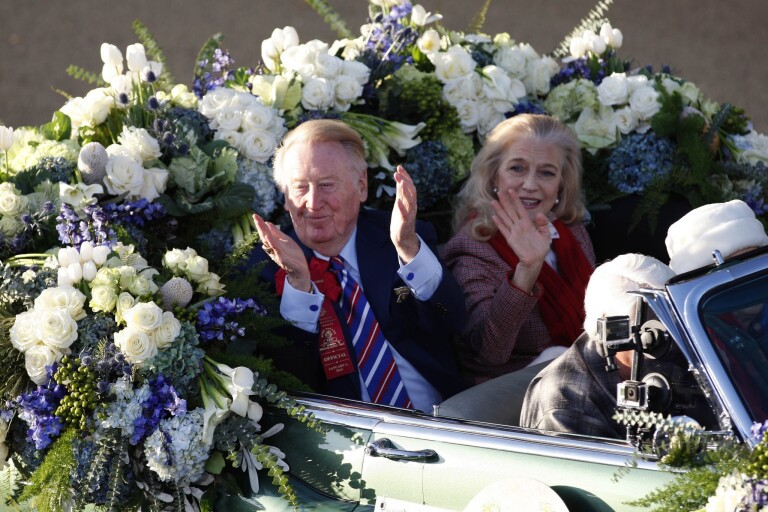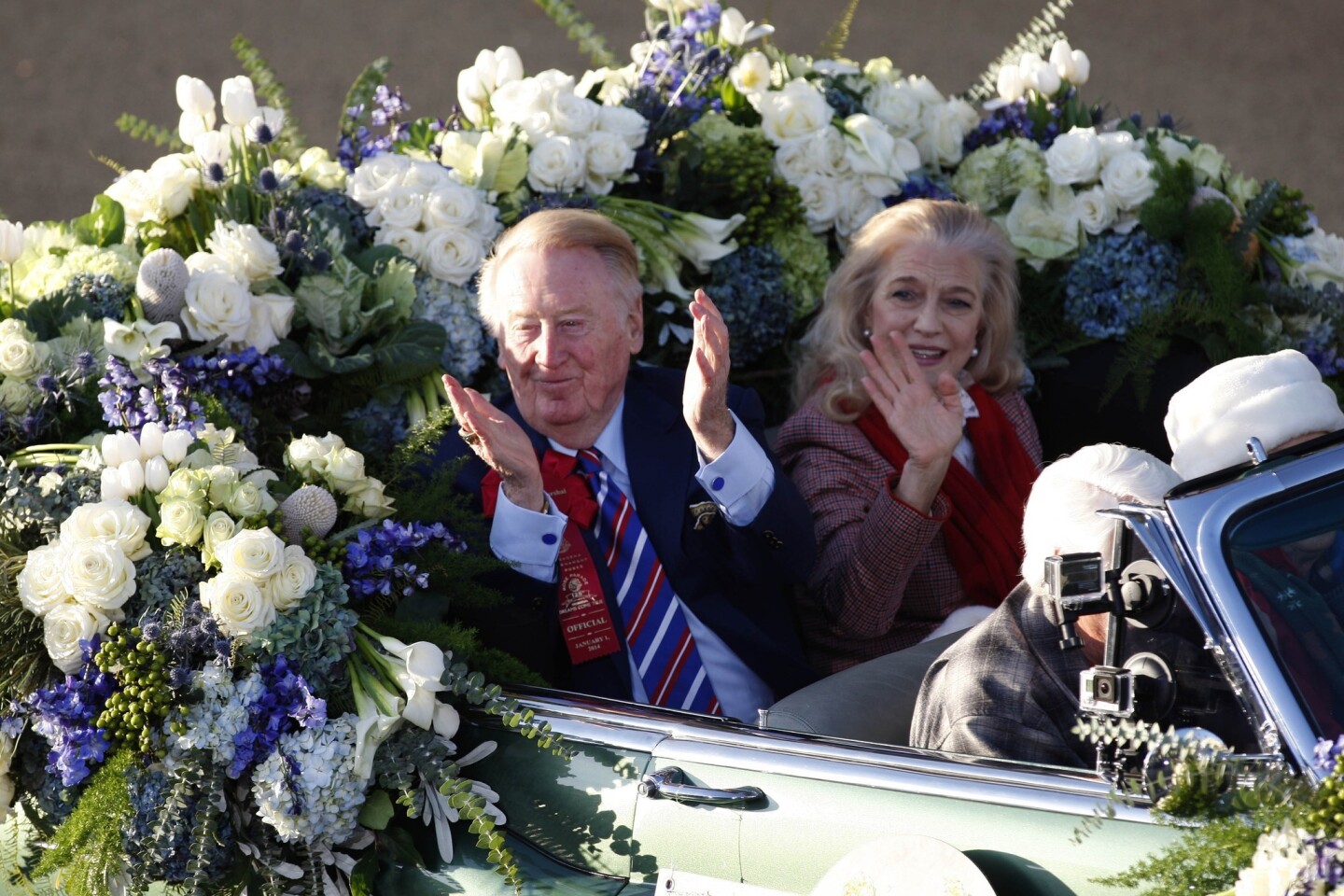 Vin Scully waves to fans as he rides in a car with his wife, Sandra Hunt, while serving as the 2014 Rose Parade Grand Marshal.
(Allen J. Schaben / Los Angeles Times)
Dodgers announcer Vin Scully takes the stage to speak about his decision to come back for a 66th season in the broadcast booth during a news conference at Dodger Stadium on July 30, 2014.
(Luis Sinco / Los Angeles Times)
Vin Scully is applauded on the field at Dodger Stadium, by family members, as he is recognized by the Guiness Book of World Records as the "longest tenured sports team employee" on September 23, 2015.
(Robert Gauthier / Los Angeles Times)
Mark Langill, the Dodgers' historian, said there is no known recording of Scully's call of that last out.
"Sadly, it's his memory," Langill said. "The call wasn't preserved."
::
His best call
Sandy Koufax got a package in the mail one day, many years ago. A boy had recorded Scully's broadcast of Koufax's perfect game, and he wanted Koufax to have a copy.
The quality was not great. The first inning was missing. The kid had taped the game in his bedroom, after his father had turned out the lights and told him to go to sleep.
"He probably did it under the covers when his father didn't know," Koufax said.
That is the only recording Koufax has of his perfect game — the last eight innings, at least.
He has a crystal-clear copy of the ninth inning. The Dodgers sold the record — as in, play it on a phonograph — in the stadium. Danny Goodman, the Dodgers' flamboyant concessionaire, put his name on the label in bigger letters than the ones used for the pitcher or broadcaster: "Last Inning Sandy Koufax Perfect Game. Actual Reproduction as narrated by Vince Scully."
Narration is a severe understatement. Masterpiece is a better depiction. The call of the ninth inning of Koufax's perfect game is regarded as the ultimate display of Scully's mastery of his craft, and perhaps the finest call in baseball history.
It is not one moment, one play, one exclamation. It is one inning — 8 minutes 45 seconds of description and tension, and a call so literate that sportscaster Bob Costas once said he read the transcript and thought it was a written account, composed after the fact.
"Three times in his sensational career has Sandy Koufax walked out to the mound to pitch a fateful ninth where he turned in a no-hitter," Scully said at the start of the ninth inning. "But tonight, September the ninth, 1965, he made the toughest walk of his career, I'm sure, because through eight innings he has pitched a perfect game."
No other broadcast — no other broadcaster — has captured emotions and put them into words so brilliantly, and so seamlessly within the context of calling every pitch.
"You can almost taste the pressure now," Scully said on the air. "Koufax lifted his cap, ran his fingers through his black hair, then pulled the cap back down, fussing at the bill."
Scully sounds almost mournful as he talks about those descriptions today. On radio, he used those verbs and adjectives to paint the picture for the listener. "Far more enchanting," he said. On television, you can see for yourself.
The Chicago Cubs got no hits that night. In the ninth inning, Scully would deliver a career's worth of hits.
"There's 29,000 people in the ballpark and a million butterflies."
Bill Plaschke discusses the magic of Vin Scully's words and silence after Kirk Gibson hit a home run in the World Series.
"I would think that the mound at Dodger Stadium right now is the loneliest place in the world."
"He is one out away from the promised land."
As the lone voice on the air, Scully was his own analyst, every bit as perceptive as he was descriptive. This was how he called the first ball Koufax threw to the final batter:
"Very high, and he lost his hat. He really forced that one. That's only the second time tonight where I have had the feeling that Sandy threw instead of pitched, trying to get that little extra, and that time he tried so hard his hat fell off — he took an extremely long stride to the plate — and [catcher Jeff] Torborg had to go up to get it."
With two outs and two strikes, Scully recited the time: 9:46 p.m. It was the third time in the inning he included the time in his call. The Koufax no-hitter had become an annual event, and Scully always included the date so Koufax would remember it when he played the tape decades later. For the perfect game, Scully called out the time as well, an element that Hall of Fame broadcaster Dick Enberg calls "genius."
"The next day people went crazy," Scully said. "They thought putting the time on it was the most dramatic, theatrical thing, and I had no thought of that. Zero. I just wanted to give Sandy a little extra flavor."
At the most dramatic moment — the third out — Scully's description turned sparse.
"Swung on and missed, a perfect game!"
Seven words — Scully's voice rising with excitement — followed by 38 seconds of silence. The Scully trademark, then and now: let the crowd noise tell the story; do not drown the moment in your words.
And then, the finale:
"On the scoreboard in right field it is 9:46 p.m. in the City of the Angels, Los Angeles, California. And a crowd of 29,139 just sitting in to see the only pitcher in baseball history to hurl four no-hit, no-run games. He has done it four straight years, and now he caps it: On his fourth no-hitter he made it a perfect game. And Sandy Koufax, whose name will always remind you of strikeouts, did it with a flurry. He struck out the last six consecutive batters. So when he wrote his name in capital letters in the record books, that "K" stands out even more than the O-U-F-A-X."
Half a century later, Koufax and Scully remain close friends. Koufax says he seldom listens to Scully's recording — "We know the ending," he jokes — but treasures it nonetheless.
"Listening to Vin do it is almost more exciting than having done it yourself," Koufax said. "Of course you remember it, and you know what was going on, but hearing him do it makes it all the more dramatic."
::
The call we all know
The play stands on its own goosebumps, one of the most dramatic hits in baseball history, a walk-off home run in the World Series by a guy who could barely walk. In Los Angeles, Kirk Gibson's home run has taken on a mythical air, the iconic moment from the last time the home team appeared in the World Series — 28 years ago.
With three little words, Scully loads a city atop his magic carpet and transports everyone to happier times.
"She is," Scully said, his voice rising, the brief pause ever so dramatic, "gone!"
Those three little words instantly evoke a highlight reel in the mind: Gibson jerking his elbow backward as he hobbles around the bases, Manager Tommy Lasorda thrusting his arms skyward as he waddles onto the field in celebration. Scully silences his microphone to let the crowd noise tell the story. Then, after 1 minute 10 seconds, he returns to the air and utters the words that so perfectly defined a championship season.
"In a year that has been so improbable, the impossible has happened!" Scully said.
L.A. Times columnist Bill Plaschke looks back on what Vin Scully meant not only to the Los Angeles Dodgers, but to the city itself.
Gibson laughed at the question of whether he has a copy of Scully's call.
"You don't need copies of Vin's call," Gibson said. "They play it on TV a couple times a day."
Gibson and his wounded knees were in the training room in the ninth inning, with the Dodgers trailing the Oakland Athletics by a run, against Hall of Fame closer Dennis Eckersley.
Scully, on the national television broadcast, told the audience Gibson was not in the dugout and would not be available. Gibson heard that, defiantly shuffled over the batting tee, and growled to a batboy: tell Lasorda I can hit.
With two out, Mike Davis walked. Gibson emerged from the dugout, igniting a frenzy among the crowd. He worked the count full, and then hit the home run — the most memorable moment of his career, immortalized by baseball's greatest voice.
"He just has an exceptional ability to paint a vivid picture," Gibson said. "It's iconic. He's one of a kind. He has separated himself. One could hardly argue that he wasn't the best of all time. I don't know how you could argue that."
In the final years of his career, Scully rarely visited the clubhouses, but he liked to make an exception when Gibson was manager of the Arizona Diamondbacks.
"I dropped everything," Gibson said. "Whoever was in my office, they got a treat."
In between his playing and managing days, Gibson worked as an analyst on broadcasts of his hometown Detroit Tigers, at times working with the legendary Ernie Harwell.
"One of the things that was on my bucket list was to work with Vin," Gibson said. "That didn't happen.
"We're going to miss him. That's for damn sure. But his memories and his calls will forever be entrenched in our minds."
Vin Scully called Sandy Koufax's perfect game and Los Angeles Times sports columnist Bill Plaschke thinks the call was also perfect.
bill.shaikin@latimes.com
Twitter: @BillShaikin
ALSO
Dodgers fans vote on Scully's top calls
Plaschke: Vin Scully is a voice for the ages
Plaschke: When Scully is telling a story, it's only fair that the baseballs head foul
After 67 years of greatness calling Dodgers games, Vin Scully just wants to be remembered as a good man
---
Get our Dodgers Dugout newsletter for insights, news and much more.
You may occasionally receive promotional content from the Los Angeles Times.