Yasiel Puig is free from Dodgers' platoon, ready to thrive in Cincinnati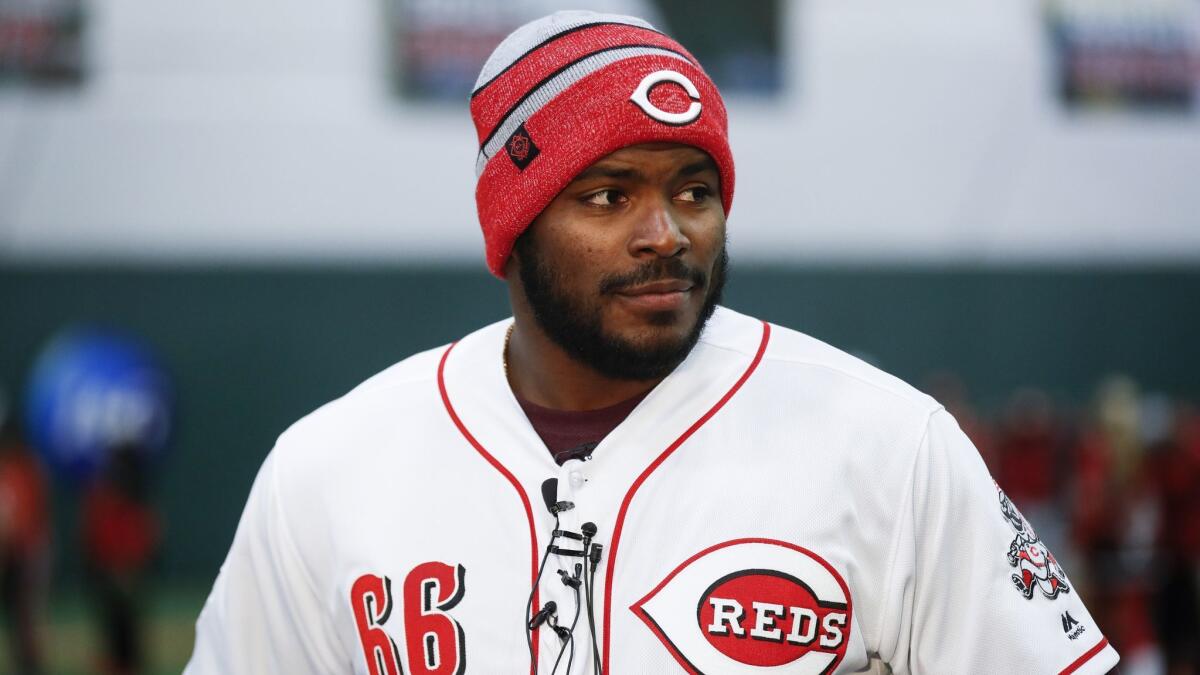 Reporting from goodyear, ariz. —
The prospects gathered in the outfield grass around the veteran. For more than an hour Wednesday, as the rest of the Cincinnati Reds filtered into their clubhouse, a few young players received a tutorial on the path to big league success. The lesson came from an instructor dubbed, in the words of one Reds staffer, "coach Puig."
Always catch the baseball with two hands, Yasiel Puig told them.
Never overthrow the cutoff man.
Always run hard when you leave the dugout to play the field.
And never, ever, try to mimic Puig's own violation of these rules.
"I told the kids, 'Do the right thing,'" Puig said. "Catch the ball with two hands — don't do the same thing I do, because I catch the ball with one hand. That's me."
Puig listed a few of the other former All-Stars assembled on the Reds roster. "They need to take the good things that Puig does, Joey Votto does, Matt Kemp. Don't look into the bad things that we do. Because everybody does bad things in baseball, and bad things in life."
The good and bad of Yasiel Puig, the tempest who captivated Dodgers fans and exasperated Dodgers officials, now resides in the National League Central with the Reds. For the first time since 2012, the Dodgers opened camp without Puig. He had already arrived at his new home, a week earlier than position players were expected, along with the three other former Dodgers dealt in December.
The departure of Puig may still sting among the faithful in Los Angeles. Puig indicated he has moved on. He hopes to revive the Reds after four last-place seasons. Freed from his platoon role with the Dodgers, one assigned because of paltry production against left-handed pitchers, he expects to start in right field on a daily basis. He aims to thrive.
"I'm supposed to play every day," Puig said. "All my teammates know, my coaches know, and everybody knows when I play every day, and I have more opportunities, I can do what I do, and what I'm supposed to do. Like I do in the playoffs and the World Series.
"But I'm not the manager. I don't make the decisions. I can't do nothing about that."
Puig indicated he bore no ill will toward manager Dave Roberts or the analytically driven front office of Andrew Friedman. But he could not resist offering a reminder about who cranked the titanic home run off Boston Red Sox pitcher Eduardo Rodriguez in Game 4 of the World Series.
"I played good in the playoffs when I had my opportunities to face lefties," he said. "I was hitting bombs in the World Series facing left-handed pitchers."
Like Rodriguez?
"Yeah, he's a lefty. I hit a bomb. But I don't make the decision who plays or doesn't play."
Those decisions will be less complicated in Cincinnati. The Reds lack the depth of the Dodgers, who mine the entirety of their roster. Cincinnati appears willing to gamble on the health and consistency of Puig as he joins a lineup that includes Votto, a .311 career hitter, All-Star second baseman Scooter Gennett and All-Star third baseman Eugenio Suarez. The arrival of Puig generated excitement for a comatose franchise.
Cincinnati won 67 games in 2018, 68 in the two prior seasons and 64 the year before that. The losing sapped the organization's morale, explained general manager Nick Krall. They could no longer abide being wretched. Aiming to compete in 2019, the team canvassed for starting pitchers. A discussion with the Dodgers involving Alex Wood expanded into a larger conversation.
As Puig's name entered the talks, Krall tapped a knowledgeable resource inside his organization. In November, the Reds had hired Turner Ward, the Dodgers hitting coach for the previous three seasons and the recipient of countless smooches from Puig. During his tenure with the Dodgers, Puig often clashed with coaches. He formed a more cuddly bond with Ward, who vouched for Puig to his new employers.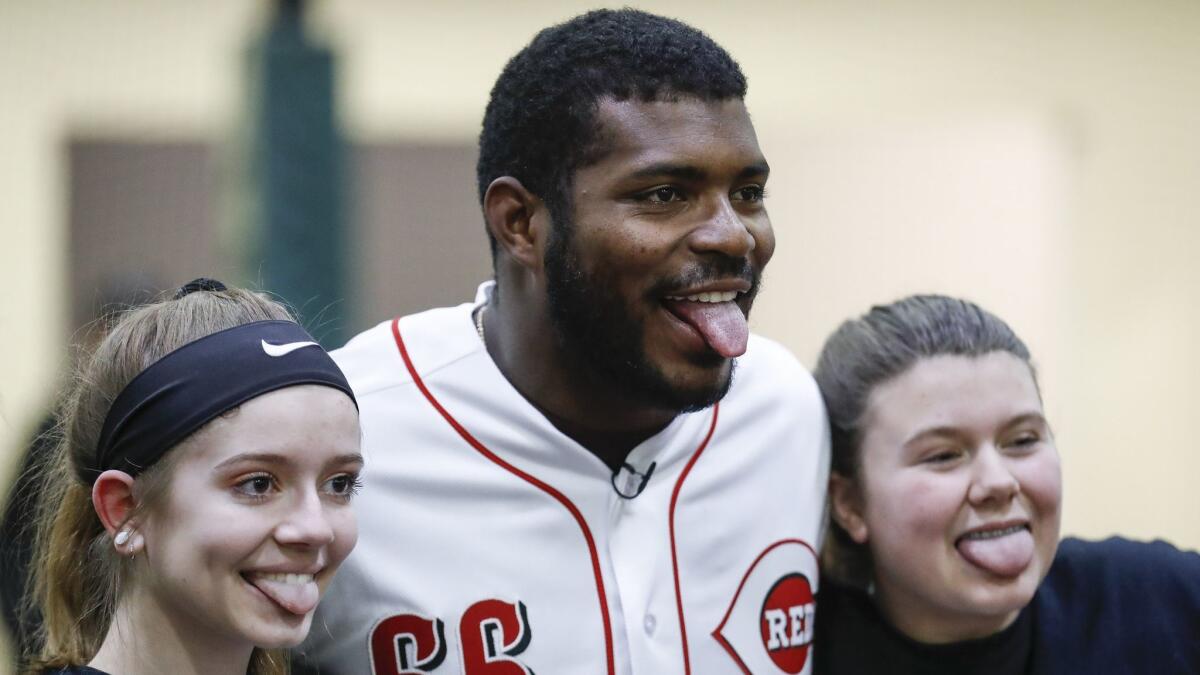 "Me and Yasiel got along great," Ward said. "I think he's a very exciting player. I think he still hasn't reached his potential. Of course I would want his presence and his excitement and his ability over here."
Krall downplayed any concern about Puig's behavior in the clubhouse. He cited Cincinnati's experience with pitcher Matt Harvey last season. Harvey qualified as a distressed asset when the Reds acquired him from the New York Mets. Harvey had sparred with Mets officials over his innings limit. He arrived late to a World Series workout. The Mets suspended him when he no-showed a home game.
As a Red, Harvey generated nothing resembling those controversies, Krall said. It furthered his belief that perceptions are often fostered with incomplete information.
"I get frustrated at times," Krall said. "I get upset at times. That happens. That happens with everybody. I just think you have to understand everything that leads up to that."
The trade itself was exotic. The Dodgers bundled Puig, Kemp, Wood and catcher Kyle Farmer, along with $7 million, in exchange for pitcher Homer Bailey and two prospects. The Dodgers released Bailey soon after, and used some recouped financial flexibility to sign outfielder A.J. Pollock. The Reds rejuvenated their standing within the division thanks to the influx of former Dodgers.
Within 30 minutes of the trade becoming official, Wood received a flood of texts from his L.A. teammates. He fired off responses to Clayton Kershaw, Justin Turner, Enrique Hernandez and others.
"All the guys, they were upset when I talked to [them], being close to them over the years," Wood said. "I just tried to tell the guys that we were really lucky there the last four years. You don't go many places where pretty much the same group of guys get to stay together for more than a year or two."
Kemp said he received a similar flurry of messages. He had reveled in his second stint as a Dodger, making the All-Star team with a productive first half. He fulfilled a career goal of winning a pennant. "It definitely sucks that we didn't win the World Series," Kemp said. "That would have been unbelievable. That leaves a bad taste in my mouth. But I'm motivated to try to get back and try to do it with Cincinnati."
Kemp praised his new club for their offseason additions. The rebuilt rotation will include Wood, Sonny Gray and Tanner Roark. New manager David Bell should have a productive lineup. The swing of Kemp could play well in the cozy confines of Great American Ball Park.
"And then you add the crazy man, Yasiel Puig, the Wild Horse, whatever you want to call him," Kemp said.
Wood chuckled when asked if he had told his new teammates about Puig. "He's about to be a free agent, so he's trying to have a big season," he said. "With Puig, it's just all about expectations. Puig's got a big heart. He really is a good guy. He just is who he is. And you either accept it, or you don't."
Both Puig and Kemp were confined to places within a platoon last season. This decision stemmed in part from the abundance of players at Roberts' disposal. The manager needed to juggle outfield at-bats among Puig, Kemp, Joc Pederson, Chris Taylor and Cody Bellinger, at a time when the Dodgers were competing for a division title.
So Kemp lost time after his production cratered in the second half. Puig often sat against left-handed pitchers, a nod to his .628 on-base-plus-slugging percentage against them. The shape-shifting nature of the lineup forced Roberts to manage personalities as much as he did baseball games.
"Sometimes the manager made good decisions, wrong decisions," Puig said. "That's his fault, or the decision he wanted to make. We can't do anything. We sometimes get mad. But the mad thing is only for a couple hours. It needs to pass, because there's a new day the next day."
For Puig, a new day dawned Wednesday with clouds over the White Tank Mountains in the Salt River Valley. As the pitchers and catchers of the Reds held their first official workout, Puig and a few other hitters drifted to a back field for batting practice. A pop song from earlier this decade trilled over the speakers as Puig took his cuts: "Somebody That I Used To Know."
Puig finished a round by scalding a pitch into center field. He chucked his bat into the grass and settled behind the cage with Ward. The music soon caught his attention. After a song by the Foo Fighters, the speakers played a commercial for Skyline Chili. Then another for Glassdoor. Puig spun around and gawked at the ads blaring in the midst of batting practice.
"Come on, man," he grumbled.
A few of the other Reds cracked up as Puig shook his head. He was far from Hollywood, far from the ballpark he once electrified, far from the teammates he once agitated, far from the place where he became a star. He saw no benefit in looking back.
"This is a new team, new city," Puig said. "I'm going to leave the bad things, or the confusion, or whatever you want to call it, about what happened last year. That's not going to happen this year."
Sign up for our daily sports newsletter »
Twitter: @McCulloughTimes
Get our Dodgers Dugout newsletter for insights, news and much more.
You may occasionally receive promotional content from the Los Angeles Times.