Letters: With Puig gone, Dodgers fans feeling a trade deficit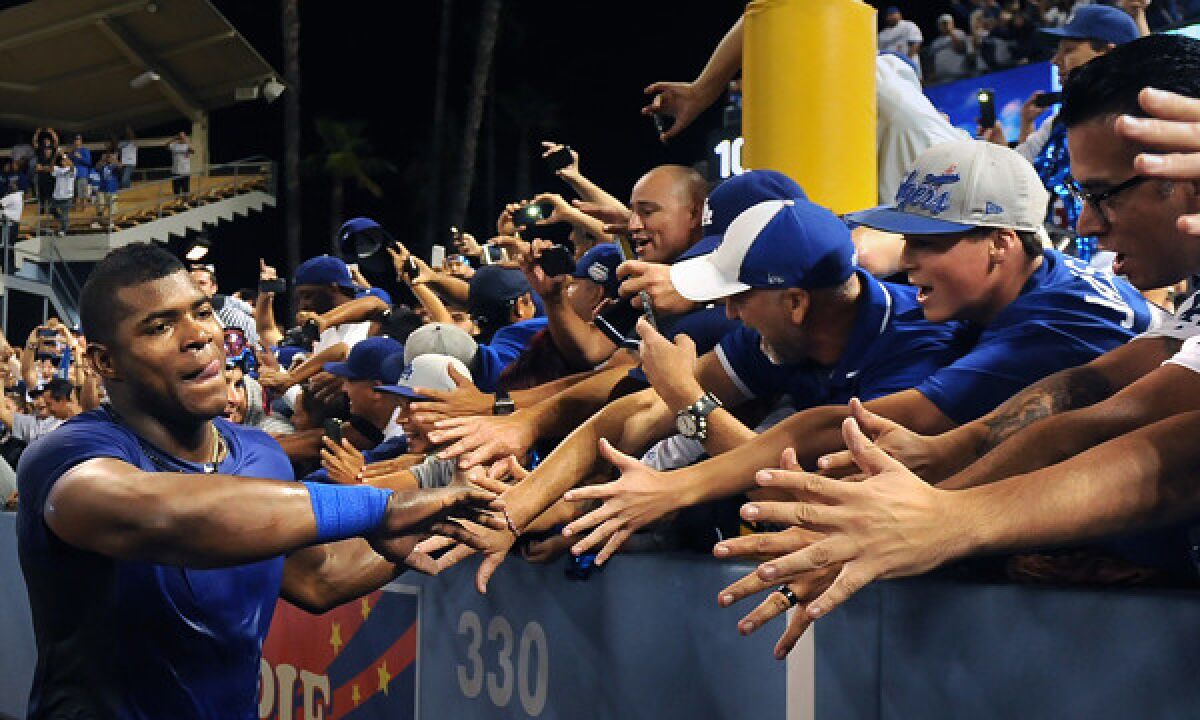 Although the Dodgers get significant credit for two consecutive World Series appearances, the recent trade makes absolutely no sense. A reasonable argument can be made that Yasiel Puig was their best outfielder. I am tired of Chris Taylor striking out all the time (178) and Cody Bellinger refusing to bunt or hit to left field. Joc Pederson hasn't hit above .248 in his career.
So why give away your best outfielder and the other players and get nothing in return?
Oh yes, we can try to sign Bryce Harper for $300 million, remembering that he managed to hit a thrilling .249 last year with 169 strikeouts. Perhaps our goal is to set the major league record for inability to drive in runs when our players are in scoring position.
Bob Abeles
Glendale
::
You're wrong, Bill Plaschke, the Dodgers should have kept Yasiel Puig. Cody Bellinger is the one who doesn't show up for the postseason.
Puig is a power hitter, a superb athlete, good fielder, and a breath of fresh air. Remember when the Red Sox traded the Bambino to the Yankees? They never stopped regretting the decision.
Chet Chebegia
San Marcos
::
With more than 100 fewer at-bats, the duo of Matt Kemp/Yasiel Puig had 105 more hits, 48 more RBIs, 10 more HRs, a higher batting average, a higher WAR, more runs scored, and more stolen bases than Bryce Harper. Enough said.
Dave Eng
Thousand Oaks
::
Andrew Friedman is the smartest man in baseball. He says, "If you're always rational on every free agent, you will always finish third on every free agent." By extension, if Mr. Friedman fails to sign any big-name free agents, it's evidence that he's rational. Alternatively, if he approves, say, a $300-million signing of Bryce Harper and Harper busts, then his decision-making represents the necessary product of market conditions.
Konrad Moore
San Diego
::
In his letter last week, Bill Waxman wistfully recalls how the Dodgers' great pitching swept the great hitting of the Yankees in the 1963 World Series. Today's Dodgers should return to a similar approach, he insists, before lamenting how few fans would be able to watch on television anyway.
Well, Bill:
1. Hall of Famers Koufax and Drysdale aren't available, nor are HoF-worthy Podres and Perranoski.
2. Back when, the Dodgers televised only the nine games they played each season in San Francisco against the Giants. World Series games were on NBC, though because they were scheduled in the daytime most people couldn't see them.
3. The Dodgers led the league in attendance, averaging over 30,000 per game versus about 47,000 today—a 57% increase in a county whose population has grown 60%.
4. In terms of zeitgeist, L.A. was a lot crazier about the Dodgers then than today's L.A. is. Koufax and Drysdale, for example, guest-starred on sitcoms and variety shows, while Danny Kaye recorded a hit song about the Dodgers-Giants rivalry.
Joel Engel
Westlake Village
::
Yasiel Puig's farewell was gracious, generous and positive. Plaschke's column on Puig's tenure was petty, vindictive and wrong. Again, Bill solidifies his stature as the Donald Trump of sportswriters.
Charlie Cherry
Laguna Niguel
Conference of what now?
The Pac-12 is irrelevant because it has suffered from bad management for decades. Several potential national championship Rose Bowls were missed because of the conference's idiotic fixation with the Big Ten. The introduction of largely unneeded conference championships is just another scheme to bring in more revenue.
Commissioner Larry Scott laments that the conference isn't taken seriously while he can't even get enough people on West Coast to pay for his Pac-12 cable network that features a bunch of marginal schools.
Pat Murphy
Pacific Palisades
::
Dan Guerrero should have been waiting on the tarmac for Steve Alford when UCLA returned from the Ohio State game.
George Hynes
Arcadia
Going to the Zu
Two weeks ago, if anyone had stated that Ivica Zubac would soon be a household name in Los Angeles, they would've been laughed at. But amazingly, over the last several games Zubac has proven himself to be a true star-in-the-making and a key component to the success of the Lakers. If anything, Zubac's emergence shows how hard work and perseverance pays off. He didn't get to this point by merely pining away on the bench. When starting center JaVale McGee returns to the team, through no fault of his own, he may find himself occupying Zubac's former seat.
Charles Reilly
Manhattan Beach
::
Ivica Zubac said "Luke's always been saying to me that he trusts me….gonna put me on the floor… .gonna always trust me like every other player on the team."
If Luke Walton really trusted Zubac, why did Luke play Kyle Kuzma at center instead of Zubac, when JaVale McGee was the only bonafide center on the Lakers? And why did the Lakers get Tyson Chandler as backup center for JaVale McGee, when Zubac was there sitting on the bench?
Roger Peña
Montebello
::
After reading the story about Andre Ingram in last Friday's paper, I thought the Lakers should re-sign him immediately.
Rob Hilburn Jr.
La Crescenta
The Cardinals? Really?
The bandwagon Rams fans, and the L.A. Times, are all excited about the Rams and Jared Goff beating a 3-11 team that has the fewest points scored in the entire league along with the fifth-worst defense in points allowed.
Even Ryan Leaf could beat Arizona.
Brian Hews
Artesia
::
When Larry Fitzgerald retires, the NFL should hire him as a consultant to go from team to team to teach the "knuckleheads" how to be:
1. A professional
2. A man/gentleman
3. An upstanding citizen
Russell Morgan
Carson
Oily to rise
My wife who has good taste in men thinks Kliff Kingsbury looks more like a West Texas wildcatter than a movie star. Drill on !
David Marshall
Santa Monica
::
The Los Angeles Times welcomes expressions of all views. Letters should be brief and become the property of The Times. They may be edited and republished in any format. Each must include a valid mailing address and telephone number. Pseudonyms will not be used.
Mail: Sports Viewpoint
Los Angeles Times
2300 E. Imperial Hwy.
El Segundo, CA 90245
Email:
sports@latimes.com
Get our high school sports newsletter
Prep Rally is devoted to the SoCal high school sports experience, bringing you scores, stories and a behind-the-scenes look at what makes prep sports so popular.
You may occasionally receive promotional content from the Los Angeles Times.