Ian Kennedy suspended 10 games for throwing at Dodgers' Zack Greinke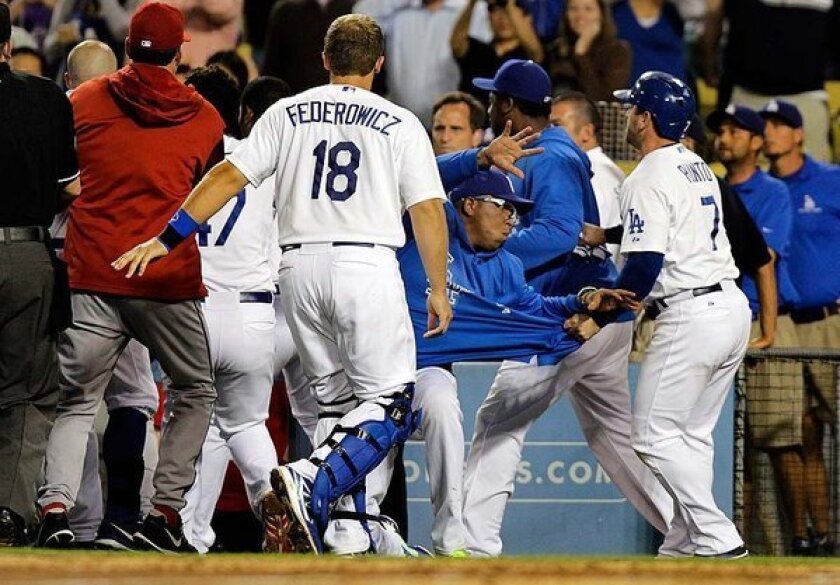 Ian Kennedy of the Arizona Diamondbacks on Friday was suspended 10 games for throwing at the Dodgers' Zack Greinke, the event that triggered an on-field brawl between the teams Tuesday at Dodger Stadium.
Of the eight suspensions announced by Major League Baseball on Friday, Kennedy drew the longest one. Three Dodgers players were suspended -- pitcher J.P. Howell and utilityman Skip Schumaker for two games each, and pitcher Ronald Belisario for one game.
Dodgers phenom Yasiel Puig, who was ejected from the game after the fight, was fined but not suspended. Greinke also was fined but not suspended.
Mark McGwire, the Dodgers' hitting coach, was suspended for two games. Dodgers Manager Don Mattingly was suspended for one game.
Managers and coaches cannot appeal, so McGwire and Mattingly are suspended immediately. If a player appeals, his suspension is put on hold until the appeal can be heard.
The Dodgers also were fined because at least two players on the disabled list -- pitchers Josh Beckett and Chris Capuano -- went onto the field in violation of league rules. Beckett and Capuano were not suspended.
Kennedy was cited for "intentionally throwing a pitch in the head area of Zack Greinke ... after a warning had already been issued to both clubs."
In addition to Kennedy, the Diamondbacks drew the following suspensions: five games for infielder Eric Hinske, and one game for Manager Kirk Gibson. Catcher Miguel Montero and outfielder Gerardo Parra were fined but not suspended.
The suspended parties also were fined. MLB does not disclose the amount of fines.
---
Get our Dodgers Dugout newsletter for insights, news and much more.
You may occasionally receive promotional content from the Los Angeles Times.