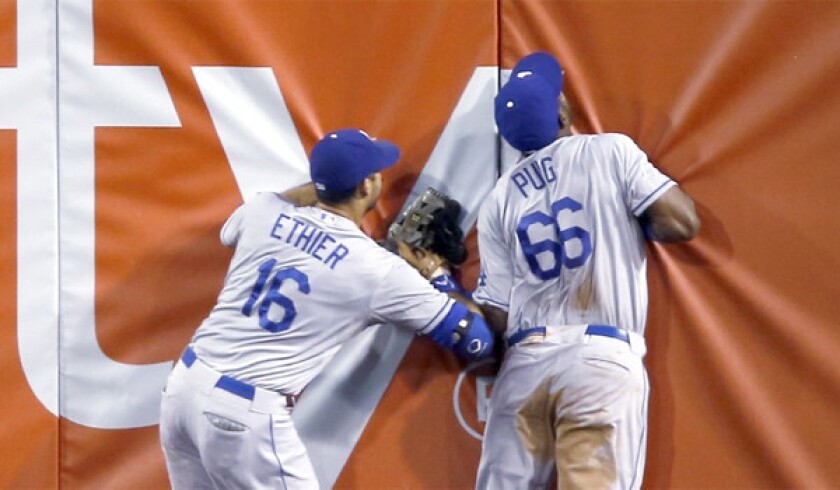 SAN DIEGO -- When the Dodgers called up Yasiel Puig and installed him in right field, the phenom unveiled one of the strongest arms of any outfielder in the major leagues.
However, with Matt Kemp expected to return to center field next week, the Dodgers tentatively plan to move Andre Ethier back to right field and move Puig to left.
Kemp is scheduled to start a rehab assignment with triple-A Albuquerque on Saturday. The Dodgers hope he can play three or four games there -- the first at designated hitter, the rest in center -- and then rejoin the major league team.
The Dodgers hope Carl Crawford can return a week or two after Kemp does. That would leave the Dodgers with four outfielders for three spots.
The Dodgers could keep Puig in right, Kemp in center, and Crawford in left, with Ethier rotating among all three positions. Ethier has played well in center in Kemp's absence, and he said he would be willing to play some left field if asked.
"Whatever is going to make this team the best," Ethier said.
However, Manager Don Mattingly said, the best time for a veteran to learn a new position is spring training, not the middle of the season. Puig played some left field in spring training, and Mattingly said he has spoken with Puig about playing there when Kemp returns.
"The young guy is more eqiupped to play in different spots," Mattingly said.
Mattingly said he has not made any final decisions and would consult with coach Davey Lopes before then. For now, given a healthy outfield, Mattingly said he envisions Crawford in left and Kemp in center, with Puig rotating between left and right and Ethier rotating between center -- when Kemp gets a day off against a tough right-hander -- and right.
Ethier did not start Friday because of a swollen left knee, the aftermath of a collision with Puig last Sunday in Pittsburgh. Mattingly said he hoped Ethier could start Saturday.
Ethier had played in 68 games through Thursday, tied for the team high with first baseman Adrian Gonzalez.
---