Clayton Kershaw is pitch-perfect for seven innings, but is removed as Dodgers roll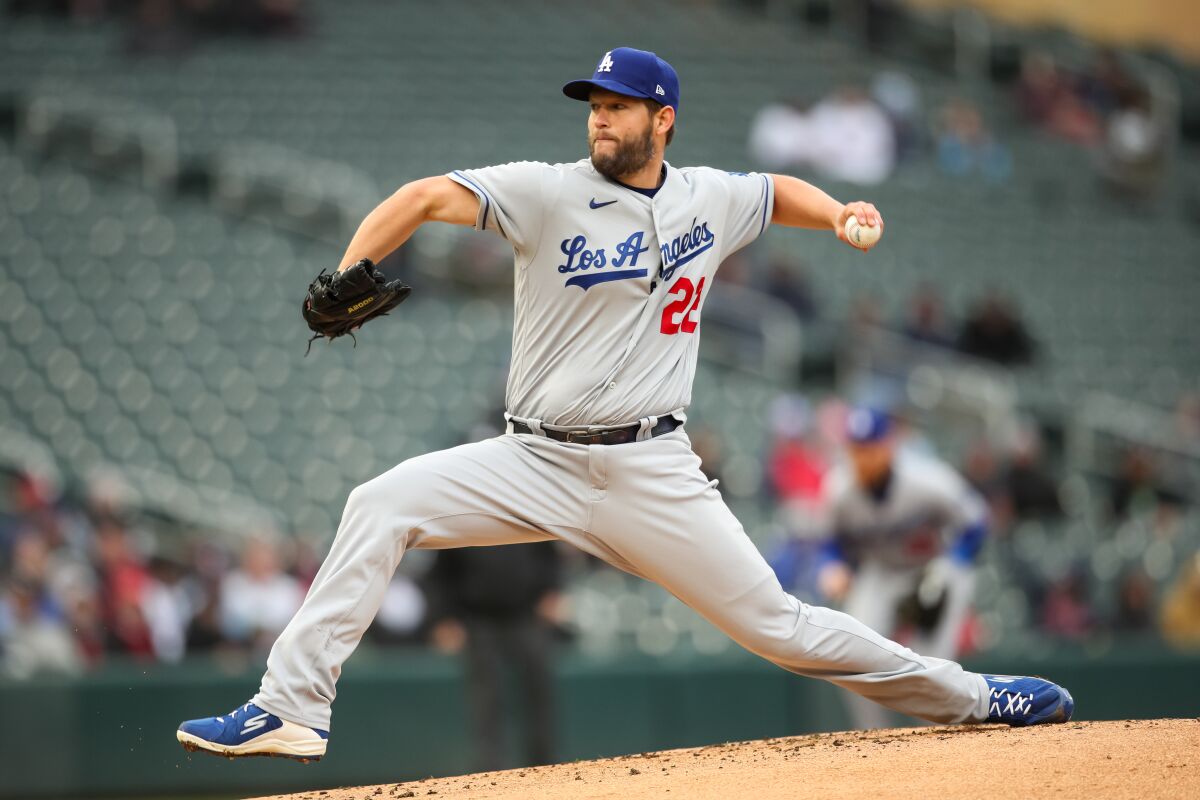 MINNEAPOLIS —
Clayton Kershaw gave a wide-eyed smile to Gavin Lux as he walked off the field.
He laughed while fist-bumping teammates in the dugout as he descended the stairs.
Then he found catcher Austin Barnes and wrapped him in a quick hug, the only time a dejected look ever crossed his face.
"Sorry," Kershaw told his catcher, as a perfect day came to an imperfect end.
Barnes looked back at the future Hall of Famer, tapped his side and flashed a grin.
Before he became a major league star, Dodgers first baseman Freddie Freeman worked on his swing with Ira Green, the father of former Dodgers star Shawn Green.
There was nothing for the left-handed legend to be sorry about, not after beginning his 14th Dodgers season Wednesday with a stunning — and almost historic — bang.
In the Dodgers' 7-0 win over the Minnesota Twins, Kershaw pitched seven perfect innings before being removed by manager Dave Roberts with the pitch count at 80 in his first outing after a lockout-shortened spring training.
The Dodgers' combined perfect game bid was broken up an inning later, when Gary Sánchez singled against reliever Alex Vesia to record the Twins' only hit of the game.
In the aftermath, the rest of the baseball world was ablaze second-guessing the decision. Fans, pundits and even current and former players debated online whether Kershaw should have been allowed to stay in and go for what would have been Major League Baseball's 24th perfect game.
Kershaw's reaction was conversely tame. He showed no signs of outward frustration, no indications of anger or discontent.
Dodgers pitcher Trevor Bauer remains on paid administrative leave as Major League Baseball determines whether he violated its sexual assault policy.
He said he would have loved to remain in the game and go for history, but also understood the realities of the predicament — knowing he was coming off an elbow injury from last season, and that he hadn't thrown more than five innings or 75 pitches in an outing all spring.
"I knew going in that my pitch count wasn't going to be 100, let alone 90 or whatever," Kershaw said. "So I don't know. It's a hard thing to do to have to come out of the game when you're doing that. But we're here to win and this was the right choice."
Roberts offered a similar explanation.
"There's a lot of people that are cheering for the Dodgers, not only just for today and Clayton to throw a no-hitter, but for the Dodgers to win the World Series," said the seventh-year manager, who has twice previously removed pitchers in the midst of a no-hitter. "For us to do that, we need him healthy."
Kershaw, 34, wasn't healthy the last time he had pitched a regular-season game. In his final outing of the 2021 campaign, he re-aggravated a serious flexor tendon injury in his left elbow, forcing him to miss the playoffs and nearly require Tommy John surgery.
That day, he walked off the mound with the ball tightly in his grasp. When he disappeared into the dugout, he was a pending free agent uncertain if he would pitch for the Dodgers again.
But Kershaw not only returned this season — signing a one-year deal with the team following the lockout — but also during camp pitched "as good as I've seen him from day one in spring training in all my six years with him," Roberts said.
And when the future Hall of Famer stepped atop the Target Field mound for the 12:10 p.m. local start Wednesday, a frigid 38-degree day with overcast skies as gray as his road uniform, he immediately began authoring the latest highlight of a storybook career.
He got ahead of hitters by pounding fastballs to all parts of the zone, low-90s mph four-seamers that were slower than when he was in prime but still effectively located on either side of the plate.
"It had some teeth on it," Barnes said. "Got them on their heels a little bit."
Major League Baseball's chief revenue officer discusses the league's decision to add Apple TV+ to its growing menu of streaming and broadcast options.
Kershaw then put Twins hitters away with vintage biting sliders, inducing helpless, confused swings to rack 11 of his 13 strikeouts.
"I don't know what his whiff rate on that [slider] was, but it had to be stupid," said second baseman Gavin Lux (Kershaw's slider induced whiffs on 17 of 27 swings). "No one hit his slider at all."
Kershaw also mixed in several curveballs and changeups, keeping the Twins lineup off balance and giving his defense little to do until his last batter of the day.
With two outs in the seventh, Gio Urshela scorched a ground ball up the middle that somehow split Kershaw's legs, bounced off the incline of the mound, and was fielded by Lux to preserve the perfect game.
"Luxy made a great play," Kershaw said.
By that point, though, the decision to remove Kershaw was already well underway. An inning earlier, with his pitch count at 69, Roberts approached Kershaw on the bench to ask how he was feeling. According to Roberts, Kershaw said he could go at least another inning, feeling comfortable to throw 80-85.
"A guy like Clayton," Roberts said, "[he] earns the right to have a conversation."
But both Roberts and Kershaw could tell the pitcher's stuff was slipping — "my slider was horrible the last two innings," Kershaw said — and once his pitch count reached 80 at the end of the seventh, Roberts had made up his mind.
After warming up Blake Treinen during the previous inning, the manager called Vesia into the game in the eighth. Sánchez lined a single to right two batters later.
"There's a point where you just got to decide — I got to decide — to what end?" Robert said. "I'm as a big fan as anyone of Clayton. And to see a battery of him and Austin throw a perfect game or a no-hitter, I'm all in. But again, to what end or to what cost? … Yeah, I have to make a tough decision. But ultimately, it wasn't as tough as perceived."
Kershaw didn't appear to protest, nor did anyone else on the Dodgers bench.
Maury Wills shares what would have been his thank you speech if he was at the special night honoring him at Dodger Stadium.
"I feel like it was disappointing, probably, for everyone, but understood," said third baseman Justin Turner.
Echoed Barnes: "Making sure he's healthy is the most important thing. He was making some good pitches still, but I think he was getting tired. I don't know — he might not have been. But overall, in the grand scheme of it, I think it was the right call, for sure."
Peppered about the issue during a postgame scrum, Kershaw showed that his stance never wavered, either.
"Blame it on the lockout, blame it on me not picking up a baseball till January," while he let his elbow heal this offseason, he said. "It was time."
Kershaw's one regret was not giving Barnes, his longtime friend and battery mate, the chance to catch a perfect game.
The catcher, however, brushed it aside.
"You get those opportunities every once in a while," Barnes acknowledged. But after watching Kershaw's dominant, electric, nearly-perfect return to the mound, he was already looking ahead.
"I'm sure it'll come around again."
Get our Dodgers Dugout newsletter for insights, news and much more.
You may occasionally receive promotional content from the Los Angeles Times.