Brusdar Graterol fielding error proves costly for Dodgers once again
When Brusdar Graterol looks in the mirror, you'd swear he sees Omar Vizquel — not because there is any physical resemblance between the 6-foot-1, 265-pound Dodgers reliever and the 5-9, 180-pound shortstop and 11-time Gold Glove Award winner, but because Graterol fancies himself a defender capable of making jaw-dropping plays.
This is not necessarily a good thing. Graterol, despite his burly physique, is one of the best athletes on the team, said assistant pitching coach Connor McGuiness, who suggested the right-hander would contend for a Gold Glove if he were a starting pitcher.
But Graterol's confidence in his fielding abilities crossed the line into overconfidence in his last two appearances, resulting in a pair of throwing errors that were costly in Sunday night's 4-1 loss to the New York Yankees and Wednesday's 10-6 loss to the Washington Nationals.
Graterol replaced dominant starter Bobby Miller in the seventh inning of a scoreless game Sunday night, and after striking out DJ LeMahieu, he gave up a single to Jake Bauers.
Rookie Bobby Miller holds the Yankees scoreless, but a lack of offense and poor relief work lead to 4-1 loss. Dodgers have dropped 10 of their last 18.
Isiah Kiner-Falefa dropped a bunt toward third base that Graterol grabbed as his momentum took him toward the line. Freddie Freeman charged from first base, and second baseman Miguel Vargas wasn't even near the first-base bag to field a throw.
But that didn't deter Graterol, who hopped once on his back foot and fired an off-balance throw to no one that sailed into right field, allowing the Yankees to put runners on second and third.
No. 8 batter Kyle Higashioka, with the infield in, followed with a broken-bat grounder to shortstop Chris Taylor to score Bauers, who got a great jump from third and was running on contact, to give the Yankees a 1-0 lead. Graterol struck out Anthony Volpe to end the inning.
"He's just so athletic, and he's such a good defender, but clearly, you can't make every single play," Dodgers manager Dave Roberts said of Graterol. "That's a play where you just have to eat the ball. You've got eight, nine [hitters] coming up, it's a clean inning. But when you start giving away bases, you create stress, and that's what happens."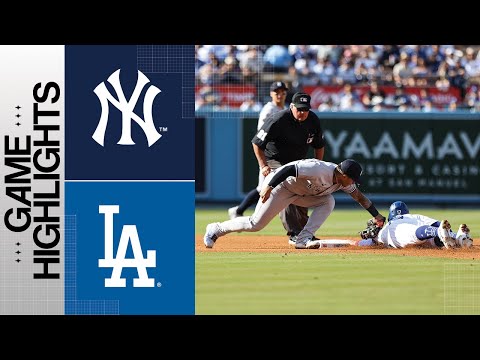 The mistake was almost a carbon copy of the one Graterol made after entering Wednesday's game against the Nationals in the seventh inning with the score tied 5-5.
Graterol, who has a 1.82 ERA in 26 games, hit Keibert Ruiz with his first pitch, bobbled a C.J. Abrams grounder to his left and made an ill-advised, off-balance throw to second that bounced into the outfield, putting runners on second and third with no outs.
Graterol nearly escaped the jam by getting two outs, but he left an 0-and-2 slider up and in to Luis Garcia, who drove a three-run homer to right field for an 8-5 Nationals lead.
Sunday's mistake, like Wednesday's, was more a mental error than a physical one.
"Yeah, there's just some times where you don't think things through, and you're trying to make a play that you shouldn't be making," Graterol, speaking through an interpreter, said after Sunday night's game. "And that's just one of those times where you're not thinking clearly."
Roger Craig, who pitched for the Dodgers in the 1950s and '60s before embarking on a successful coaching and managerial career, has died at 93.
Graterol's shaky outing was the first of three by the team's top three relievers. Right-hander Evan Phillips, who gave up one earned run in 17⅔ innings of his previous 17 games, walked Anthony Rizzo with one out in the eighth, then gave up a double to Giancarlo Stanton and an RBI groundout to Oswaldo Cabrera for a 2-1 Yankees lead.
Left-hander Caleb Ferguson, who entered with a 1.35 ERA in 23 games and hadn't allowed an earned run in 12⅓ innings of his previous 15 games, walked Kiner-Falefa in the ninth and gave up a two-out, two-run homer to Volpe that pushed New York's lead to 4-1.
"It was as fresh as our bullpen is probably going to be this year with all three leverage guys," Roberts said. "With the pitching performance we had from the starter, you'd like to think you can win that game, but that's why you play nine."
Get our Dodgers Dugout newsletter for insights, news and much more.
You may occasionally receive promotional content from the Los Angeles Times.