Ducks goalies Frederik Andersen, John Gibson in friendly competition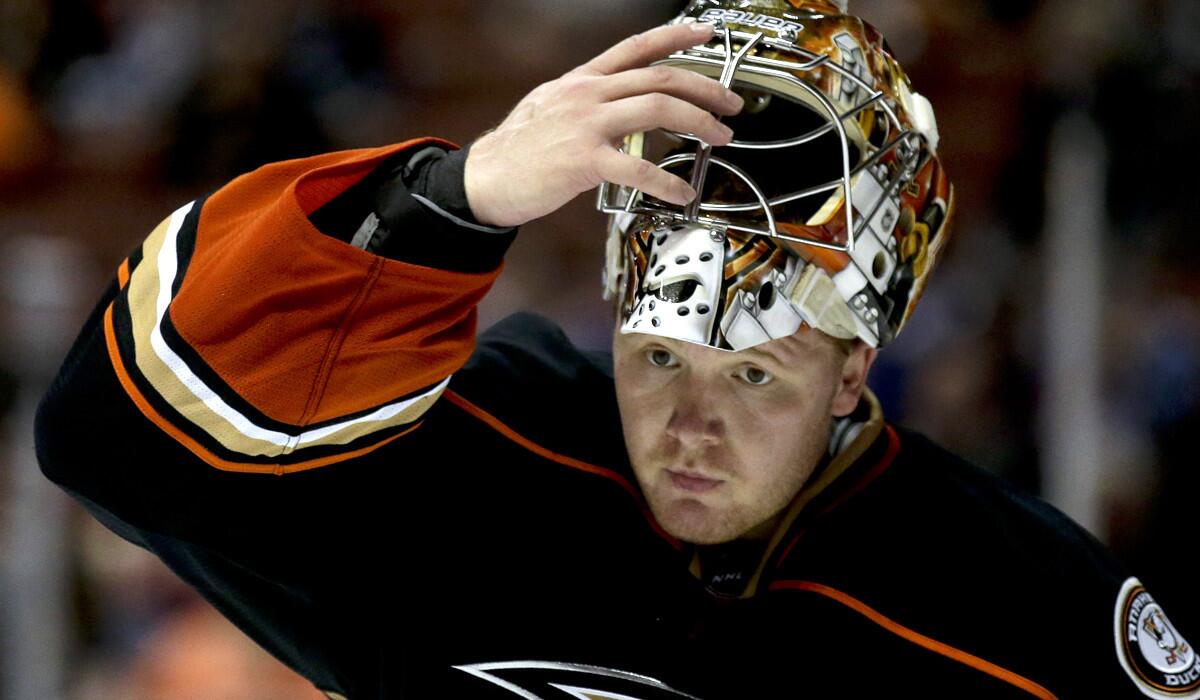 All their hockey lives, goaltenders Frederik Andersen and John Gibson have been competing to be "the guy."
Those instincts have brought them here, sitting next to each other in the Ducks' dressing room, second-year players in position to ascend to a cherished NHL starter's spot.
With veteran Jonas Hiller now a member of the Calgary Flames, this is a battle of young legs, quick reflexes and iron wills … isn't it?
"I don't see it as a competition as much as a partnership," Andersen said. "We're here to help each other out. We both want to play, but our main goal is to help the team the most we can, and we do that by pushing each other the most we can."
Really?
"We both want to help the team win," Gibson repeated.
"That's part of the goalie union," Ducks goalie coach Dwayne Roloson said. "They are going to push each other. They're great friends off the ice. They battle against each other in practice. It's a great asset for them to view it like that, a good problem to have. Ownership, management, the coaching staff all believe it's a good thing. They're good people who can be role models in how they handle this."
It's not as if this is new to them. Andersen and Gibson have been crossing puck paths the past two years, at the team's minor league home in Norfolk, Va., two Ducks training camps and — surprisingly — as starters in last year's Stanley Cup playoffs.
When Hiller slumped toward the end of the regular season, Andersen became the starter before an injury landed him on the injured reserve list and Gibson was summoned from the minors. Gibson won his first three starts, including a shutout against Vancouver in his debut and a Pacific Division-clinching victory over San Jose.
Gibson entered last season ranked as hockey's No. 2 prospect. Suddenly he was the Ducks' No. 1 goalie.
"Ask me when the season started if I would've expected that, I'd say no, but I went out there and tried my best," Gibson said. "The team in front of me played real well, that helped me out. That's the kind of team we are. We stand up for each other."
When the 6-feet-4, 230-pound Andersen returned to health, he was named the starter for the first-round playoff series against Dallas. He won three games before allowing four goals in Game 6 and being benched in favor of Hiller as the Ducks rallied to win in overtime.
Hiller remained the starter but was beaten in Games 1 and 2 of the second-round series against the Kings. That prompted Coach Bruce Boudreau to start Andersen in Game 3, but he injured his right knee and Hiller took over as the Ducks held on for a 2-1 victory.
Boudreau continued the goalie carousel by switching to Gibson, who recorded a shutout in Game 4 and a 4-3 victory in Game 5 before losing, 2-1, in Game 6 at Staples Center. Boudreau stuck with the rookie for Game 7, but he was beaten three times in the first period as the Kings went on to eliminate their cross-town rivals, 6-2.
Asked what he took from that loss, Gibson said, "I don't know. That happened last year. I think we're all worried about this year now."
Now it's all on Andersen, who will turn 25 on Oct. 2, and Gibson, 21.
Ducks General Manager Bob Murray chuckles at his team's transformation from having a veteran goalie duo, Hiller and Viktor Fasth, to two kids.
"Very good players, I'm sure they're up to the task. I couldn't see Gibby playing another year in the minors, that made no sense to me. We're dead even in a lot of positions, [goalie's] one of them."
Two games into the preseason, Andersen has stepped forward, shutting out a Colorado split squad Monday on 27 saves. Gibson, playing with a much younger group Tuesday, gave up four goals on 29 shots.
"It's going to be an exciting year for both of us to get that experience, being young goalies, new to the league, who can lean on each other," Andersen said. "A good goalie partnership is to give a guy a rest if he needs it, and the other guy can carry the ball and vice versa. That's going to help us in the long run. We'll have a lot of juice left."
Gibson agrees.
"We all have the same goal in mind, and we're all willing to stand up and be successful together," he said. "We both want to win a Stanley Cup and it's probably going to take both of us to get there if we make it. So we want to push each other, get better and be the best goalkeepers we can be."
It starts Oct. 9 in Pittsburgh, Gibson's home. Doesn't he ache for that start?
"Ask Bruce," he said. "We both want to play."
And Boudreau says both will.
"What I want to see is them stopping the puck. Whoever's going to be playing the best is going to be playing the [most]," Boudreau said. "It's an inner competition. One might get hot, and he'll get the time. Then the other will bounce back, and that'll hopefully coincide with one of them needing the rest, with the other doing the job. They're at the starting line. Both are young goalies who are good, I'm not rushing to judgment. We've got to see how they do."
Twitter: @latimespugmire
Get the latest on L.A.'s teams in the daily Sports Report newsletter.
You may occasionally receive promotional content from the Los Angeles Times.