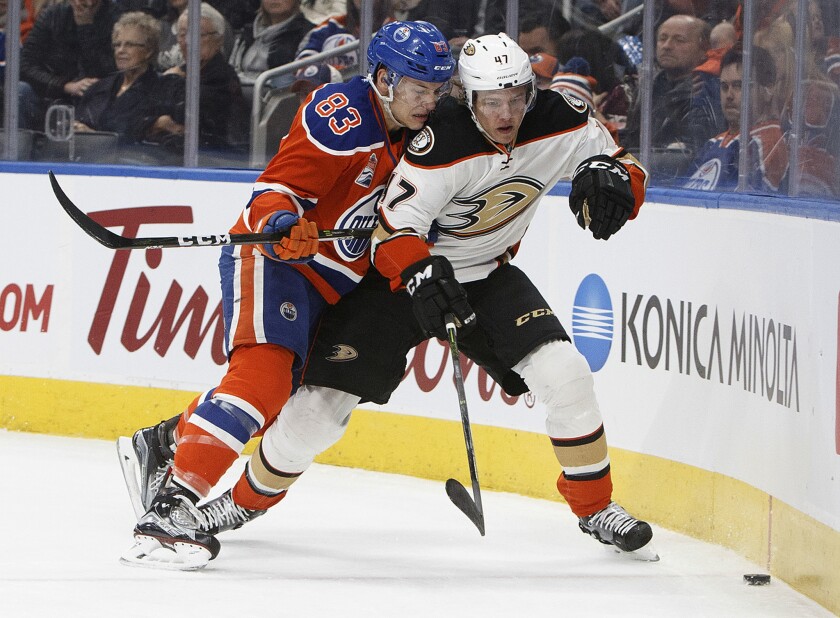 Ducks defenseman Hampus Lindholm was roommates with teammate Rickard Rakell for a while as they rose through the organization.
It made sense for the Swedish countrymen, if only for camaraderie and support. But it was time this season for them to break off on their own. Sort of.
"We're in the same building," Lindholm said. "He's my neighbor."
That's helpful if Lindholm needs encouraging words from Rakell during Lindholm's late start to the season, but Lindholm is mostly on his own as he works through a unique struggle on offense in his young NHL career.
Lindholm has two points, both in a Nov. 20 game against the Kings, in 14 games since he signed a six-year, $31.5-million contract extension on Oct. 27. Although some of that is related to getting re-integrated, the time is near for him to tangibly show what made him the Ducks' top defenseman goal scorer last season.
"I think he's putting a lot more pressure on himself than he needs," Ducks Coach Randy Carlyle said. "For us, with Hampus, it's, 'Don't worry about the offensive part of it right now. Just stay on the strong side of the defense and execute with the puck.' The other stuff will come."
Carlyle said Lindholm is a step behind in some areas, having missed training camp. Lindholm, whose plus-61 rating in his first three seasons was second among defensemen in the NHL, remains a responsible defender who averages nearly 22 minutes a game.
If he can convert more of his scoring chances it would help a Ducks team that, outside of Cam Fowler's seven goals, has only three goals from other defensemen.
"Defensively, I've been pretty strong and I just need to keep that going," Lindholm said. "The offense is going to come if I keep playing that way."
The impact of offensive-minded defensemen will hit home this weekend when Brent Burns of the San Jose Sharks and Erik Karlsson of the Ottawa Senators come to Honda Center. Lindholm, who patterned his game after another big point producer in Oliver Ekman-Larsson of the Arizona Coyotes, strives for that elite level.
But he's also mature enough at 22 to know that it will take time for that side of his game to manifest on the scoresheet.
"I've created a lot of chances and I've had some chances," Lindholm said. "I just have to keep working and creating them and it will follow eventually. As long as we're winning games, I don't think it's that big a deal."
Garbutt on waivers
Ryan Garbutt was placed on waivers. The Ducks will get slight salary cap relief if he is claimed or they assign him to the minors, but it's more performance related with the emergence of several younger players taking precedence over Garbutt's bottom-six role.
Rakell update
Rakell (upper-body injury) wore a non-contact jersey again in practice and appears to remain unavailable. Assistant coach Paul MacLean said it's precaution.
"We just want to make sure that we're careful with it and he doesn't get exposed to making it bigger than it is," MacLean said.
NEXT UP
DUCKS VS. SAN JOSE SHARKS
When: Friday, 7 p.m. PST.
Where: Honda Center.
On the air: TV: Prime; Radio: 830.
Update: Sharks forward Logan Couture hasn't been slowed by recent surgery to remove a screw from his surgically repaired right fibula from last year. He has seven goals in his last 10 games.
---