Kings were impressed with Oscar Fantenberg at first sight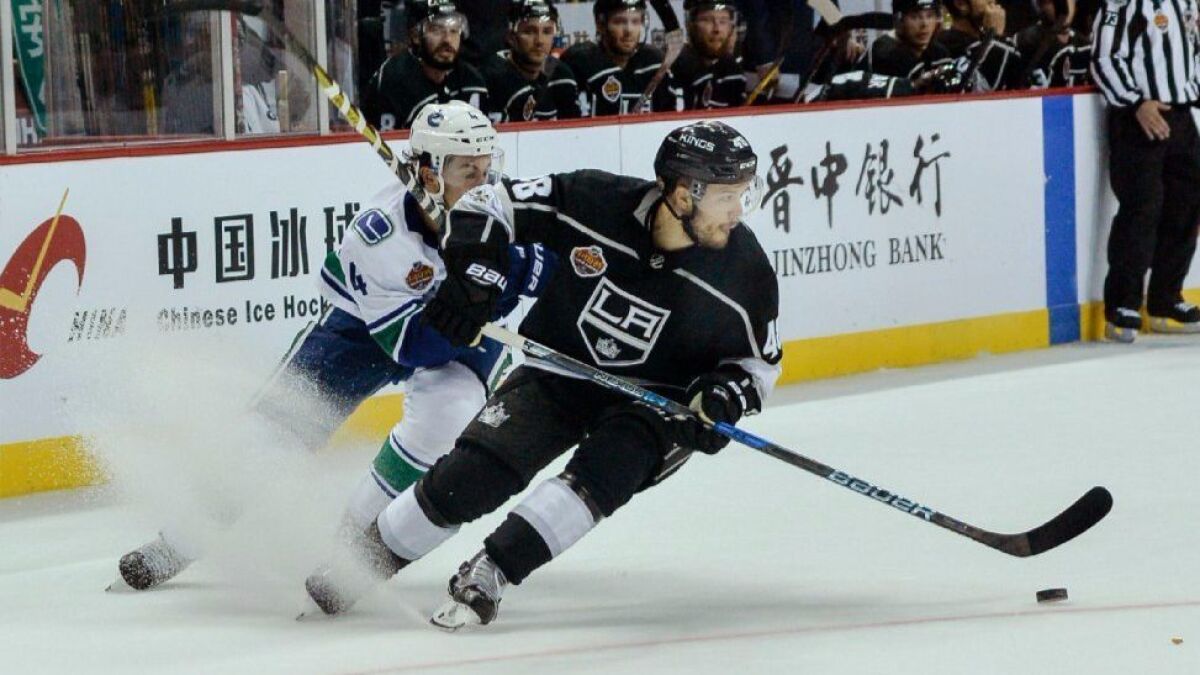 Kings assistant general manager Michael Futa and his scouting staff were already sold on Oscar Fantenberg from their far-flung journeys to Europe.
Futa remembers seeing Fantenberg in his native Sweden, long before he left to play in Russia last season. He liked the crisp passing and puck moving from the defenseman, and by then he was on the radar of other NHL teams.
"He could have gone anywhere he wanted," Futa said.
What really impressed Futa and his staff, however, was Fantenberg's willingness to eschew a comfortable situation in Russia for a shot at the NHL. They signed him as a free agent in May, and Fantenberg was a welcome surprise in training camp going into Saturday's preseason finale, a 1-0 overtime victory over the Ducks at Staples Center.
Fantenberg was with countrymen Christian Folin in the Kings' third defensemen pairing for much of the preseason, and their chemistry has helped Fantenberg compete for a job.
Fantenberg, a left handed shot, meshes well as the offense-minded half to Folin's right handed, stay-at-home role. Fantenberg's game also plays into the style that coach John Stevens wants to implement, especially in today's NHL.
"I think you need guys that can skate," Stevens said. "You need guys that can get to pucks and make a play. You still need guys that are strong enough to defend. He certainly fits that mold."
If Fantenberg doesn't make the Kings, he would go into the apprenticeship system of the minors. That was a key factor for Futa that Fantenberg would be willing to do that.
"You can tell a kid really wants to be here," Futa said. "It wasn't about the money. It was about a kid having a dream. … This was about giving himself a chance to learn the North American game, even if it means playing in the American Hockey League."
Folin is the same age, 25, as Fantenberg, but Folin played college hockey instead of staying in Europe, and he appreciates Fantenberg's eagerness to adapt.
"It shows the kind of character he has," Folin said. "He's a hard worker. He really wanted a chance to play in the NHL. I think it's a really good thing for him to come over here and play and get a chance to crack the lineup."
It has been difficult for the Ducks to achieve continuity because major elements of their lineup have not been available. Ryan Getzlaf, Patrick Eaves, Ryan Miller and Kevin Bieksa have day-to-day injuries, but coach Randy Carlyle said they are all probable for the season opener Thursday at Honda Center.
"It would surprise me if they don't play," Carlyle said.
John Gibson made his fourth appearance in goal Saturday, with Reto Berra as backup.
Regardless of those injuries, Giovanni Fiore has emerged as the bright face in Ducks camp. He has shown the skating and shooting that helped him lead the Quebec Major Junior Hockey League with 52 goals in 61 games last season, only the second 50-goal season in the history of his team, Cape Breton.
"He really seems to be a kid that has kind of come off the mat," Carlyle said.
Carlyle knew little of Fiore, an undrafted wing from French-speaking Quebec, Canada, who signed as a free agent in April. Fiore liked the Ducks and didn't hesitate when they showed interest.
"I jumped on the offer as soon as I got it," Fiore said.
He came into camp with the goal of making the roster and allowed himself to think about that possibility.
"It would be pretty emotional, but it's all hard work," Fiore said. "It's all about achieving your goals. That's what's happening right now. I know there's a lot of work to do, but that's my goal, to be on that ice on opening night."
Darcy Kuemper started in goal for the Kings, with Jack Campbell as backup. He made 20 saves … Jake Muzzin scored a power-play goal on a slap shot in overtime. Gibson made 35 saves…. Kings defenseman Chris Lee was released from his tryout contract. … The Ducks recalled Scott Sabourin and assigned Kevin Boyle to San Diego.
Twitter: @curtiszupke
Get the latest on L.A.'s teams in the daily Sports Report newsletter.
You may occasionally receive promotional content from the Los Angeles Times.