Kings rookie Alex Iafallo a living example of the team's tired play of late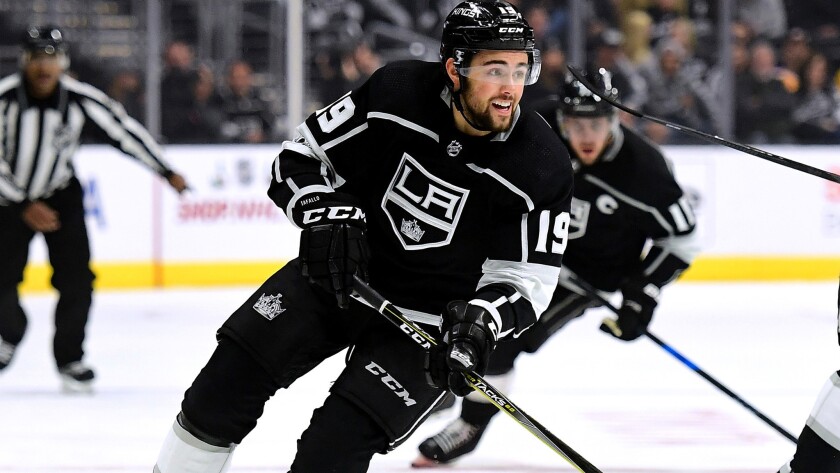 One glance at Alex Iafallo suggested he was in the middle of a grueling playoff series in late spring.
He sported a cut near his eye, courtesy of an errant stick from Winnipeg Jets defensemen Dustin Byfuglien. An ice pack was on his back. But this was only late November, on a rare off-day during a packed schedule for the Kings.
At this time last year, Iafallo was on a three-week holiday break from his college team, Minnesota Duluth. He played 42 games total, or about half of an NHL regular season. Iafallo already has played 22 games, a sharp contrast for a rookie who didn't play junior hockey.
"It's definitely new," Iafallo said. "College is a short 40 games … You don't practice a lot. Obviously, in college you practice every day for an hour and a half. [These] games take a toll on you. But I'm starting to learn to prepare and how important rest is and getting healthy."
The Kings' recent stretch of five games in eight days was the first true stamina test for Iafallo and other Kings rookies. The Kings monitor fatigue through strength and conditioning coach Matt Price, but they can't control a relentless NHL schedule that inevitably digs in to players such as Iafallo, 24.
"I do think it caught up with him a little bit at the end of last week," Kings coach John Stevens said.
Stevens also said that Iafallo was probably his best forward in a 2-1 loss to Winnipeg on Wednesday at Staples Center. Iafallo drew a penalty, shoved Josh Morrissey to the ice near the boards and played nearly 16 minutes even though he's no longer on the power play. Stevens said Iafallo has adjusted well to what he says is not entirely a physical test.
"I think in the National Hockey League, it's much more difficult to manage your rest, get your down time … you don't have three, four, five-day stretches very often where you can just relax and not worry about playing at a really high level," Stevens said. "To me, it's a huge challenge mentally at this level."
Iafallo said veterans Jeff Carter and Kyle Clifford have given him tips on managing an NHL season. Iafallo will get reminded of his college career Friday against the Arizona Coyotes and fellow rookie Clayton Keller. In March, Iafallo and Minnesota Duluth defeated Keller and Boston University in overtime of the NCAA West Regional final to earn a trip to the Frozen Four.
"I'm excited to see him," Iafallo said.
Mitchell trade
The Kings acquired veteran center Torrey Mitchell from the Montreal Canadiens on Thursday for a fifth-round conditional draft pick in 2018. It will become a fourth-round pick if the Kings make the playoffs.
The move follows the Nov.14 acquisition of Jussi Jokinen to stabilize the Kings depth forward group. Mitchell, 32, has no points in 11 games this season, mostly as a fourth-line forward. He scored eight goals in 78 games with Montreal last season.
No panic
Stevens wasn't ringing the alarm even though his team has lost six of seven games and fallen out of first place in the Pacific Division. They gave up goals in the final minute of the opening two periods against Winnipeg, got one back by Tyler Toffoli but couldn't tie it despite three power plays in the third period. Stevens said their checking was much better and their approach is still upbeat.
"I think our guys know that there's good things happening here, but we can play better than we're playing," Stevens said. "Don't accept what's going on. Influence what's going on."
NEXT UP
AT ARIZONA
When: 6 p.m. PST, Friday
On the air: TV: FS West; Radio: 790
Update: Keller joined Teemu Selanne as the only rookies in Coyotes/Jets franchise history to score 10 goals in the team's first 15 games. He co-leads rookies with 11 goals. Arizona recalled goalie Marek Langhamer on an emergency basis following an injury to Antti Raanta on Wednesday. Coyotes forward Mario Kempe, the older brother of the Kings' Adrian Kempe, has been scratched the past three games. The two played against each other in the preseason.
Twitter: @curtiszupke
---
Get the latest on L.A.'s teams in the daily Sports Report newsletter.
You may occasionally receive promotional content from the Los Angeles Times.