Adrian Kempe gets first career shootout goal as Kings outlast Senators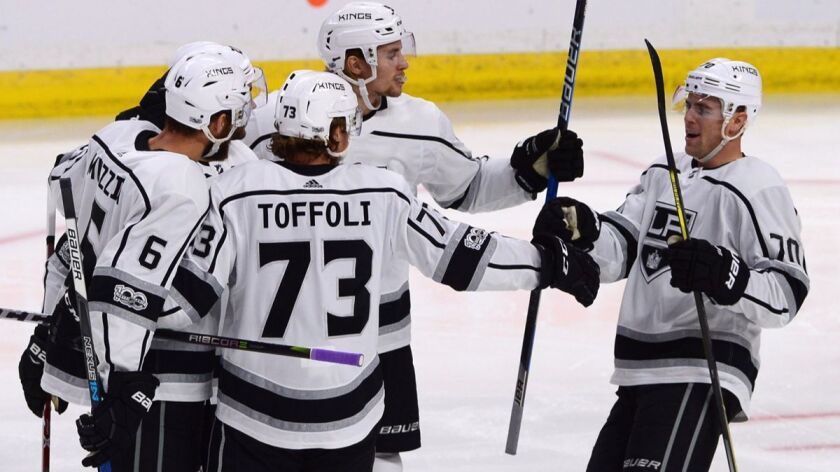 Reporting from OTTAWA —
From the other end of the ice, Darcy Kuemper had an unobstructed view of how teammate Adrian Kempe signed a masterpiece of a game.
Kempe skated slowly in on Ottawa Senators goalie Mike Condon, faked a stick handle to freeze him and effortlessly shot the puck high into the net for the game-ending shootout goal in a 3-2 Kings win Tuesday at Canadian Tire Centre.
"It was really nice," Kuemper said. "He put it upstairs, too, and almost didn't have to, he had so much net."
The Kings don't really practice shootouts so Kuemper saw that move for the first time.
"Save it for the games, I guess," Kuemper said.
Kempe appears to have a bottomless reserve these days. He put his fingerprints all over the game with the faceoff win that led to the first goal, a tying goal off a steal with 1:46 remaining and his first career NHL shootout goal that was planned.
"I've done it a couple of times and I scored on it, so I mean, I have different choices but that was my final one, and it's a good one," Kempe said.
Kings coach John Stevens chose Michael Cammalleri and Anze Kopitar to take the first two shootout attempts, and Cammalleri scored on a backhand to set up a game-winning try because Kuemper stopped Kyle Turris and Mark Stone.
Kempe's night made the decision natural.
"He almost had that look in the eye like he wanted to go and make a difference – use his speed and turn the puck over," Stevens said. "Then when we called him in the shootout — he almost had that look like he wanted to be called in the shootout, and you just love that in a player."
Stevens bumped Kempe up to second-line center, the spot vacated by injured Jeff Carter. Kempe surely earned the promotion with a hat trick earlier this month and subsequent huge goals on back-to-back nights.
The Kings earned four points, out of a possible six, halfway through their trip. It looked bleak late, down 2-1 despite an all-around better attack that produced 43 shots. Condon might be seeing Kempe in his sleep, though, after Kempe intercepted Condon's pass behind the goal line and slipped it under him to force overtime in front of an announced 14,034 fans.
Kuemper won his second start of the season with 29 saves despite a shorthanded goal by Nate Thompson, who whacked in a rebound.
"I thought it was under my pad," Kuemper said. "I should have just wrapped my second leg — kind of a funny one — but great job by the guys responding from that."
In a game played during Game 1 of the World Series, the first two goals were knuckleball shots. Alec Martinez one-timed Kempe's faceoff win 24 seconds into the game for his first goal of the season. Senators defenseman Dion Phaneuf shot from above the left circle on a rush and the puck, which wobbled just before contact, sunk past Kuemper at 6:09 of the first period.
"Yeah it dipped a couple of feet on me," Kuemper said. "It kind of sucks when something like that happens early in the game and all of a sudden they got one, but you've just got to stick with it."
Stevens thought they were better in all three zones. He wasn't pleased with his team's play below the goal line at both ends in a loss Monday, and even then the Kings made it close.
That extra point earned made it more fulfilling.
"I mean, that's really big," Kempe said. "We weren't happy with the result we had [Monday]. We just wanted to try and bounce back today, and I think we played a good game, and we got the result we wanted."
Twitter: @curtiszupke
---
Get the latest on L.A.'s teams in the daily Sports Report newsletter.
You may occasionally receive promotional content from the Los Angeles Times.