Column: What we learned this week in the NHL: The Kings are back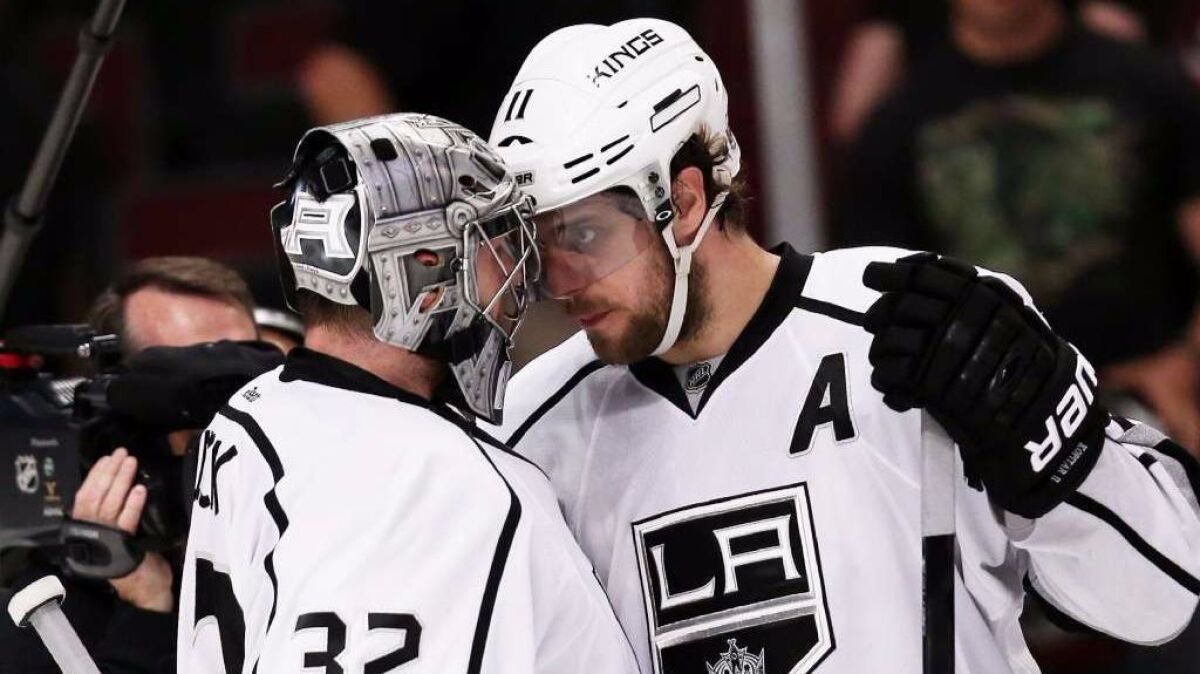 What we learned in the NHL over the last week of play:
The Kings' slump is over
Remember the 1-6-1 slump that triggered flashbacks to the bad old days of the last few seasons? Neither do the Kings, who have a five-game winning streak and have regained the Pacific Division lead. "I think part of it is we're getting scoring from up and down our lineup, which I think is key to win in this league," right wing Dustin Brown said Monday. "We're getting big goals from so-called third- and fourth-liners. That helps." It also helps that they've given up only six goals in that streak. "We're not giving up very many scoring chances, which is a staple. When we're on our game, it's always there," Brown said.
Ducks struggles continue
The Ducks, or what's left of them while they endure a plague of injuries, made a good move in acquiring established center Adam Henrique and depth forward Joseph Blandisi for defenseman Sami Vatanen and a conditional draft pick. The Ducks' depth on defense made turnover-prone Vatanen expendable. They should be formidable up the middle when Ryan Kesler (hip surgery) and Ryan Getzlaf (facial bone surgery) return, but they'll have to end a 1-4-2 slump to stay near the playoff pack. They're scoring only 2.59 goals per game and giving up a league-worst average of 36.3 shots against per game.
They're on the downside
A 10-1 loss to the Montreal Canadiens on Saturday left the Detroit Red Wings' faces as red as the color of their classic uniforms and extended their winless streak to 0-4-3. "Basically embarrassed everyone that played for the Winged Wheel tonight," team captain Henrik Zetterberg said, according to the Detroit News. "We have to live with that."
The Philadelphia Flyers' winless streak hit 0-5-5 after a 3-0 loss to the Boston Bruins on Saturday. Fans didn't even stick around the Wells Fargo Center to boo them at the end of the game or to repeat their previous calls for the firing of coach Dave Hakstol. Their streak ended Monday with a 5-2 win at Calgary.
They're on the upside
The Pittsburgh Penguins are again playing like Stanley Cup champions and have a season-best four-game winning streak. Rookie goalie Tristan Jarry has stepped in for injured Matt Murray, and Sidney Crosby has scored at least one goal in five consecutive games. "We're back," forward Evgeni Malkin told the Pittsburgh Post-Gazette.
The Dallas Stars, who had a slow start, stretched their winning streak to five games by sweeping a home-and-home series with the Chicago Blackhawks. "It's how you deal with adversity," coach Ken Hitchcock told the Dallas Morning News. "You can build or you can crumble, and we're building."
Twin accomplishments
Vancouver forward Daniel Sedin joined his twin, Henrik, in the ranks of players who have scored 1,000 points. It was fitting that Henrik set up the power-play goal that made them the only brothers to have each scored 1,000 points. They're class acts off the ice, too, and have generously supported causes related to children's health.
Follow Helene Elliott on Twitter @helenenothelen
---
Get the latest on L.A.'s teams in the daily Sports Report newsletter.
You may occasionally receive promotional content from the Los Angeles Times.