What we learned from the Ducks' 5-2 victory over the San Jose Sharks
What we learned from the Ducks' 5-2 victory over the San Jose Sharks on Wednesday:
— The Ducks always seem to make things interesting and dramatic, in ways both bad and good, and this season likely will continue that pattern. Rickard Rakell, coming off career-best totals in goals (34) and points (69), picked up where he left off with a goal and two assists. Jakob Silfverberg contributed three assists. But there were moments when the Sharks' skilled players — notably Tomas Hertl and Evander Kane — made the Ducks' defense look awful. Cam Fowler and Josh Manson struggled mightily, but Fowler's plus-minus number was even and Manson was plus-1. If that doesn't finally condemn plus-minus as a definitive tool for judging players, nothing will.
— Coach Randy Carlyle kept his promise about rolling four lines and giving them balanced minutes. Fourth-line center Carter Rowney played 15 minutes and 29 seconds, more than second-line center Adam Henrique (13:06). Fourth-line wingers Ben Street (14:56) and energetic Kiefer Sherwood (13:50) earned their playing time. Top-line center Ryan Getzlaf played 17:44, down from his average of 21:26 last season. Carlyle said during training camp he had wanted to trim Getzlaf's minutes to keep the 33-year-old center fresher.
— A member of the Ducks' staff saved the puck that became rookie winger Max Comtois' first NHL goal, merely 49 seconds into the game, through the leg pads of goaltender Martin Jones. Comtois said he will probably give the souvenir puck to his parents, who couldn't attend Wednesday night's game at SAP Center but plan to watch him play at Arizona on Saturday. "It's going to be fun to share that with them," Comtois said. Carlyle was impressed with the 19-year-old's effort. "He jumped on a loose puck and scored a goal-scorer's goal," Carlyle said.
— The Ducks were outshot 33-15, but goaltender John Gibson was ready and won praise from Carlyle. "It takes 60 minutes to win, and with the performance of our goaltender and special teams we found a way to steal two points," Carlyle said. "We weren't giving ourselves a chance in the first two periods. We were slow with our movement of the puck. They were tracking and we were turning the puck over and then in the third, we started to skate."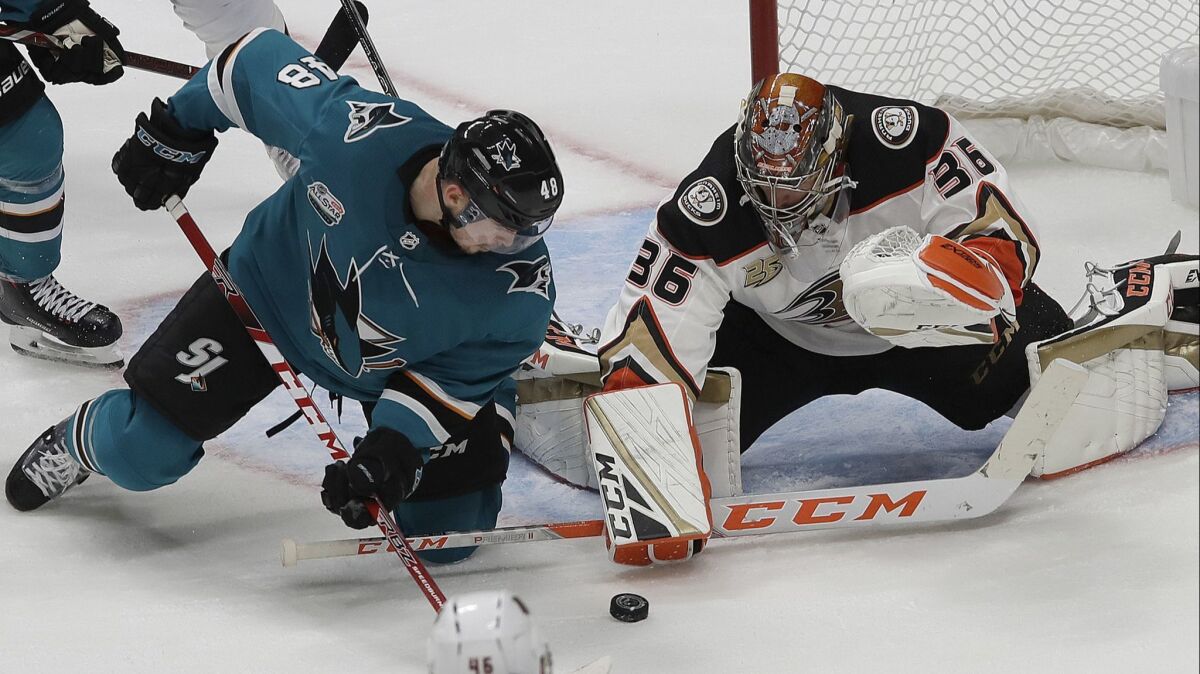 — Carlyle was in midseason form in terms of clichés. Asked if the Ducks might surprise observers this season, he said it's much too early to say anything along those lines. "We'll have to be much better than we were [Wednesday] night to have success in Phoenix on Saturday night," he said. Incidentally, the Ducks returned home after Wednesday's game. The Sharks' next game will be against the Kings on Friday at Staples Center, the Kings' season opener.
---
Get the latest on L.A.'s teams in the daily Sports Report newsletter.
You may occasionally receive promotional content from the Los Angeles Times.