The Times' high school football player of the year: Bru McCoy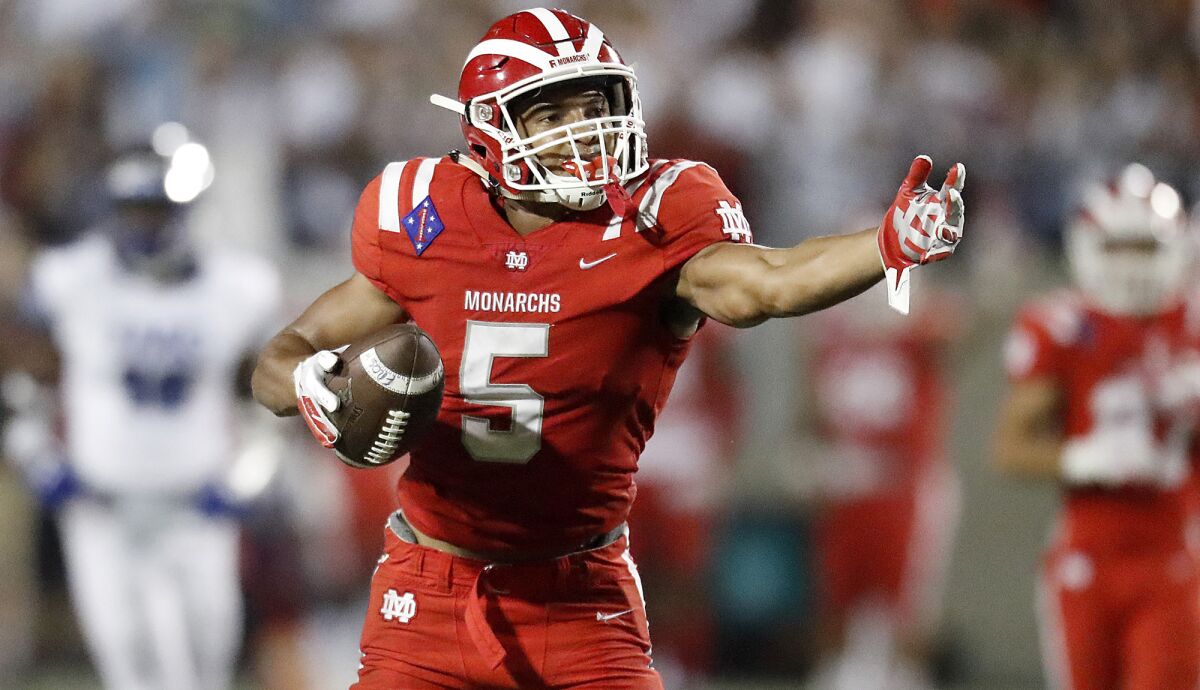 The ultimate respect for a wide receiver is when opposing coaches acknowledge their team can't cover you with just one defensive player. Bru McCoy of Santa Ana Mater Dei spent game after game this season facing double coverage. And even that didn't guarantee success for the defense.
"He just impacted the game," La Puente Bishop Amat coach Steve Hagerty said. "If he wasn't on the field, they're a different team."
In 12 of his 14 games, the 6-foot-3, 205-pound McCoy scored at least one touchdown. His strength, great hands, speed and power made him a difference maker. Even more important, he never took plays off. He'd run patterns or make blocks with the same amount of intensity and urgency whether it was the first play of the game or the last.
McCoy, who helped lead Mater Dei to the Southern Section Division 1 championship and a victory in the CIF state championship Open Division bowl game, was selected The Times' player of the year.
"I proved to myself the harder I work, the more I can accomplish," McCoy said.
The amount of respect he generated from his opponents tells the story of a player who once was just another receiver on last season's 15-0 team that featured Amon-ra St. Brown, now at USC. The graduation of St. Brown and other receivers put the pressure on McCoy, and he delivered repeatedly.
He finished with 77 receptions for 1,428 yards and 18 touchdowns. He also played linebacker and recorded five sacks.
"Defensively, he'd come in and we'd have to change protection," Hagerty said. "It didn't matter. We still couldn't block him. We tried a fake punt and he deflected the ball somehow. It seemed like no matter where he was he was impacting the game. He sort of inflicts his will out there."
From Santa Margarita coach Rich Fisher: "There's no doubt he elevated his game, which is what you want to see. He's probably the best player we've seen in the last three years."
From Mission Viejo coach Chad Johnson: "The thing about him is he requires you to rotate coverage over the top. If you put a big corner on him or backer, he'll run by you. If you put a small corner who's fast, he'll out-physical you, and he's really good after the catch. He's a matchup nightmare because he can do it all."
From Anaheim Servite coach Troy Thomas: "I think he plays every single play as hard as he can whether he gets the ball or not. He's a great blocker. You can tell he's got a great attitude because of his effort every single play. I heard he likes Reggie Bush and he has a similar style when he has the ball. We double-teamed him every single play and he still had a good game."
From Mater Dei quarterback Bryce Young, "He'll make some plays that are some of the best plays I've seen. There were times I'd throw it up to him and let Bru be Bru."
McCoy always looked forward to the big games with big crowds, from playing league rival St. John Bosco to taking on Florida's IMG Academy on national TV.
"It's always exciting to me," he said. "This is what we look forward to."
McCoy, who has been considering USC, Texas, UCLA and Washington as his college choice, said he will make a public announcement Jan. 5.
Mater Dei receiver is The Times player of the year
Twitter: @latsondheimer
Get our high school sports newsletter
Prep Rally is devoted to the SoCal high school sports experience, bringing you scores, stories and a behind-the-scenes look at what makes prep sports so popular.
You may occasionally receive promotional content from the Los Angeles Times.