Column: Twin brothers Ryan and Jovan Camacho make an impact at West Ranch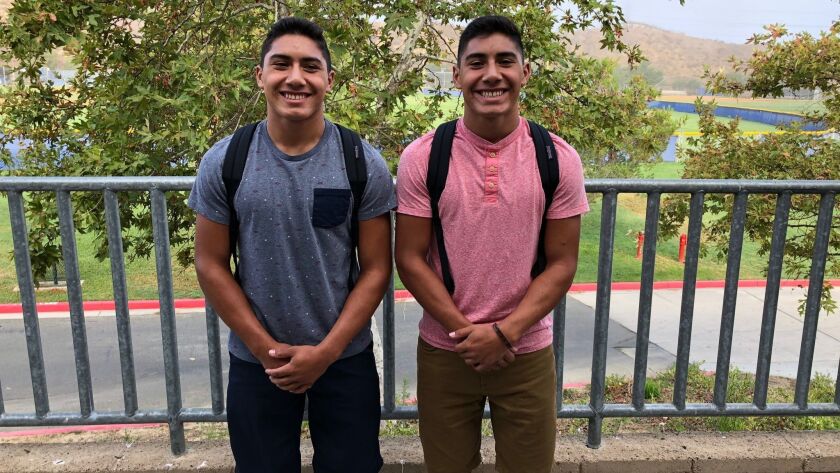 Identical twins Ryan and Jovan Camacho of Valencia West Ranch made elaborate plans to have some fun. The brothers showed up to football practice with mischievous motives.
"He usually wears red and I wear blue," Ryan said. "We switched clothes to see if we could get people. It worked on a couple."
One thing nobody mistakes about the Camachos: They are the best players whenever they take the field for West Ranch, whether in football or baseball. Each is 5 feet 9, 180 pounds with speed and instincts.
Ryan is a senior running back, cornerback and outfielder. He has rushed for 483 yards and 11 touchdowns and has intercepted two. He batted .382 in baseball. Jovan is a receiver, cornerback and outfielder. He has caught 20 passes for 450 yards and seven touchdowns. He batted .282.
"They're so darn serious when they play their sport," baseball coach Casey Burrill said. "What pushes them to be good is they're trying to be better than the brother. They both claim to be bigger than the other. Jovan loves his hair products. The other says they're better looking than the other."
Baseball spikes are left in their closet until football season ends. Football cleats are put away during baseball season. There's a real camaraderie between the two, especially when they're playing cornerback.
"I feel like we have a real connection," Ryan said. "I'm on one side of the field and he's on the other. I trust him to get the job done.''
Said Jovan: "It's actually really fun because even if I'm not making the play I'm still getting recognition from other people who think it's me. I'll take it."
This could be the year of the twins in high school football.
Corona Centennial has the Kinslow twins, Thomas and Tyler. Thomas is a standout running back and Tyler is a defensive back.
The Gill twins, Trenton and Trevor, are now at Simi Valley Grace Brethren after starting the year at San Fernando. Both are three-sport athletes who used to play youth football with the Camacho twins. Talk about seeing double.
"It was really fun. We used to terrorize teams," Ryan said.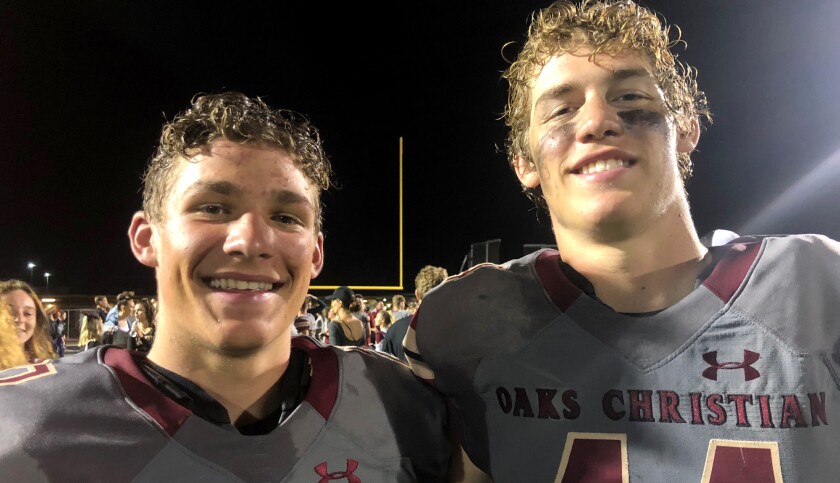 At Long Beach Poly, the Markham twins, Kejuan and Keon, have a scholarship offer from UCLA. Kejuan already has six interceptions. Keon is a running back/receiver.
Poly coach Stephen Barbee once coached triplets at San Juan Capistrano St. Margaret's and certainly appreciates what the Markhams offer.
"The Markham twins are incredible athletes and great kids," he said. "They support each other. When you have those siblings on a team, especially twins, they really have the brotherly love you want to have. It helps promote the synergy you want."
At Westlake Village Oaks Christian, fraternal twins Jack and Nate Lenthall have been impact defensive players for the unbeaten Lions. Nate returned an interception for a touchdown last week against Mission Hills Alemany. Jack, a defensive end/linebacker, had five tackles in the same game.
Jack is 6-2; Nate is 5-10. Nate came through with the game-winning touchdown in the Southern Section Division 2 championship game last season.
"I still haven't heard the end of that one," Jack said.
After games, they'll be smiling, taking photos and enjoying their moment of brotherly sixth sense on the football field. They're also lacrosse players.
"He always knows where I am on the field," Jack said.
So enjoy your twin sightings this season. You're not seeing double. You're seeing talented siblings having fun fooling people while trying to outfox and outplay the other.
Twitter: @latsondheimer
---
Get the latest on L.A.'s teams in the daily Sports Report newsletter.
You may occasionally receive promotional content from the Los Angeles Times.