Locke captures first football title by beating Roosevelt for City Section Division II championship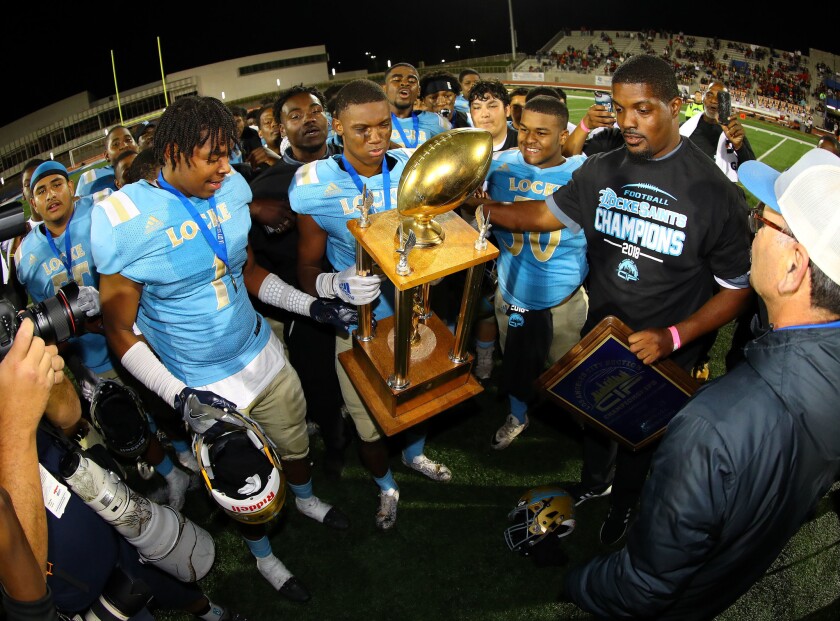 In only two years, the Locke football team went from forfeiting games because of a lack of players, to rushing the field Friday at El Camino College in celebration after winning a City Section Division II championship.
The Saints defeated Roosevelt, 22-20, to earn the program's first title, the game-sealing interception made by senior quarterback and free safety Mikel Beime, who was a sophomore when Locke only had 13 players at spring practice of 2016.
"I'm still shocked," Beime said. "It took a lot of hard work and dedication. A lot of people quit on us and didn't believe in us, but we got the job done and proved them wrong."
Saints coach Michael Klyce, a former Locke High player, took over the program in 2017 and immediately changed its course.
The Saints advanced to the Division III semifinals last season before falling short against Marshall, but Klyce said the biggest differences this year has been experience and discipline.
"The kids showed a lot of dedication and commitment," he said. "I told the kids that if they had faith, believed and stayed the course, we would be champions. Our mantra was to play 16 games and get to state."
The title didn't come easy for Locke (10-4), which had to deal with Roosevelt's bruising double-wing offense that had been averaging 498 yards per game coming into Friday night.
The Saints held Roosevelt, which was without injured star running back Frankie Cruz, to 133 rushing yards and just one touchdown on the ground.
Roosevelt (9-5) scored the only touchdown of the first quarter on a 26-yard run from Angel Ochoa.
Locke got on the board early in the second quarter with a four-yard run from Beime and took a 15-7 lead on a 75-yard pass from Beime to Jerome Cooper with 3:45 left in the first half.
Roosevelt pulled back to within one of Locke, 15-14, on a six-yard pass from Andres Flores to Alfredo Sepulveda with 13 seconds left in the second.
Locke extended its lead to eight, 22-14, on a five-yard touchdown run by Travon Ford with 4:24 left in the third.
Roosevelt broke its 19-minute scoring drought on a 30-yard touchdown pass from Flores to Koby Adame, cutting the Locke lead to 22-20 with five minutes left.
Roosevelt went for a two-point conversion, but Saints linebacker Brandon Little made the stop at the goal line.
Roosevelt's last-ditch heave for the win on third and 10 from the Locke 30-yard line was intercepted by Beime.
---
Get the latest on L.A.'s teams in the daily Sports Report newsletter.
You may occasionally receive promotional content from the Los Angeles Times.