LAUSD coaches given OK to begin conditioning workouts Nov. 9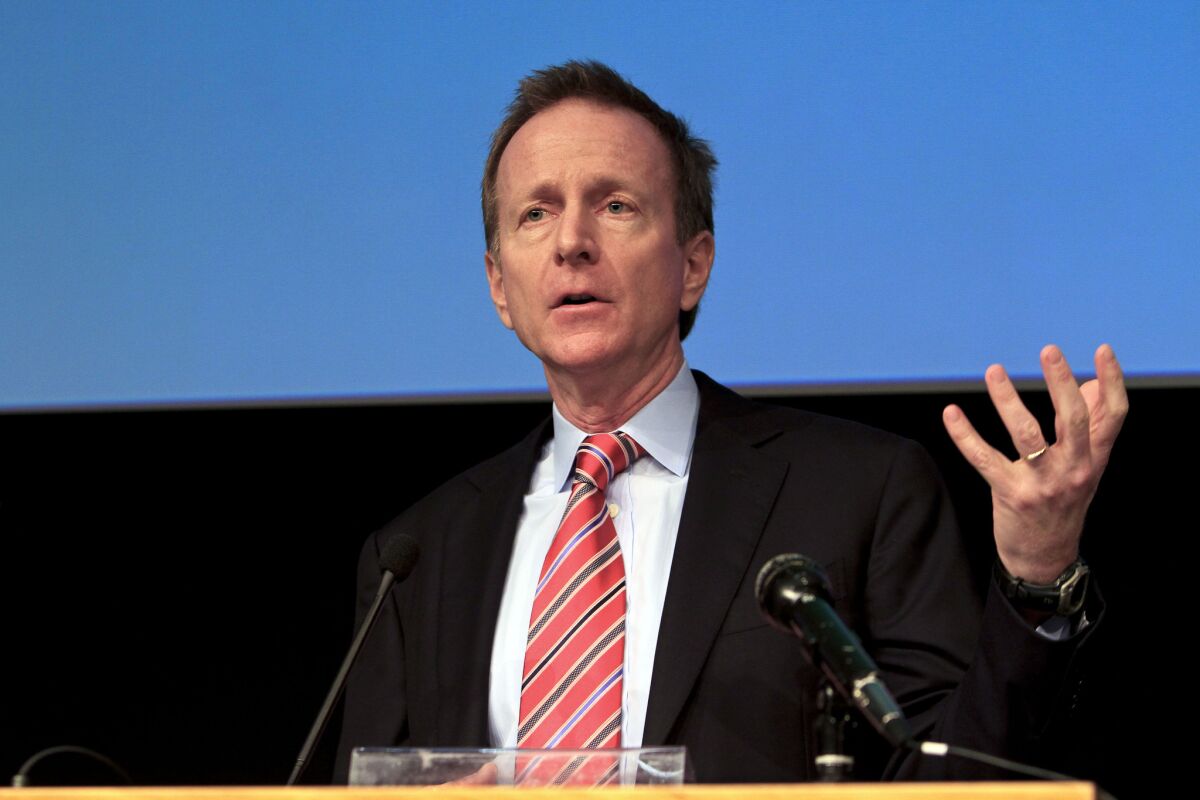 Austin Beutner, superintendent of the Los Angeles Unified School District, announced Monday that he will allow coaches to begin directing voluntary on-campus sports conditioning outdoors starting Nov. 9.
Coaches and students will need a negative coronavirus test, and strict safety measures will be in effect, including limiting groups of athletes to small pods.
"We're being careful and deliberate," Beutner said.
Coaches have been unable to work in person with athletes since LAUSD shut down campuses in March. They will receive training this week on how to conduct conditioning workouts.
While allowing coaches to work with athletes starting next Monday will be welcomed by parents, there is still no indication when competitive games could start. Beutner said a Dec. 14 official start of practices in the City Section is unlikely to take place because of state restrictions for Los Angeles County, which is in the purple Tier 1, indicating widespread coronavirus community transmission.
"I'm not the final arbitrator," Beutner said in a phone conversation. "Los Angeles County is far away from meeting state standards for opening schools. While we are unable to open schools — and they're not likely to open this semester — if they can't be in the classroom, it's hard to believe how they can be competing in competitive sports. It's a health and safety thing. If you can't have 12 kids in a classroom safely, how can you have 12 guys on the court?"
Coaches on Monday said they were excited to get the opportunity to welcome their athletes back to campus even if there continues to be uncertainty about when games would begin.
"It's a step in the right direction and we're not going to get to games without taking this first step," Granada Hills Kennedy coach Troy Cassidy said.
Venice football coach Angelo Gasca and his players will get to use their new stadium field that was finished last week.
"I think they're going to be super excited and it will almost be therapeutic to get out of their house, run around and will take one step forward," Gasca said. "We've been encouraging everyone to get their paperwork done and prepare to get tested for COVID-19."
Gasca has masks for every player who needs one. He believes getting the chance to work out will be a test for everyone in the district.
"I'm going to tell our players we don't know when we're going to get to play, but we have to socially distance and follow the guidelines, and if we show through this process we can function, then maybe we get to go to the next step," he said.
Dorsey coach Stafon Johnson, in his first season, has been waiting eight months to finally work with his players.
"I am excited," he said. "I know there's a lot of stipulations, but it's great to get on campus. It's like a gift, but there's a long ways to go."
City Section Commissioner Vicky Lagos said she intends to start meeting with sport advisory committees to discuss possible changes in scheduling since the Jan. 8 start for games is in jeopardy.
"I'm happy the kids are going to have some socially distanced conditioning with their teammates and hopefully the COVID-19 numbers will keep reducing and they will be able to participate in more than conditioning at some point," Lagos said. "We can't do anything until we get the go ahead from L.A. County. We'll adjust accordingly. We're at the mercy of the county guidelines."
Reseda football coach Alonso Arreola said one parent of a junior player is exploring options after voicing concerns about whether there will be a season.
"There's still a lot of uncertainty," he said. "I'm hoping it's not a false hope. These guys are looking forward to a season. If they go out and condition and are told a month later they can't play … but I'm excited for them."
Beutner said he's as frustrated as parents in wanting students to return to campuses. "We want students back in the classroom and on the field," said Beutner, who added he doesn't have a "COVID crystal ball."
"This has to be job one," he said. "We have to get the level of COVID down. My hope is we get it. We want students back."
Beutner agrees that schools in other counties with fewer transmissions and in a different-colored tier than Los Angeles County could be playing sports in January. "Hats off to them," he said. "We're not there yet. It's community spread of COVID."
---
Get our high school sports newsletter
Prep Rally is devoted to the SoCal high school sports experience, bringing you scores, stories and a behind-the-scenes look at what makes prep sports so popular.
You may occasionally receive promotional content from the Los Angeles Times.