Roundup: King/Drew's Kosy Akametu turns in statement game against Crenshaw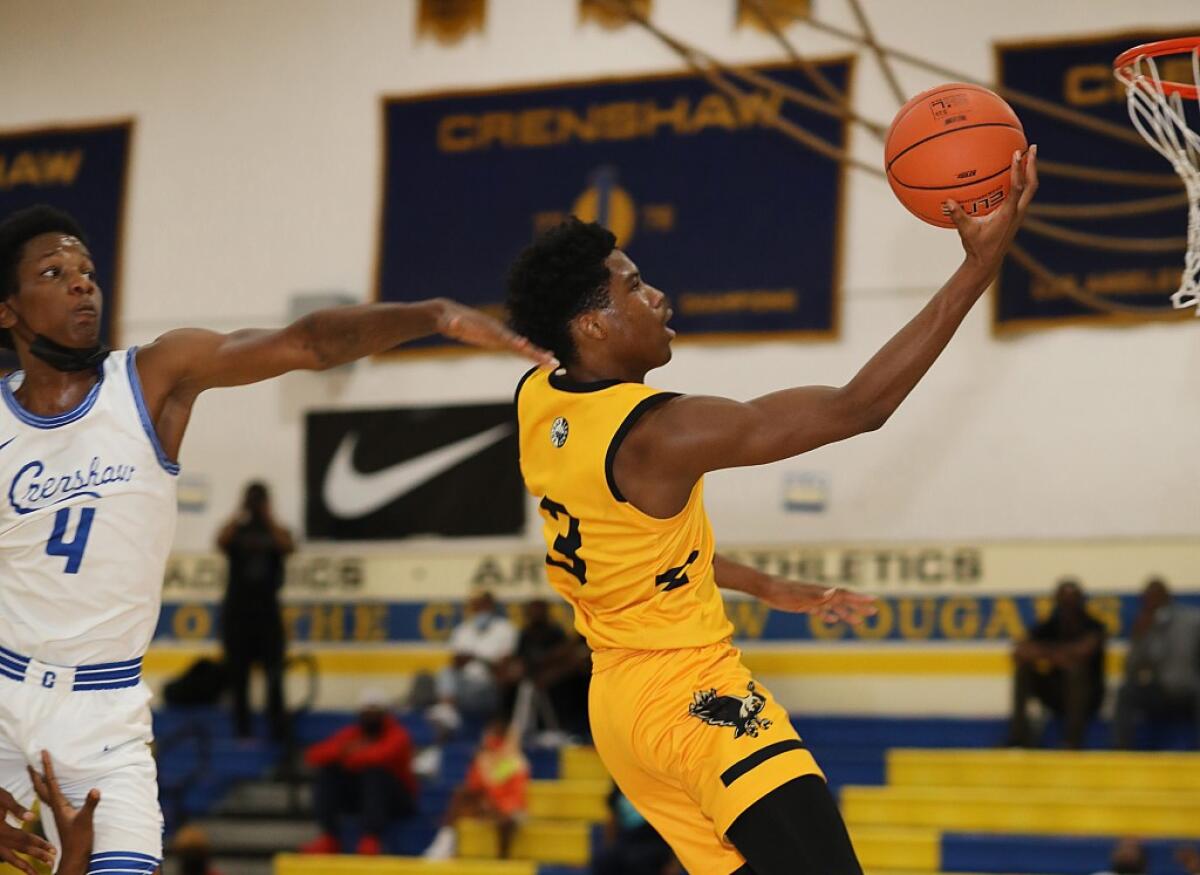 King/Drew basketball coach Lloyd Webster insists he hasn't been hiding 6-foot-4 senior Kosy Akametu, who recorded four dunks and scored 30 points on Friday in a 90-73 victory over Crenshaw. Akametu was simply missing in action last season when King/Drew lost to Westchester in the City Section Open Division semifinals.
It turns out his father, who once played goalie for the Nigerian national soccer team, had taken away his basketball privileges in January 2020 because his son's grade in Algebra had dropped to a D, and there are no Ds allowed in the family. Two older brothers played at Harbor City Narbonne and a younger brother plays for King/Drew.
"I understand his perspective," Akametu said. "He taught me a good lesson."
Akametu combined with Kalib LaCount, who scored 34 points, to overwhelm the Cougars (3-1). King/Drew (4-0) held a 27-point lead in the third quarter. Kevin Bradley did his best for Crenshaw, scoring 38 points.
Akametu let everyone know he's someone to be recognized before this season is finished. Early in the first quarter, with about 30 spectators quietly sitting in the bleachers, he drove to the basket and threw down a one-handed dunk that woke everybody up. Suddenly there was noise and talking about what they had just seen.
"The lane was open," he said.
Ribet 68, Birmingham 67: David Elliott scored 20 points to help the Patriots (6-3) come close to upsetting the Fighting Frogs. Birmingham had two shot attempts in the final seconds that didn't fall. Mike Price scored 17 points for Ribet (11-1). Ribet missed three free throws in the final 12 seconds to give Birmingham a shot to win. Larry Olayinka had his best game for Birmingham, scoring 15 points.
Narbonne 82, Banning 53: Marcus Adams scored 23 points and Devean Williams 18 for Narbonne.
Fairfax 76, University 50: The Lions stayed unbeaten behind Ahmad Brooks, who made seven threes and finished with 22 points. Fairfax will play host to Westchester on Saturday in the first of two Western League games against the Comets.
Grant 68, Verdugo Hills 42: Jeremiah Windham had 17 points for the 7-0 Lancers.
Damien 86, Rancho Cucamonga 49: Malik Thomas scored 24 points to help the Spartans finish the regular season at 26-2.
Harvard-Westlake 79, St. Francis 43: The Wolverines (15-3 ) won their third straight Mission League championship. Adam Hinton and Cameron Thrower each scored 19 points. Trumann Gettings had 15 points and Brady Dunlap 10.
Hart 77, Golden Valley 56: Dillon Barrientos led Hart with 21 points.
West Ranch 81, Valencia 71: Noah Veluzat had 30 points for Valencia. West Ranch finishes the regular season unbeaten.
Saugus 65, Canyon 60: Davis White had 17 points and eight rebounds.
Van Nuys 66, Canoga Park 33: Andrew Angulo scored 26 points and Jason Tamayo 21.
Santa Ana Mater Dei 61, Rolling Hills Prep 52: Harrison Hornery scored 24 points and Nick Davidson had 21 to help the Monarchs improve to 25-1. Benny Gealer scored 27 points for Rolling Hills.
Etiwanda 100, Upland 60: Brandon Martin and Darvelle Wyatt each scored 19 points.
Colony 69, Claremont 49: The Titans (18-1, 10-0) finished off a perfect league season. Brenton Knapper had 22 points.
Brentwood 70, Campbell Hall 59: Thomas Oosterbroek had 20 points and Cameron MacDonald 17.
Crossroads 85, Viewpoint 74: Giovanni Goree had 33 points for Viewpoint.
Girls' basketball
Mater Dei 75, Orange Lutheran 21: The Monarchs won their 14th consecutive Trinity League championship.
Baseball
Newbury Park 2, Thousand Oaks 1: The No. 1-ranked Lancers (23-1) suffered their first defeat, with sophomore Derek Turner, who transferred from Thousand Oaks before the season, throwing a four-hitter. Thousand Oaks hadn't lost since the 2019 season, a streak of 31 consecutive victories.
Harvard-Westlake 3, Chaminade 1: Jordan Kang went three for three and freshman Bryce Rainer struck out seven in 4 1/3 innings to help the Wolverines come away with a three-game sweep and set up a showdown next week with Sherman Oaks Notre Dame to decide the Mission League championship.
Orange Lutheran 9, St. John Bosco 4: The Lancers (25-2, 12-0) won their 16th consecutive game to claim a three-game sweep of the Braves. Mikey Romero had three hits and Steven Mara had three RBIs. Orange Lutheran plays JSerra next week in a three-game series to decide the Trinity League championship.
JSerra 6, Servite 2: The Lions won their 18th consecutive game. Cody Schrier, Gabe D'Arcy and Anthony Aleman each had two hits.
Santa Margarita 1, Mater Dei 0: Sammy Cova threw six shutout innings.
Mission Viejo 10, Capistrano Valley 7: Scotty Young had three hits for Mission Viejo.
Arcadia 10, Muir 5: Harrison Meyers threw 4 2/3 scoreless innings in the win.
Sierra Canyon 10, Brentwood 0: Bryce Bond struck out seven in five innings and Ethan Munoz contributed three hits.
Northwood 8, Laguna Hills 1: Adam Harper and Henry Jia each had two RBIs.
Vista Murrieta 4, Murrieta Valley 3: Jerrad Gonzalez went three for three to lead Vista Murrieta.
Beckman 3, Irvine 0: Lucas Welch struck out seven and threw a five-hitter. Cade McGuire and Paul Murrow each hit home runs.
Westlake 9, Oaks Christian 5: Benjamin Church and Jack Johnson hit home runs and Shea Upton had three hits for Westlake. Austin Dudas drove in four runs for Oaks Christian.
Gahr 13, Lynwood 0: Angel Cortez led the win with four hits and five RBIs.
Mira Costa 10, Santa Monica 2: Andrew Hiestand struck out 10 in six innings. Dylan Knowles hit a home run.
San Juan Hills 8, Trabuco Hills 5: Chris Landaas led San Juan Hills with three hits and two RBIs.
Rancho Cucamonga 6, Etiwanda 0: Three pitchers combined for the shutout.
Ayala 24, Colony 3: Ayla (19-1), the No. 1-ranked team in Division 1, kept rolling as Cole Koniarsky hit a grand slam.
Damien 9, Chino Hills 3: Kaden Moeller struck out nine in four innings.
Foothill 8, Villa Park 4: Aiden Taurek had two hits and two RBIs.
Viewpoint 13, Windward 2: Treye Meadows struck out six.
Hart 5, Valencia 4: Brayden Jefferis and Malachi Soqui hit home runs and Ben Niednagel threw 3 1/3 scoreless innings of relief.
Sherman Oaks Notre Dame 12, El Camino Real 3: Greg Pierantoni finished with two hits and three RBIs.
Alhambra 4, Schurr 2: Thomas Flores threw six scoreless innings.
Sylmar 2, San Fernando 0: AJ Hernandez struck out eight in a complete-game performance.
Crescenta Valley 4, Glendale 0: Jameson Ferraro threw the shutout.
Chavez 12, Arleta 2: Manuel Luna threw a five-inning complete game to help Chavez end a 29-game losing streak. Michael Landeros went three for three with a grand slam.
Boys' soccer
Birmingham 6, Bell 1: The unbeaten Patriots received two goals apiece from David Diaz and Enrique Pineda to advance to the City Section Division I championship game at Birmingham against El Camino Real. The two teams have already met twice, with Birmingham 2-0 in the series. El Camino Real defeated Sun Valley Poly 6-1 in the other semifinal.
Get our high school sports newsletter
Prep Rally is devoted to the SoCal high school sports experience, bringing you scores, stories and a behind-the-scenes look at what makes prep sports so popular.
You may occasionally receive promotional content from the Los Angeles Times.