No-hitters for pitchers from Royal, Harvard-Westlake in baseball wins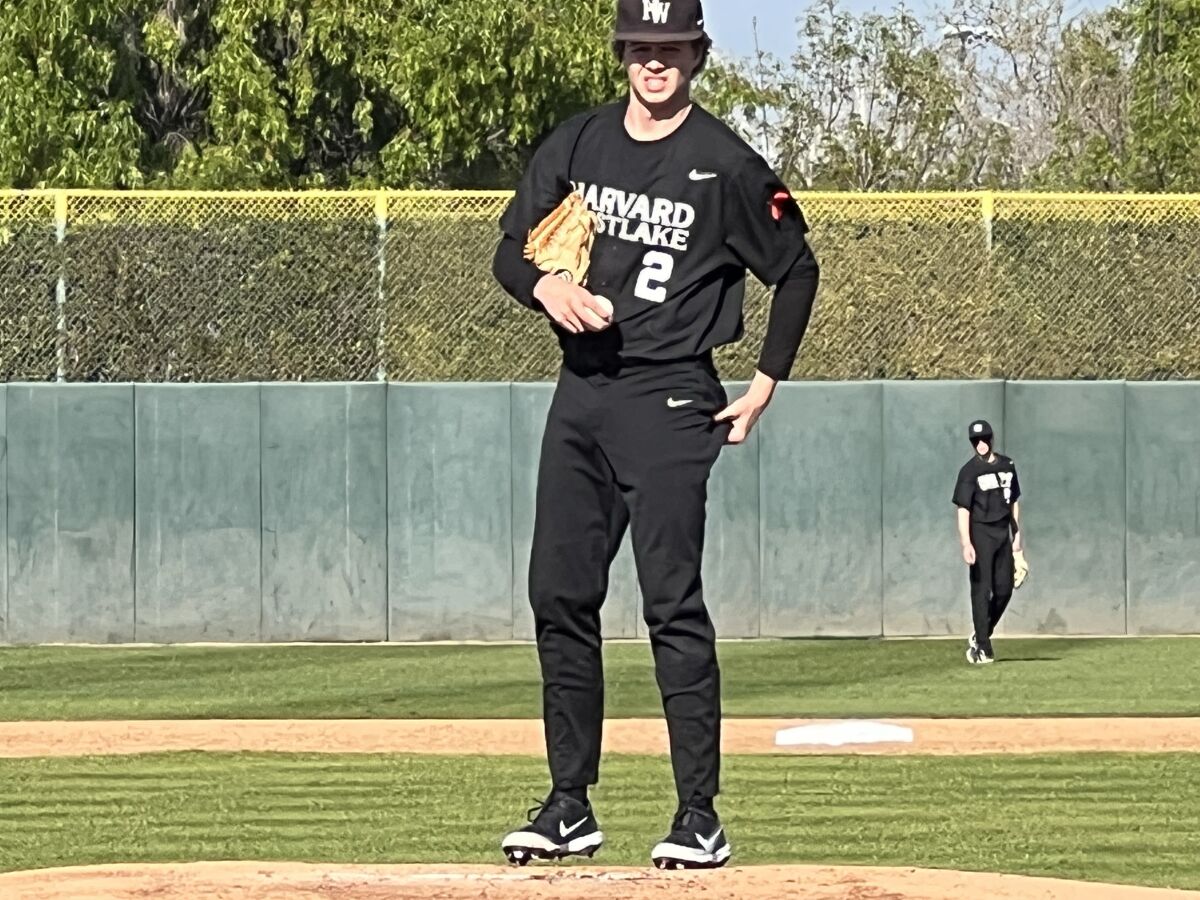 Another day, another UC Irvine commit throws lights out.
On Wednesday it was Ricky Ojeda striking out 19 for Valencia. On Thursday, it was Trevor Hansen of Royal throwing a no-hitter with 14 strikeouts in an 11-0 win over Oak Park. Hansen had a one-hitter last week in a win over Camarillo. He and Ojeda are committed to Irvine.
Another no-hitter was thrown by pitchers Bryce Rainer and Holden Rath of Harvard-Westlake. They combined to strike out 14 in a 3-0 win over Loyola. Rainer had no walks and nine strikeouts in five innings.
Crespi 1, Sierra Canyon 1: For the second time this week, these teams ran out of light and had to settle for a tie. Sophomore pitcher Diego Velazquez had a no-hitter for 5 2/3 innings and finished with a one-hitter. He got a strikeout in the bottom of the seventh with the potential winning run on third. Velazquez also had two hits, giving him 18 this season. Sierra Canyon is 9-0-2 and 4-0-2 in the Mission League. Crespi is 7-1-2 and 2-1-2.
Bishop Alemany 7, St. Francis 6: Jake Ortega had the game-winning walk-off single in the bottom of the seventh for Alemany.
Sherman Oaks Notre Dame 5, Chaminade 2: Levi Sterling struck out seven in four shutout innings of relief for Notre Dame.
Servite 8, St. John Bosco 5: Jonathan Rodriguez hit a grand slam to rally the Friars to a Trinity League victory. He finished with six RBIs.
Granada Hills 1, Birmingham 0: In a West Valley League opener, the Highlanders received strong pitching from Collin Azoy and Jack Nelson to knock off the Patriots. The only run came home on an error in the fifth inning. Daniel Flores gave up two hits in the loss.
Taft 5, Cleveland 4: The Toreadors won their West Valley League opener. Dylan Sidell went three for three with a game-winning double in the top of the seventh. Elijah Gaviola struck out nine in five innings.
El Camino Real 9, Chatsworth 3: The Royals picked up a win in their West Valley League opener.
La Mirada 3, Oaks Christian 2: Donald Murray struck out 18 in six innings with one walk for La Mirada.
Valencia 10, Saugus 0: Matthew Sherwood struck out seven in five scoreless innings and Aiden Voyles contributed three RBIs to lead the Vikings.
Huntington Beach 10, Marina 1: Nate Aceves struck out six in five innings to lead the Oilers (3-6, 1-1) to victory in a Sunset Surf League matchup. Aidan Espinoza had two hits and Trent Grindlinger added three hits and two RBIs.
Long Beach Millikan 4, Narbonne 0: It was precision pitching from Austin Paul, who struck out four, walked none and threw a three-hit shutout for Millikan.
Ayala 3, King 2: Elijah Ybanez had the game-winning RBI double in the sixth for Ayala.
Irvine Northview 3, Beckman 2: Adam Harper came through with an RBI single in the fifth inning that proved to be the game-winning hit for Northview.
Moorpark 2, Camarillo 0: Rylan Stillwagon allowed two hits in 5 2/3 innings for Moorpark.
Trabuco Hills 5, Edison 4: Mikey Gray had the walk-off hit in the eighth inning for Trabuco Hills.
Quartz Hill 17, Palmdale 0: Logan Reddemann threw a five-inning perfect game with 11 strikeouts. He also had four hits. Reddemann has not allowed a walk in 19 innings this season.
Santa Monica 3, Hamilton 2: Sean Bowker and Jackson Klein combined on a four-hitter for Santa Monica.
South Hills 4, Gahr 0: Sterling Patick threw the shutout, striking out 10 with no walks for South Hills.
Bishop Amat 6, La Salle 3: A three-run 12th inning broke a 3-3 deadlock and gave Bishop Amat the win. Jacob Campos went four for four. Moises Escobedo threw seven innings of scoreless relief striking out 11.
Crescenta Valley 1, Pasadena 0: Nico Terenzi threw a one-hitter. The Falcons won on a walk-off in the seventh.
Softball
El Camino Real 7, Simi Valley 4: Amber Rivas had three hits and Rachel Rice added two hits and two RBIs for El Camino Real.
Norco 6, Yuma (Ariz.) Cibola 3: Myra Perez had a home run and four RBIs for unbeaten Norco (7-0).
Villa Park 3, Phoenix Greenway 0: Auddrey Lira struck out nine and allowed three hits.
Orange Lutheran 5, Crescenta Valley 0: Brianne Weiss threw a one-hitter with 14 strikeouts. Kai Minor had four hits.
Oaks Christian 4, St. Mary 1: Anahi Arreolaand Rylee McCoy each hit home runs and Emmy Davis struck out 10 in six innings.
Get our high school sports newsletter
Prep Rally is devoted to the SoCal high school sports experience, bringing you scores, stories and a behind-the-scenes look at what makes prep sports so popular.
You may occasionally receive promotional content from the Los Angeles Times.