Dawnyel Lair gives Fairfax the burst it needs to beat Granada Hills for City girls' basketball title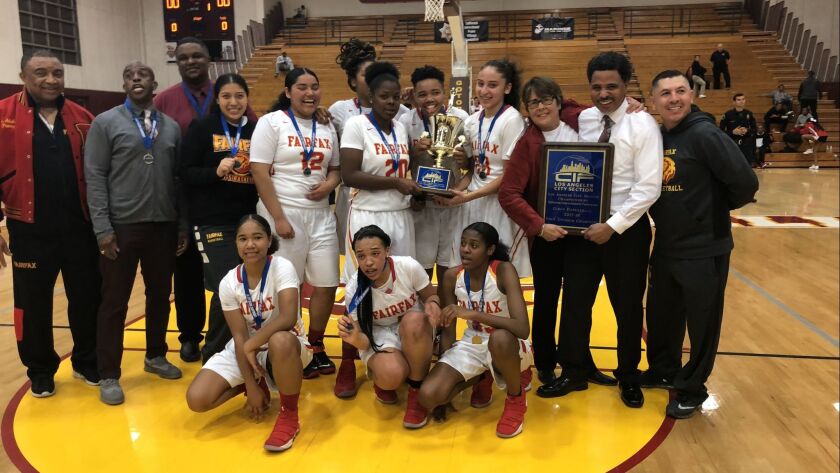 Dawnyel Lair of Fairfax looked as if she turned on the afterburners Saturday during the third quarter of the City Section Open Division girls' championship game. She was jetting up and down the court and Granada Hills players were helpless.
"I had to do something," she said. "They were a little tired and I took advantage."
Fairfax, which once trailed by 10 points, pulled away for a 59-46 victory at Cal State Dominguez Hills, giving Charles Harrell a City championship in his first season as head coach.
Lair, who is headed to Wichita State, scored 16 of her 22 points in the second half.
"She's a phenomenal player," Harrell said. "She's going to be the player of the year. Her level of speed is unseen before."
Fairfax (27-4) turned up the defensive pressure after trailing 31-26 at halftime. The Highlanders (26-5) started making turnovers.
"I thought we were stagnant on offense and we needed to turn up the tempo," Harrell said.
Lair started driving full court, and there was no one ready to stand in the way, especially after Granada Hills center Haylee Aiden picked up her fourth foul late in the third quarter. That's when Fairfax began to pull away.
Aiden had 10 points, 24 rebounds and seven blocked shots for the Highlanders, while Hayley Berfield added 14 points.
Chassen Gutierrez scored 12 points for Fairfax.
Fairfax had been searching for a replacement as coach for two years for Judi Edwards, who kept coming out of retirement. Last season, she came back and saw Fairfax rally from a 19-point deficit in the final to defeat Palisades 82-80 in overtime. Lair scored 35 points.
This season, Harrell was identified as the person to finally take over. He had been a junior varsity coach for the boys' team.
"It means a lot to win," Harrell said. "It's very special taking over for Judi, one of my mentors. I'm glad I could continue the success."
Now the question is whether Lair will use her speed in track and field.
"I should run track," she said.
In Division I, Taylor Edwards made six three-pointers and finished with 22 points to lift Carson past Legacy 75-63. Myrrah Joseph, who is headed to Hawaii, added 17 points.
Arianna Harper led Legacy with 28 points. Carson led by only five points at halftime before pulling away in the third quarter.
Twitter: @latsondheimer
---
Get the latest on L.A.'s teams in the daily Sports Report newsletter.
You may occasionally receive promotional content from the Los Angeles Times.