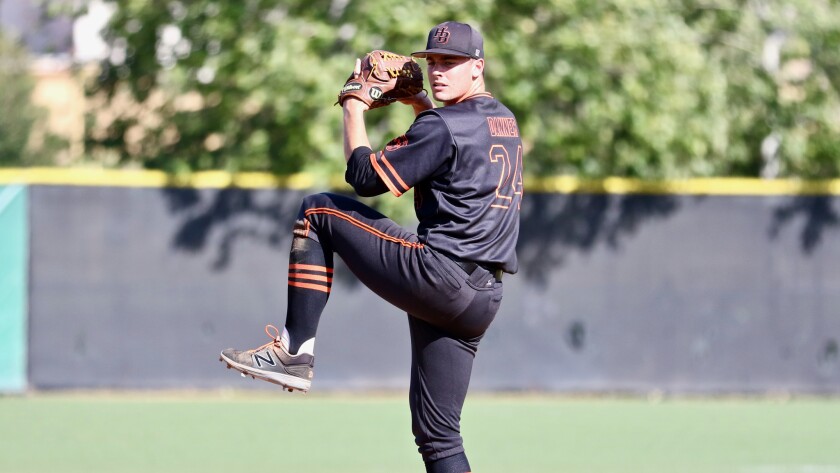 Back when Hagen Danner was 12 years old and hitting a home run on national television at the Little League World Series, many people were predicting greatness in the years ahead.
Except there's no guarantee that youth phenoms will live up to expectations. People catch up to them and have their own growth spurts.
But Danner has more than lived up to his potential. This season, in his senior year at Huntington Beach High, he set a school record with 12 home runs and finished with a .350 batting average and 40 RBIs. On the mound, he had a record of 11-1 with a 1.22 ERA in helping Huntington Beach attain a No. 1 ranking nationally during the regular season.
For his individual and team contributions, Danner was selected The Times' player of the year in high school baseball.
"No regrets in four years," he said of his high school experience. "I had a blast. I played with my best friends and a great coaching staff. It's been awesome."
Even though he was the losing pitcher in a 4-1 quarterfinals playoff loss to Placentia El Dorado, it doesn't take away from his terrific season. Whether at the plate or on the mound, Danner usually delivered — despite those huge expectations that never let up since his youth days.
"Anything can happen, especially with baseball being such a hard sport,'' he said. "I'm glad it's going the way it's been going for me."
Danner was able to turn potential into results. His fastball is in the low- to mid-90s and he demonstrated exceptional power at the plate. The key, he said, was staying healthy. He had trainers take care of his arm and made sure he took lots of batting practice.
"I've had it, but I haven't shown it as much as I could have," he said of hitting home runs. "It just came. I was making good contact."
As for his pitching, the development of his curveball made him even more effective.
"I wanted to have command with all my pitches, and I think I had it," he said. "My curveball helped me out. I love throwing that thing."
His only disappointment might have been giving up a home run in the quarterfinals loss to El Dorado.
"I could have had maybe better command of my curveball in some outings, but I did my best," he said.
He has signed with UCLA and will wait to see about pro baseball options after the draft. He is projected to be selected early.
Whatever happens, Danner has left a lasting positive impression during his playing days in Southern California, from Little League through high school.
Follow Eric Sondheimer on Twitter @latsondheimer
---