Stars realigning under CIF rule change that allows students to switch schools for athletic reasons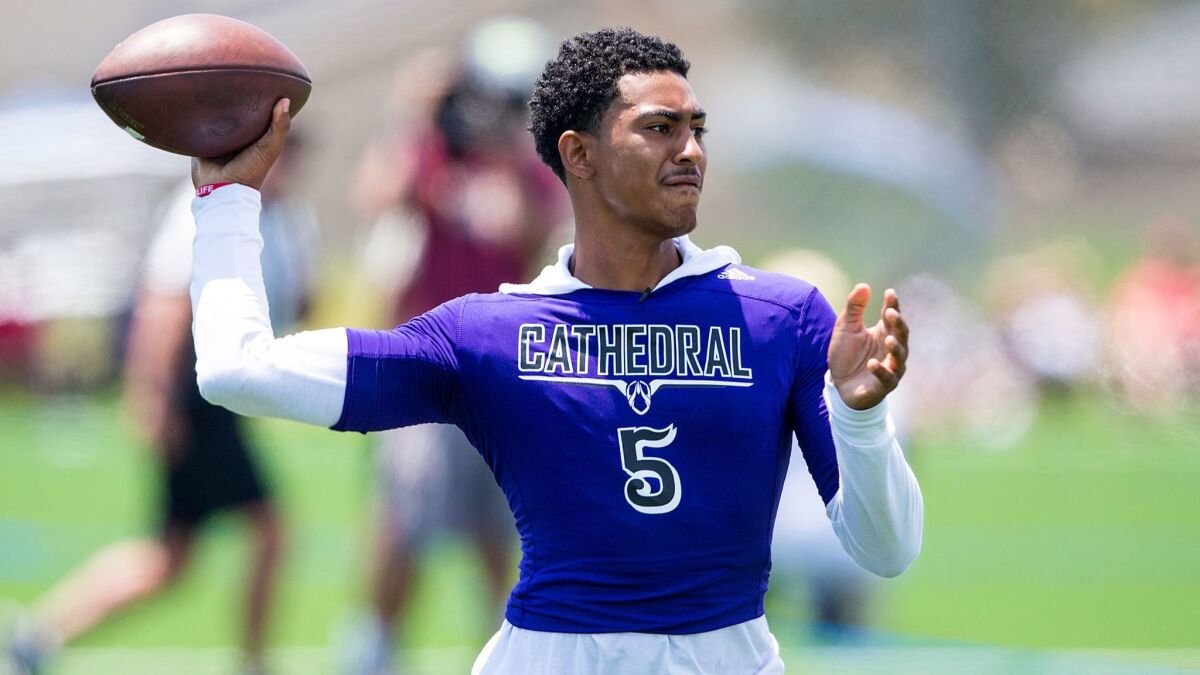 All-star teams are being assembled. Players are joining former teammates from their club-team days. Private schools are getting athletes who don't live anywhere near their campuses because there are no attendance boundaries.
High school students are transferring for sports reasons — I know, shocking! — and we know that for sure because the lid is off. California Interscholastic Federation schools voted last year to get rid of the rule against athletically motivated transfers. Students can now openly declare they are switching schools for athletic reasons. What's been going on for years has been made transparent.
Santa Ana Mater Dei is front and center in the movement of athletes. The school has become the IMG Academy of the West Coast. The Monarchs might as well start academies for football, basketball and other sports for all the transfers. When 2017 ended, the Monarchs had 54 students listed on the Southern Section website as having transferred to the school for the 2017-18 sports seasons.
And now the 15-0 football team that recently claimed a national championship has picked up sophomore quarterback Bryce Young from Los Angeles Cathedral, one of the best players around at his position. Young joins Sean Dollars, a standout defensive back and running back, and Jeremiah Criddell, a star defensive back and receiver, who have said they are leaving Rancho Cucamonga to play their senior seasons at Mater Dei.
Young announced via Twitter, "After much thought and prayer, I have decided to seize the opportunity to compete at the highest level and to set myself up for the next level."
Dollars told the Daily Bulletin that he and Young play on the same seven-on-seven team. "I want to play on the biggest stage possible," he said. "Everyone wants to win a national title and [at Mater Dei] you have the chance to do that."
The CIF has waved the white flag of surrender when it comes to transfers. Its only deterrent is a sit-out period of about a month for those who switch schools without moving. The CIF retreat was sold to member schools as a way to reduce the growing legal costs associated with challenges to its transfer policies. And guess which school was involved in a key lawsuit that eventually led to CIF changes? Yes, Mater Dei.
In 2010, Mater Dei sued the Southern Section after two transfer students were declared ineligible. In 2012, the sides settled after the CIF had spent more than $100,000 trying to defend its rules.
Mater Dei is not the only school taking advantage of athletic transfers. Chatsworth Sierra Canyon has a starting five of transfers in basketball. Lots of public schools with strong sports programs are gaining their share of transfers. Statewide, there could be as many as 17,000 students switching schools for the 2017-18 sports seasons.
The CIF Southern Section has reacted to the situation by adjusting playoff designations. The schools that are bringing in top transfers get placed into the highest-level divisions. In football, that's Division 1. For basketball, it's the Open Division. The rest of the schools compete for championships on a more level playing field.
All the shifting of allegiances may be affecting attendance in a negative way. Southern Section playoff attendance has declined. Fans may not be as loyal to a team whose star athletes show up for a few months, then vanish.
The situation won't change unless there is a revolt among member schools that results in stronger limits on transfers. There was once a one-year loss of eligibility for changing schools without moving.
At least two public school districts, Long Beach and Hart High Unified, have more restrictive sports transfer policies than the CIF. So far, they're holding their ground even though some coaches complain. And there are still a few private schools that prioritize academics and avoid the sports transfer game.
"We want to have the best coaches possible and we're trying to attract students who want to be here and get the best education possible," said Terry Barnum, the head of athletics at Studio City Harvard-Westlake who is also a member of the Southern Section Executive Committee. "We're not going to compromise who we are as a school in order to win games."
There is one positive in this transfer game. There's no longer a need to whisper in the bleachers or cover up what schools, parents and athletes have been doing for years.
Everyone can now shout, tweet and brag that they're switching schools for sports reasons.
Isn't it great?
Twitter: @latsondheimer
Get our high school sports newsletter
Prep Rally is devoted to the SoCal high school sports experience, bringing you scores, stories and a behind-the-scenes look at what makes prep sports so popular.
You may occasionally receive promotional content from the Los Angeles Times.