Prep baseball roundup: Cameron Repetti of Cypress strikes out 14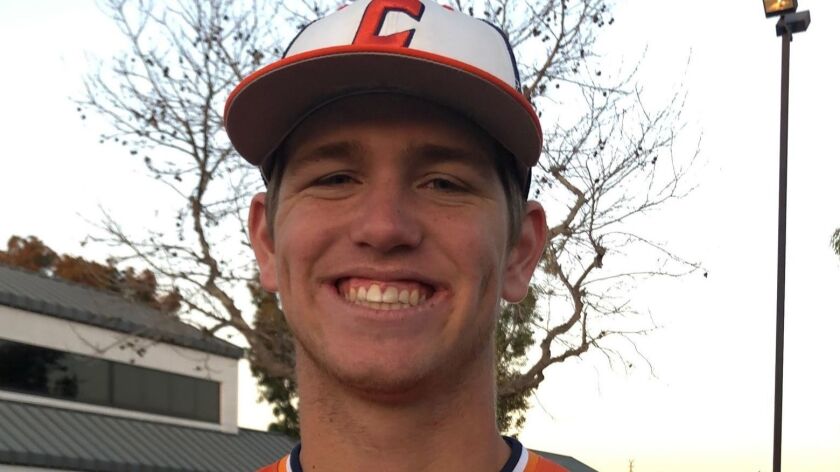 Cameron Repetti was fired up for his game against La Mirada on Tuesday. And he came through with 14 strikeouts to help Cypress defeat La Mirada 3-1 in the quarterfinals of the Loara tournament.
"He dominated them,'' coach John Weber said.
Repetti gave up five hits and walked two. Cypress improved to 4-0.
JSerra 9, Yucaipa 6: Michael Curialle had a double, triple and three RBIs and Blake Klassen added three RBIs for the unbeaten Lions.
Newbury Park 10, Santa Barbara 5: Max Flame and Robert Sharrar each contributed two hits and two RBIs for Newbury Park.
Crespi 7, Camarillo 5: Noah Herrera finished with four RBIs for the Celts.
Loyola 10, Oxnard 3: Colin Livingston had three hits and three RBIs for the Cubs (4-0).
Alemany 3, Agoura 2: Carlos Moreno threw four scoreless innings and had an RBI single.
St. Bonventure 5, Calabasas 1: Jake Saum pitched the Seraphs to victory, striking out 11 in four innings. Anthony Alvarez hit a home run. Freshman Sam Grunberg homered for Calabasas.
Servite 5, Pacifica 4: The Friars scored a run in the eighth to win. Garret Guillemette had two hits and two RBIs.
Aliso Niguel 7, Santa Margarita 1: Michael Davinni went four for five to lead Aliso Niguel.
Cleveland 4, Ventura 0: Braden Lowe threw six shutout innings, striking out four and walking none.
Ayala 4, Corona Santiago 1: Dylan Cook struck out six and gave up one run in six innings. He also had two hits.
Marina 8, Villa Park 4: Austin Hallman had a home run and four RBIs for Marina.
Anaheim Canyon 3, Bishop Amat 2: Brock Razook and Jacob McClure combined on an eight-hitter.
El Camino Real 7, Valencia 1: Cole Kitchen struck out 10 in a complete game. Joey Klein had two hits.
Oaks Christian 5, La Cañada 0: Brandon Madrigal threw the shutout. Charlie Adamson hit a two-run home run.
San Fernando 3, Granada Hills 1: Matt Dodd threw a one-hitter for the Tigers (3-1).
Walnut 3, Claremont 0: Manny Casillas threw a one-hitter with five strikeouts.
Quartz Hill 7, Sierra Canyon 2: Mike Marshall threw five no-hit innings and also contributed two hits.
Mission Viejo 6, El Dorado 5: The Diablos won in nine innings. Aaron Casillas had three hits.
West Ranch 12, St. Francis 4: Ryan Camacho and Nicholas Perez each had three RBIs for West Ranch. Mikey Kane went four for four to lead St. Francis.
Paraclete 1, Chaminade 0: Joey Estes struck out eight in the shutout for the Spirits, who scored in the bottom of the seventh.
Viewpoint 6, Sylmar 2: Cary Lucas struck out 14 and Ryan Armour and Lucas Herman each had two hits.
Etiwanda 2, Crescenta Valley 1: Marcus Johnson struck out 10 and walked one in a complete-game performance.
Saugus 6, Burroughs 0: Bobby Garcia struck out 12 and allowed three hits.
Trabuco Hills 7, Paramount 0: Jared Casebier and Daniel Gaggiano combined on a no-hitter. Jack Korthals had two hits and two RBIs.
Corona 9, Temecula Valley 8: Andrew Walters had the walk-off sacrifice fly for Corona (3-0).
Newport Harbor 9, Schurr 2: Cameron Mahaffy went four for four with three stolen bases.
---
Get the latest on L.A.'s teams in the daily Sports Report newsletter.
You may occasionally receive promotional content from the Los Angeles Times.