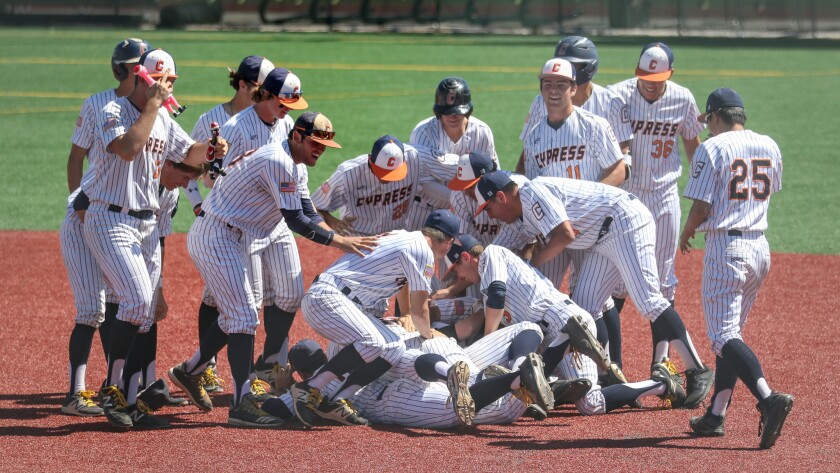 JSerra might not have a dominant ace pitcher but the Lions' pitching depth is outstanding, and that's a big reason they have advanced to the championship game of the Southern California portion of the Boras Classic.
The Lions broke a 2-2 tie by scoring three runs in the bottom of the sixth inning to knock off Sherman Oaks Notre Dame 5-2 on Thursday in a semifinal game. The Knights' bullpen couldn't follow the strong five-inning performance of Connor Skertich, who allowed four hits and two runs.
A Colby Canales squeeze bunt pushed in the tie-breaking run. Then came a bases loaded walk and an RBI single from Michael Curialle. Earlier, JSerra received a two-run home run from Blake Klassen.
Meanwhile, the Lions keep finding pitchers to throw strikes. Cameron Cooke came on in the fourth inning in relief and didn't allow any runs in 3 2/3 innings to pick up the victory. Notre Dame collected just one hit off Cooke.
JSerra advances to Friday's 6 p.m. final against La Mirada at JSerra.
Ryan Hernandez threw six shutout innings to lead La Mirada past Yucaipa 2-0. Darius Perry broke a 0-0 deadlock in the sixth with an RBI double. Eugene Jeon followed with his own RBI double.
Hernandez was forced to take the mound in the first inning when the umpire ejected La Mirada's starting pitcher following a hit batsman to start the game. Jarod Sharp picked up his third save of the tournament.
Cypress 2, Mater Dei 1: Tyler Chaffee had the walk-off hit in the eighth inning for Cypress. He also threw all eight innings. Cypress will play Orange Lutheran on Friday for the Boras Classic consolation title.
Orange Lutheran 5, Great Oak 0: Evan Adolphus struck out seven in five shutout innings and Max Rajcic had two hits and two RBIs.
Etiwanda 12, Maranatha 0: Gio Del Negro and Andrew Cordero each finished with three RBIs. Josh Sandoval struck out eight in five scoreless innings.
Huntington Beach 11, Simi Valley 5: The top two batters in the order, Jake Vogel and Josh Hahn, were a combined six for eight with four RBIs for Huntington Beach. Jag Burden added three hits.
Ayala 7, Rancho Bernardo 1: Diego Santiago threw a complete game with six strikeouts.
Mira Costa 5, Corona 3: Christian Bodlovich had two hits and Nathaniel Miller contributed two RBIs for Mira Costa.
Bishop Amat 4, La Salle 3: The Lancers pulled out the Del Rey League win in the bottom of the ninth on a Jaden Allen walk-off single.
Calabasas 3, Agoura 0: Decker MacNeil and Jack Simons combined on a four-hitter to lift the Coyotes.
Irvine 4, Beckman 3: Marc Filia had home run, triple and single to go along with three RBIs for Irvine. Nick McLain homered for Beckman.
Santa Margarita 9, Clackamas 7: Aaron LaMont went four for four and Jonny Giannola had three RBIs.
San Pedro 9, Narbonne 6: The Pirates improved to 13-1 and 2-0 in the Marine League.
Redondo 7, Leuzinger 2: Max Zamarripa had three hits for Redondo.
---