Prep baseball roundup: Cypress wins Loara tournament championship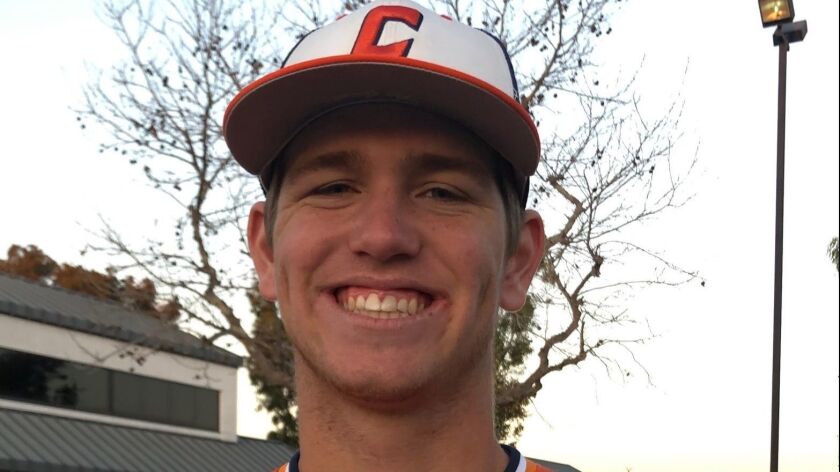 Tyler Chaffee struck out seven and allowed three hits in six innings and Cameron Repetti came on in the seventh to get the save to help Cypress defeat Ayala 2-1 on Saturday night in the championship game of the Loara tournament.
Cypress improved to 5-0. Repetti finished with two hits.
Orange Lutheran 5, San Jose Valley Christian 3: Evan Adolphus threw 12/3 innings of scoreless relief, and the Lancers broke a 3-3 tie with two runs in the top of the seventh. Caden Connor, Adolphus and Carl Lawson each had two hits.
Huntington Beach 3-4, San Jose Bellarmine 1-3: Josh Hahn struck out five and walked none in five shutout innings while allowing two hits in the first game. The Oilers got the sweep behind Hahn, who had three hits in the second game.
Hart 2-0, Newbury Park 1-9: Ian Sockett and Patrick Arman combined on a six-hitter in the first game. Three Newbury Park pitchers combined for a two-hitter in the second game.
Thousand Oaks 2, Chatsworth 1: Ryan Turner had the walk-off hit in the eighth inning. Spencer Perry went three for three.
Servite 6, Woodbridge 1: RJ Horvatin and Garrett Guillemette each had two hits for the Friars. Freshman Chris Grothues threw a complete game, striking out six.
Cleveland 7-7, Canyon Country Canyon 1-0: Chris Lozano struck out four and allowed six hits in six innings in the first game. Lozano and Malakai Correll each had two hits. In the second game, Bobby Velasco had three hits. Braden Lowe threw five shutout innings.
Mission Viejo 8, Marina 1: Luke Spillane led the Diablos with two hits.
La Mirada 2, Corona Santiago 1: The Matadores won on a walk-off single by Darius Perry in the eighth inning. Michael DeHaro struck out six in 5 1/3 innings
Bishop Amat 3, Vista Murrieta 1: Blake Archuleta struck out seven in five innings.
Sun Valley Poly 7, Roosevelt 0: Joe Guzman had two hits and Elias Galaviz picked up the pitching victory.
Oaks Christian 6, Village Christian 5: In the first game, it took 18 innings before the Lions prevailed. Austin Dudas had three hits. Conner Kershaw got the win.
El Toro 12, Anaheim Canyon 1: Paul Skenes finished with five RBIs.
Chaminade 4, St. Bonaventure 3: Tommy Borowski had two hits and two RBIs in the eight-inning game.
Capistrano Valley 5, La Palma Kennedy 0: Nathan Manning and Chad Call each had two hits. R. Stevens struck out nine and threw a two-hitter.
Beckman 4, Rancho Cucamonga 0: Trevor Ernt struck out five and walked none in the complete game.
Santa Monica 6, Palos Verdes 3: Noah Delio had three hits for Palos Verdes.
Edison 6, Villa Park 2: Ted Burton contributed two hits.
Temescal Canyon 4-9, Bloomington 1-1: Devlin Lindeman hit his first home run in the first game and hit two more home runs in the second game.
St. Francis 5, Burroughs 0: Brandon Markarian allowed one hit in six innings and struck out seven. Doyle Kane and Jack Duncan each had two hits.
Valencia 7-4, Agoura 6-5: Davis Cop homered for Valencia. Nick Hawkins had three hits in the second game win for Agoura.
Santa Margarita 13, Los Alamitos 8: Jonny Giannola finished with four RBIs and Milan Tolentino contributed three hits.
Sign up for our daily sports newsletter »
---
Get the latest on L.A.'s teams in the daily Sports Report newsletter.
You may occasionally receive promotional content from the Los Angeles Times.