High school baseball: Andrew Devine strikes out 13 in Simi Valley victory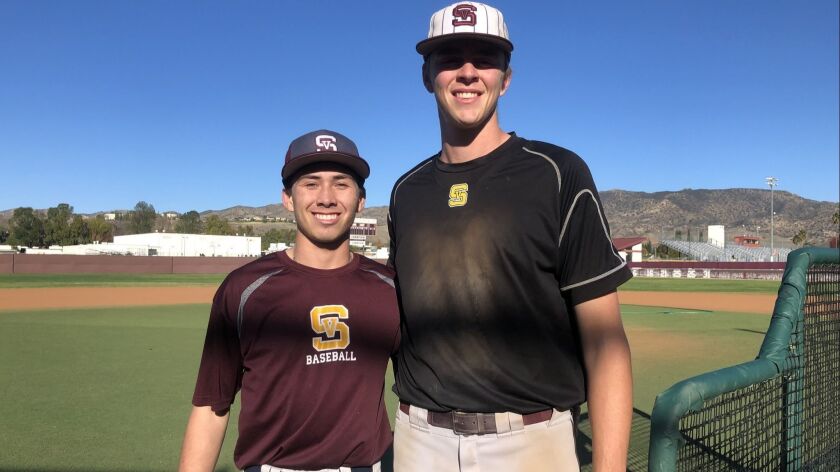 If there were any doubt that Andrew Devine of Simi Valley is fully back from Tommy John surgery, it disappeared on Wednesday when he struck out 13 in six innings and allowed one hit in a 3-1 victory over Agoura.
"He was electric today," coach John Arisohn said.
Devine missed his sophomore season, made one appearance pitching last season and has been picking up momentum this season.
Simi Valley (4-1) handed Agoura (5-1) its first Coast Canyon League defeat. Justin Campbell had a double.
La Mirada 12, Bellflower 1: Darius Perry contributed two hits and four RBIs in the Suburban League win.
Chaminade 7, Alemany 5: Carter Graham finished with three hits for Chaminade. Oskar Stark added two doubles.
Sherman Oaks Notre Dame 6, St. Francis 1: Devan Ornelas hit a home run and Connor Skertich threw three shutout innings of relief to pick up the Mission League save.
Crespi 2, Loyola 1: Dylan Jacobs threw a scoreless seventh to get the save as the Celts picked up their second straight win over the Cubs. Tim Johnson had both RBIs.
Mission Viejo 1, Capistrano Valley 0: James McDonald threw a one-hit shutout with six strikeouts.
Aliso Niguel 8, Trabuco Hills 5: The Wolverines improved to 3-0 in the Sea View League. Michael Davinni homered and finished with three RBIs. Quinn Mathews threw 2 2/3 innings of hitless relief.
El Dorado 6, Anaheim Canyon 2: Luke Franco threw a complete game and Jordan Diaz and Kyle Morrell had two hits apiece.
Alta Loma 1, Ayala 0: The Braves pulled off the Palomares League upset. Joe Naranjo struck out six in six innings to take the defeat.
Glendora 14, Colony 1: Jake Gonzalez hit for the cycle while going four for four with five RBIs.
Newport Harbor 8, Los Alamitos 3: Kelly Austin struck out the final three batters to end the league win for Newport Harbor.
Huntington Beach 6, Corona del Mar 5: Jag Burden and Cole Minato each had two hits for the Oilers. Carter Haight and Nicholas Rottler hit home runs for Corona del Mar.
Edison 14, Laguna Beach 3: Blake Morton went three for three with two RBIs.
Calabasas 4, Westlake 2: Jack Simons pitched the final two innings for the save in his return from an injury.
Thousand Oaks 7, Oaks Christian 2: The Lancers handed Oaks Christian its first Marmonte League defeat. Ryan Turner had two hits.
Granada Hills 4, Verdugo Hills 1: The Highlanders won the nonleague game. Albert Prado hit a home run and Alex Becerra had two hits.
Sylmar 2, Taft 1: Enrique Espinoza allowed one run in seven innings for Sylmar, which won in nine innings.
Villa Park 5, Esperanza 2: Logan Abbey had two hits and three RBIs for Villa Park.
Cypress 11, Pacifica 7: Noah Carter and Luke Davis hit home runs and Tyler Chaffee when three for three with two RBIs.
Tesoro 1, Dana Hills 0: Tesoro got a run in the eighth on an error to win. Ford Raring threw six shutout innings and Parker O'Neil finished up.
Foothill 15, El Modena 4: Ryan Padayao hit two home runs and went three for three to lead Foothill.
Hart 10, Saugus 3: Kendall Thomas hit a grand slam for the Indians.
Vista Murrieta 3, Great Oak 1: Nick Sims struck out seven in 6 1/3 innings.
San Fernando 6, Banning 2: Matt Dodd went three for three with a double, triple and three RBIs. Robert Ceja hit a two-run home run.
El Toro 8, Gahr 6: Ethan Glossop had three hits and two RBIs.
Bonita 7, Claremont 0: Steve Vasquez threw five shutout innings.
Alhambra 3, Los Angeles Roosevelt 2: The Moors scored three runs in the seventh. Kellen Gewecke had the game-winning RBI double. David Beltran and Diego Moran each had two hits.
Temescal Canyon 2, Valley View 1: Dane Padrnos got the victory with seven strikeouts.
Quartz Hill 4, Littlerock 0: The Rebels improved to 9-3.
Paraclete 3, Sierra Canyon 2: Joey Estes struck out nine and Bryce Wygant went three for three.
Camarillo 7, Oak Park 3: Nick Wolfrey had three RBIs.
JSerra 5, St. John Bosco 2: Ryan Farmer allowed six hits in 6 2/3 innings to help JSerra move to 2-0 in the Trinity League.
Orange Lutheran 1, Santa Margarita 0: Jonathan Guzman threw the shutout, striking out five and walking one.
Servite 5, Mater Dei 2: The Friars picked up their second straight win over Mater Dei. Garret Guillemette had two hits and Brandon Winters added two RBIs.
Birmingham 2, St. Bonaventure 1: Jake Saum struck out 12 and allowed two hits but the Patriots picked up the victory.
---
Get the latest on L.A.'s teams in the daily Sports Report newsletter.
You may occasionally receive promotional content from the Los Angeles Times.