What we learned in the NHL last week: Capitals continue slide while Islanders streak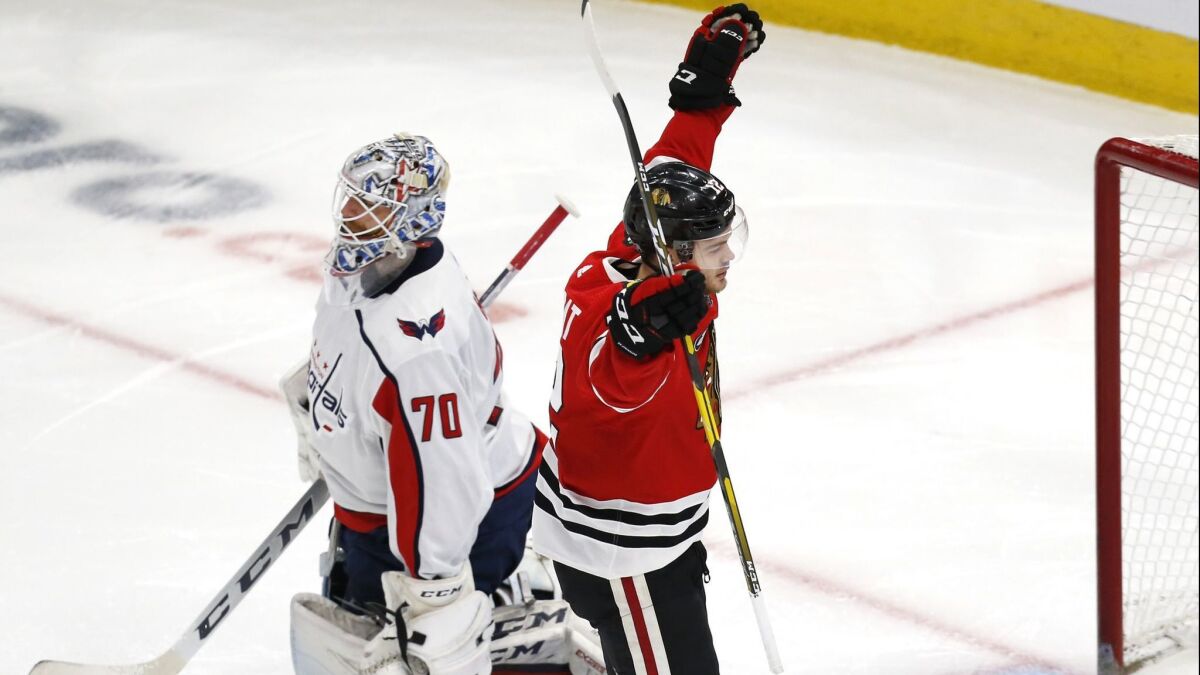 What we learned from the last week of play in the NHL:
Defending champions hit a bump in the road
The Washington Capitals held a players-only meeting on Sunday after their 8-5 loss to the Chicago Blackhawks extended their losing streak to five, their longest since early in the 2014-15 season. They've been outscored 23-9 in that span and their power play is two for 13. They're going through a midseason lull, which is reasonable given their long Stanley Cup journey last spring, and they're still deep and good enough to not have major concerns. But coach Todd Reirden's lineup shuffling hasn't produced a spark and they're realizing they must look ahead, not back. "Our biggest battle is going to be making sure we're not complacent," goaltender Braden Holtby told the Washington Post. "It's one of those things that's going to be hard, getting over the fact that last year is last year. You move on. We have to figure out a way to be the best we can be this year, because every year the game gets harder. We're going to need more than last year to have the success we want."
::
Nomad Islanders are thriving
The surprise team of the season is the New York Islanders, who have taken the lead in the Metropolitan division with a five-game winning streak and victories in 15 of their last 18. It can't be said enough: Their future seemed bleak when they lost forward John Tavares to free agency last summer, but general manager Lou Lamoriello and coach Barry Trotz have done a terrific job in turning them into a top-notch defensive team. After allowing a league-worst 296 goals last season they've allowed the fewest this season, 119, and goalie Robin Lehner leads the NHL with a 2.02 goals-against average. They're doing it while splitting home games between Barclays Center in Brooklyn and their old digs, the former Nassau Coliseum, where they're 5-1-1. "It's nice, but it's still January," forward Cal Clutterbuck said Sunday, a healthy perspective. But it was especially sweet that they vaulted past the Capitals and into first place Friday by winning at Washington in Trotz's first game there since he guided the Capitals to the Stanley Cup last June. The Capitals honored him with a video tribute and he was appreciative but not softened: the Islanders blanked the Capitals, 2-0.
::
They're out of this World Cup
The NHL and NHL Players' Assn. didn't say it outright, but the reason they're not staging the World Cup of Hockey in 2020 is the uncertainty regarding their labor situation. The league and the union can each opt out of the collective bargaining agreement, which would terminate the deal in September 2020. Given Commissioner Gary Bettman's labor history — he's three-for-three in imposing lockouts — and players' discontent over the large amount of escrow money withheld from their paychecks, peace is a distant dream. The NHL says it wants to increase its international presence but has already skipped the 2018 Winter Olympics and a 2020 World Cup, and it's unclear whether players will be allowed to represent their homelands in the 2022 Winter Games in Beijing. A lot of young stars aren't experiencing the showcase of elite international competition, a pity for them and for fans.
::
Lose for Hughes? Here's why
Center Jack Hughes of the U.S. National Team Development Program was rated the No. 1 North American skater in mid-season rankings for this year's entry draft, and Finnish right wing Kaapo Kakko was ranked the top international skater by the NHL's Central Scouting Bureau, which issues the rankings. Dan Mar, director of Central Scouting, called Hughes "a game-changer" and said the Florida native "is in a special class all of his own … an exceptional skater who plays the game with speed and quickness, both with and without the puck." Mar also called Kakko, who scored the winning goal in the world junior championships, "an exceptional skilled power forward package … strong on the puck and to the net." The NHL conducts a weighted draft lottery among non-playoff teams, and fans who expect their teams to be in that group have already adopted the hashtag #LoseforHughes.
::
Canucks are ahead of schedule
Vancouver's rebuilding process is far from complete, but the Canucks have shown signs they're getting closer to respectability. They held the second West wildcard spot through Sunday's games, partly because so many Pacific division teams have been so bad and partly because the Canucks have earned points in five straight (3-0-2). Also on Sunday, they welcomed back forward Elias Pettersson, who had missed five games because of a sprained knee. He had a goal and an assist to pad his rookie-leading totals to 23 goals and 44 points.
Sign up for our daily sports newsletter »
---
Get the latest on L.A.'s teams in the daily Sports Report newsletter.
You may occasionally receive promotional content from the Los Angeles Times.