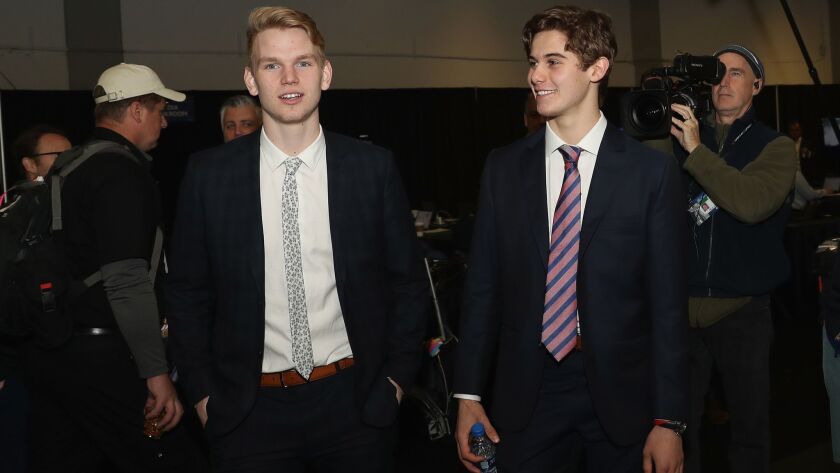 Reporting from St. Louis —
Center Kirby Dach, ranked third among North American skaters for this year's NHL draft, was dazzled by his meetings with Kings scouts and executives at last week's NHL scouting combine. "It was pretty cool," he said of speaking to general manager Rob Blake and club president Luc Robitaille.
But for center Alex Turcotte, the No. 4-ranked North American skater, talking to Kings general manager Rob Blake was a renewal of acquaintances, not a new experience. Turcotte said he had previously met Blake because he played against Blake's son, Jack, while both were growing up. In addition, Turcotte's uncle Jeff is a coach of the AAA 16-and-under Jr. Kings. "It was great. They were really good guys and made me feel comfortable," Turcotte said of his encounter with the Kings' contingent.
The NHL brought Dach, Turcotte, top-ranked center Jack Hughes of the U.S. National Team Development Program, No. 2-ranked North American skater Bowen Byram, and No. 5-ranked North American skater Dylan Cozens to St. Louis to watch Game 4 of the Stanley Cup Final between the Boston Bruins and St. Louis Blues on Monday and to meet some of the participants. Top-ranked European skater Kaapo Kakko of Finland, who skipped the combine, also skipped this visit.
The draft will be held June 21-22 at Vancouver.
Kakko and Hughes have vied for the top overall ranking this season, with Kakko's performance for triumphant Finland at the recent world championships further elevating his profile. The New Jersey Devils own the No. 1 pick, followed by the New York Rangers, Chicago Blackhawks, Colorado Avalanche and the Kings. The Kings also have the 22nd pick. The Ducks have the ninth pick.
Hughes and Kakko remain the consensus top two picks but anything can happen after that. A mock draft conducted by NHL.com projected the Kings will pick skillful and productive defenseman Bowen Byram at No. 5, but the Hockey News' mock draft had them picking center Trevor Zegras of the U.S. National Team Development Program.
Cozens and Byram said they had spoken to representatives of the Kings at the combine and came away impressed. "They didn't give me any indication but just from my meeting they liked me a lot. I think I'm on their radar, for sure," said Cozens, who is from Whitehorse in Canada's Yukon Territory but played junior hockey in Lethbridge of the Western Hockey League. "I'm just a guy who can play all areas of the game: power play, penalty kill. I'm just a guy who can play a solid, 200-foot game and play center or wing."
Byram, a native of Cranbrook, Canada, isn't big at 6 feet tall and 193 pounds. But smaller defensemen who can move the puck have found success in the NHL — think Boston's Torey Krug, who's 5-foot-9 and 186 pounds — and Byram is considered the top defense prospect this year. He said he models his game after Toronto's Morgan Rielly. "He's good on both sides of the puck. Kills penalties. Plays the power play. That's kind of what I want to be like," said Byram, whose father, Shawn, played five NHL games.
Byram said he had a couple of meetings with the Kings, though Blake didn't attend. "It was a pretty laid-back conversation. They were great guys," he said. "It was a lot of fun actually, so hopefully they liked me."
Dach said he sees himself as "a Ryan Getzlaf-type center, a big, rangy, pass-first player," he said. He also said he was impressed with Blake and Robitaille. "They played in the NHL for so long and obviously great people away from the rink, too," he said. "I just tried to show them what my personality was away from the game and I think I was able to do that. It went good and L.A. is a nice city, and it would be great to play there."
Turcotte's father, Alfie, was chosen 17th by the Montreal Canadiens in the 1983 draft and played 112 NHL games. Alex has committed to the University of Wisconsin next season, but he said he believes he can find a fit with the Kings. "I think they probably want some speed and skill and I think I fit that mold for sure," he said. "I think I can fit on any team in the NHL."
---