Column: Kings, Ducks put up a fight that would be great to see in postseason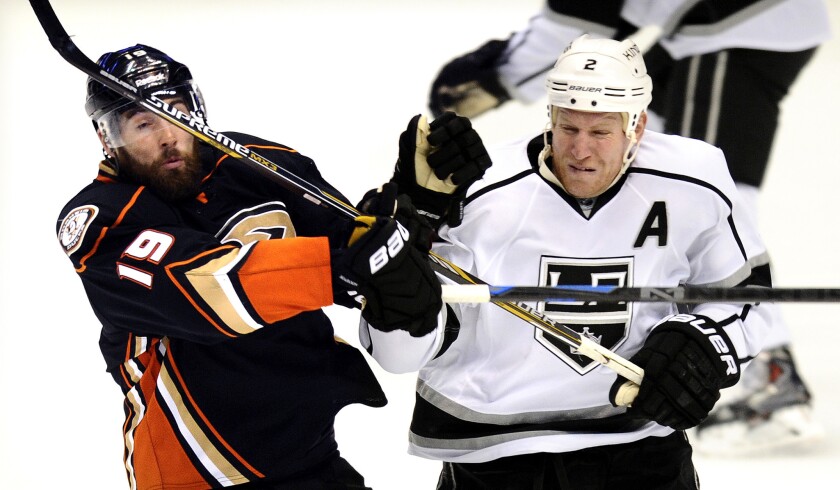 For those seeking deep, dark omens for the Kings after the Ducks rallied for four goals in the third period Friday and skated off with a 4-2 victory at Honda Center, for those who would see it as a symbol of the Kings' problems or inconsistencies this season after they lost for the second straight time after winning eight in a row, Jeff Carter would differ with you.
Asked what he took out of a game the Kings led largely on the strength of Martin Jones' solid goaltending and two opportunistic goals, he smiled.
"Not much, really," he said. "I think we were up, 2-0, after two periods and a big part of that was the play of Joner. He made some big saves, and we know we have to be better than we were the last couple of games and we will be."
Kings captain Dustin Brown all but snorted when asked whether he's concerned about the team's consistency.
"We won eight in a row and lose two and you guys think it's consistency?" he said to reporters. "It's just playing our game. We didn't play our game for a full 60. I don't know what you want me to say about consistency. No one was questioning it two games ago."
This was a hard game, a physical game, an emotional game reminiscent of the playoff series they played last spring. If they meet again in the postseason tournament this spring, it's likely every game will be like this — highlighted by bits of remarkable skill and exceptional goaltending and settled by who's tougher mentally.
The Kings were the tougher team last spring, and the Ducks have acknowledged that. For them, after a long stretch of midseason foundering, the outcome Friday meant a lot more than it did to Carter.
"We turned the corner tonight," said center Ryan Kesler, who began the scoring spree after the Ducks forced Kings defenseman Robyn Regehr into giving the puck away behind his own net, and the floodgates opened.
"That's the kind of hockey we need to start playing. Not just against L.A. but against everybody. We knew how well they were playing up until this game and how few goals they were giving up. We were upbeat and we definitely took it to them in the third period."
Exactly.
"I think their forecheck overwhelmed us the whole night and it caught up with us," Kings Coach Darryl Sutter said, adding that playing three games in four nights contributed to the Kings' inability to fight back in the final period.
Ducks captain Ryan Getzlaf thought Friday's rally was a big moment.
"Any time you can beat that team from behind, that's a big step for us," he said. "It was a good hockey game again, as we've come to expect from these guys. It's always going to be a hard-fought battle. We did a great job of staying in the hockey game. We talked about it a couple weeks ago, when we get down, not losing our composure. We're doing a better job."
Brown also saw the Ducks' forecheck and his own team's fatigue as the deciding factor.
"We made really good plays coming out of our zone in the first two periods and we didn't handle the pressure they put on in the third coming down the walls, and as a result they got turnovers and goals," he said.
Both teams made trades last week in preparation for playoff runs. The Kings acquired defenseman Andrej Sekera from Carolina, and he made his Kings debut paired most often with Regehr. The two had played together in Buffalo, with Regehr on the left side and Sekera on the right. "He was solid," Carter said.
The Pacific Division-leading Ducks made a move too, acquiring left wing Jiri Sekac from Montreal on Tuesday for winger Devante Smith-Pelly. On Friday, in his second game with the Ducks, Sekac picked up his first assist with the team on the Ducks' second goal, by Emerson Etem.
The Kings probably are done trading. The Ducks might still be looking for a defenseman. That wasn't changed by what happened Friday. All Friday's game proved is how quickly momentum can change — and how exciting it would be to see these teams meet in the playoffs again.
---
Get the latest on L.A.'s teams in the daily Sports Report newsletter.
You may occasionally receive promotional content from the Los Angeles Times.