Austin Wagner recalls value of Nate Thompson's mentoring after shining in Kings' loss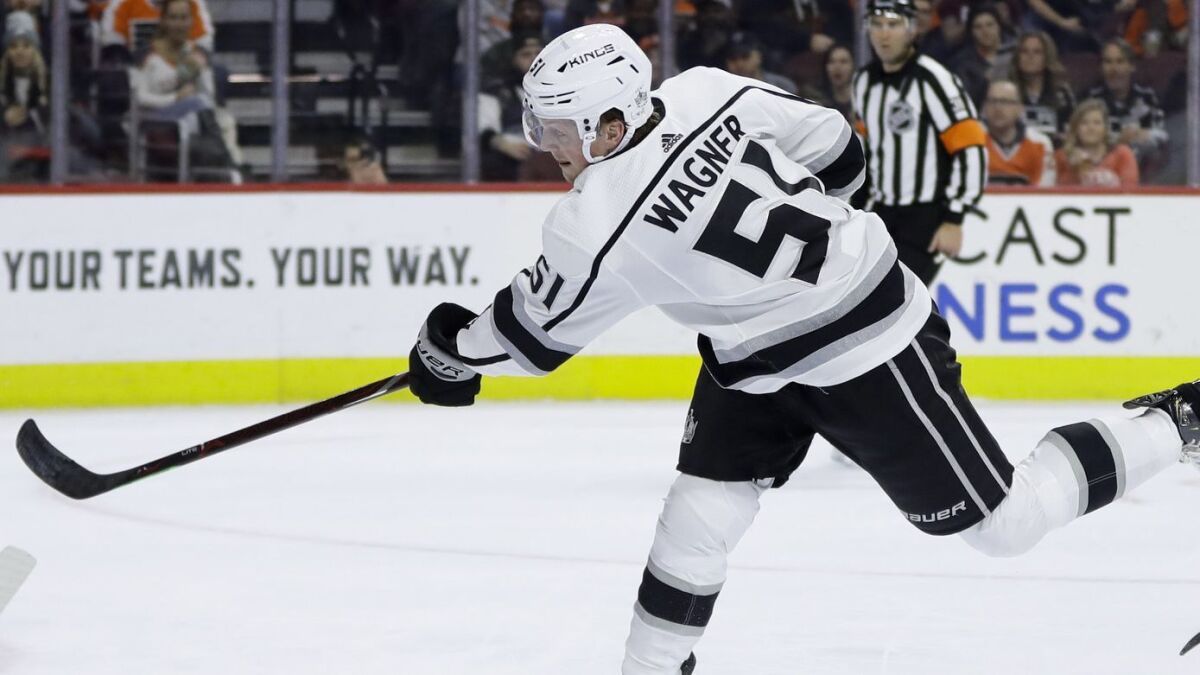 Reporting from Washington —
Austin Wagner was told to be ready to play when the Kings gathered for their morning skate.
It wasn't a motivational figure of speech.
The rookie knew something was brewing, and it turned out to be his first taste of the cold realities of the NHL trade deadline. Wagner went back into the lineup Monday night hours after the Kings traded veteran Nate Thompson, his linemate and mentor, to the Montreal Canadiens.
That Venn diagram came into sharper focus when Wagner scored twice in a 6-4 loss to the Washington Capitals. The Kings summoned some of their rediscovered resiliency but gave in to a two-goal, four-point performance by Evgeny Kuznetsov that delighted Capital One Arena.
It was downer ending to a 3-2-1 trip, a regulation loss made rougher with the departure of Thompson, a high-character, well-liked player in the Kings' room.
"Thommer helped me a lot," Wagner said. "Being a young guy jumping into the league as a rookie, I pretty much played with Thommer the whole time. He taught me a lot of things and I'm very grateful for what I've learned from him. He's an unbelievable guy but he was a great teammate in this room, and very liked. It's tough to lose him."
Trevor Lewis took Thompson's place at fourth line center in his first game since Nov. 13, with Wagner and Kyle Clifford on his wings. It was one of the Kings' better lines, and it will have to be without Thompson, a defensive faceoff specialist who was sent to Montreal, with a fifth-round draft pick, for a fourth-round selection. Both draft picks are this year.
The move was expected with Thompson on an expiring contract and, with Carl Hagelin, is seen as a valuable rental role-player to another team.
That didn't make it easy to trade him.
"[It's] always difficult moving good people," general manager Rob Blake said via email. "Nate was a good pro and teammate."
It again positions the Kings better in June's draft. They acquired a first-round pick last month in the trade of defenseman Jake Muzzin to the Toronto Maple Leafs.
It also leaves more opportunity to evaluate prospects like Wagner. He beat defenders to the net on both of his goals when he tapped in a between-the-legs pass from Derek Forbort in the first period and put in Lewis' feed to bring the Kings to 5-4 with 9:35 remaining. It was his second two-goal game.
"When you have speed, it makes such a difference nowadays, just in the way the league is set up," coach Willie Desjardins said of Wagner. "That's the way the league is set up. Both those goals, he just got to the net. It's more and more the way game's going."
Kuznetsov was the star of a game, which said a ton considering Alex Ovechkin notched his 38th goal with a signature power-play marker to start the scoring. Kuznetsov banged in a puck kept alive by Tom Wilson in the second period and waited out Jonathan Quick and scored in the third for Washington's sixth goal.
On the other side, Ilya Kovalchuk took two shots and was a minus-one in his first matchup with countrymen Ovechkin and Kuznetsov since he returned to the NHL.
"Today, yeah, we play against each other," Kovalchuk said. "But they [Ovechkin and Kuznetsov] were much better than me, that's for sure. I have one more game [against Washington] in L.A. now."
The Kings need learn how to protect a lead better in that time. Oscar Fantenberg's second goal in as many games came on a slap shot for a 3-2 lead in the third period. Tyler Toffoli earlier capped a four-goal opening period by the teams when he hammered in Anze Kopitar's pass on the power play.
Throughout, it was a mixed bag of good plays and mistakes by Kings veterans and youth. Kopitar made a stick-lift steal that led to Fantenberg's goal. He also took two minor penalties. Paul LaDue lost a puck battle in the corner and that led to Jakub Vrana's goal.
"Obviously we didn't get it done tonight," Wagner said. "First time playing this team, so we learned a lot. We'll be ready to go when we play them in [seven] days."
Sign up for our daily sports newsletter »
Twitter: @curtiszupke
---
Get the latest on L.A.'s teams in the daily Sports Report newsletter.
You may occasionally receive promotional content from the Los Angeles Times.