What we learned from the Kings' 6-4 loss to the Washington Capitals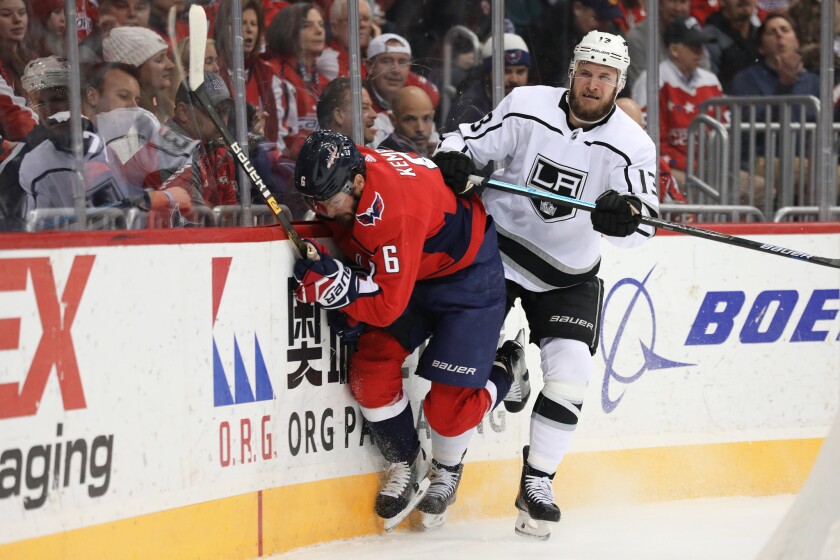 Reporting from WASHINGTON —
The Kings' 12-day journey to the East Coast ended with one less player and a thud of a loss to the Washington Capitals on Monday.
The difference between a win and a loss would have gone a long way toward a restful flight home, but the Kings left with a 6-4 loss at Capital One Arena and plenty to digest as the team's roster morphs further the closer we get to the Feb. 25 trade deadline.
Here's what we learned:
It was a different kind of game day. We've seen what can happen when a team plays a game on the same day it trades a well-liked player. The Minnesota Wild played a game on the same day that popular winger Nino Niederreiter was traded and lost to the Ducks, 3-0, on Jan. 17.
Nate Thompson wasn't with the Kings long, but he held a veteran presence in their dressing room and earned the same respect he's earned in his 13-year career as a role forward. That literally walked out the door with his trade to the Montreal Canadiens.
"It sucks to see, especially good guys, go like that," Trevor Lewis said. "Nate became close with all of us in a short period of time here. It's always tough to see guys like that go."
Coach Willie Desjardins indicated he had to read the room following the trade, but it didn't change the situation, either Monday or going forward.
"You can take the temperature but it doesn't matter, the game's still going to come," Desjardins said. "You don't have any choice. Thompson's a big part of our group. He's a guy that you can rely on for a lot of different things. It is going to upset guys, but guys know that stuff's coming too. So you know that can affect us, and we have to be ready."
The trip was good and bad. The Kings got points in four of six games (3-2-1), and one of the regulation losses, against the New York Islanders, probably wasn't representative of their performance against a contender.
The saying in the NHL is that .500 is a good road record, but that doesn't do the Kings any good at this point. They have 51 points through 56 games and every regulation loss the rest of the way is a dagger, even in a watered-down Western Conference.
Beyond the numbers, they have shown more mettle and an ability to withstand punches, and maybe that's more important in the long run.
"You look at some of those games, and I thought we deserved better," Austin Wagner said. "There's a lot of positives to take out of it, but we'll look at what we need to improve on and get better."
The Kings' center depth isn't the same. Without Thompson and injured Jeff Carter, the Kings go down the middle with Anze Kopitar, Michael Amadio, Adrian Kempe and Trevor Lewis.
Carter and Thompson are, at the least, adept at faceoffs, an area that's hurt the Kings since Carter went down. They've lost 65 of 114 faceoffs in the past two games. Desjardins was glad that Lewis stepped in on short notice at center.
"I think he did a great job coming in tonight," Desjardins said. "That was a tough situation to come into. You've got to give him a lot of credit."
Sign up for our daily sports newsletter »
Twitter: @curtiszupke
---
Get the latest on L.A.'s teams in the daily Sports Report newsletter.
You may occasionally receive promotional content from the Los Angeles Times.