Expect plenty of chirping when Kings' Drew Doughty faces an old friend, Flyers' Wayne Simmonds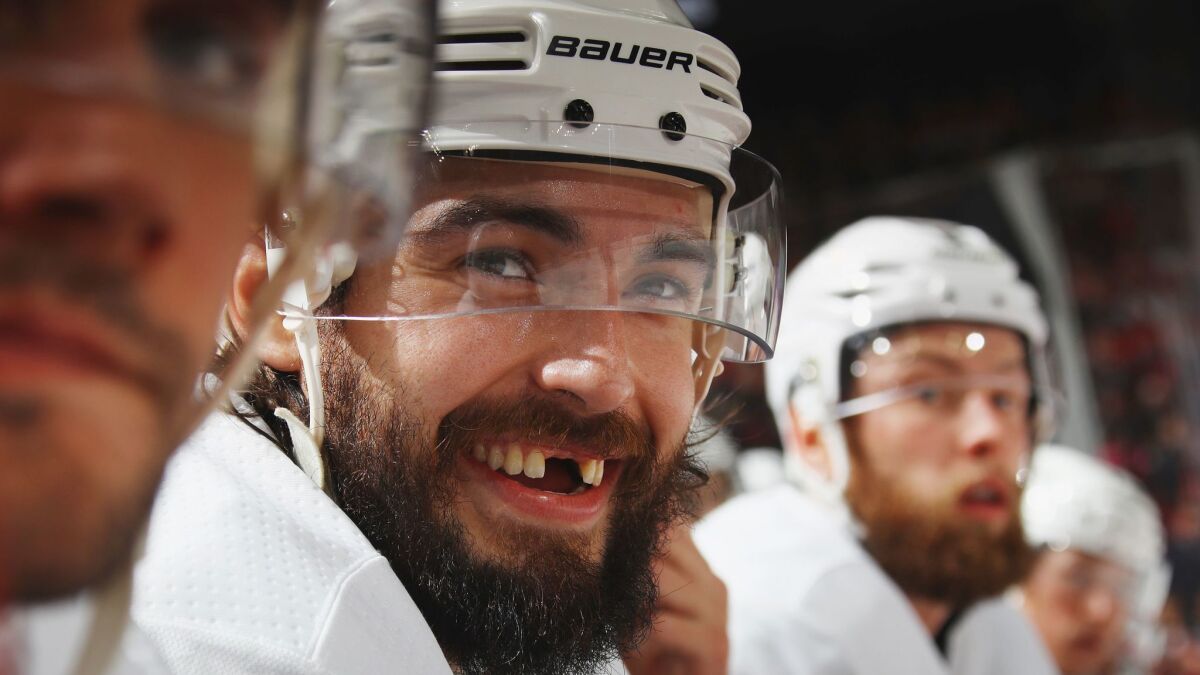 Reporting from PHILADELPHIA —
If the NHL wanted to give an entertaining glimpse into the on-ice banter between players, it probably couldn't do much better than to put microphones on Drew Doughty and Wayne Simmonds.
The two were close friends when Simmonds played for the Kings early in his career, and they kept in touch after Simmonds went to the Philadelphia Flyers. They will see each other Monday when the Kings play the Flyers at Wells Fargo Center.
"I'll probably be matched up against him a lot tonight," Doughty said. "The thing I love about Wayne is that we're very similar off the ice, but when it comes to hockey, we [also] have a lot of similarities. We're both just absolute competitors. We care so much about the team. He thinks team first. And we just hate losing hockey games.
"You see him out there [complaining] to the refs … yelling at the other team or whatever it may be. That's not because he hates other people, he can't stand to think of losing. That's why he's such a good player. Neither of us have the top skills on our team. Neither are the fastest players … we just have big hearts and we like to compete."
Simmonds has been with the Flyers for seven seasons but is still associated with the Kings. He was MVP of last year's All-Star game at Staples Center.
"Seven years later," Simmonds said. "It's almost been a decade. Obviously it's nice to see the [Kings] and the rise they've had. It's nice to see them, but I'm a Flyer."
Doughty is known for his competitiveness and his tendency to talk to opponents, or "chirping," as it's called in hockey circles. He inadvertently zinged the Florida Panthers when asked if playing against friends makes it more fun.
"I get up for all games, really," Doughty said. "It doesn't matter, unless we're playing, like, Florida or something weird like that. Every team has a star guy but when I come in here I've got to match up against him. I'm excited to play against them. Simmer's just another one of those guys that I enjoy playing against. It will be a competitive game."
The Kings did not do line rushes at their morning skate but it appears that Marian Gaborik might be centered by Anze Kopitar, with Dustin Brown on the other wing. It's an expected move since Gaborik returned from a knee injury.
"I'm not sure," Kings coach John Stevens said. "It depends how it's going. I think Gabby came back and played really well for a stretch. Sometimes it's just a matter of the game — we'll see what the matchups are on their side…we're not quite sure what we're going to do there yet, but even if we start one way, we can change in a hurry."
Alex Iafallo was with Nick Shore and Trevor Lewis in drills, while Andy Andreoff skated with Torrey Mitchell and Jonny Brodzinski. Andreoff was scratched or injured the past 10 games and Brodzinski has been scratched the past two games.
Twitter: @curtiszupke
---
Get the latest on L.A.'s teams in the daily Sports Report newsletter.
You may occasionally receive promotional content from the Los Angeles Times.