What we learned from the Kings' 3-2 win over the Ducks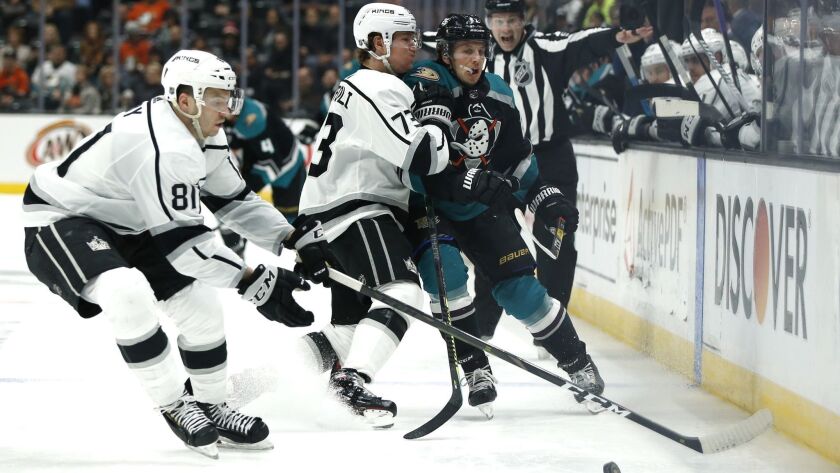 Not much matters from here on out except draft positioning for the Kings and Ducks. But of course that disappears when they take the ice and react to each other's jerseys like a bull seeing red.
"We're both not in playoff spots, but we're still playing for pride," Kings forward Kyle Clifford said.
That will happen two more times this season, and the Kings assured themselves of at least a split in the series with a 3-2 win at Honda Center.
This wasn't pretty hockey. It was a display of teams with a combined minus-109 goal differential, levels of simultaneous mediocrity that haven't been seen locally since perhaps both teams last missed the playoffs together in the 2003-04 season.
But there were some optimistic aspects to ponder as both teams tumble toward the finish line. Here's what we learned:
Carl Grundstrom turned over a new Leaf. With so much energy spent on who the Kings could get in June's draft, Grundstrom is a welcome reminder of who the Kings already have in their system, via a trade with the Toronto Maple Leafs.
Grundstrom was believed to have had a poor training camp with Toronto and didn't make a Maple Leafs team that currently has its eyes on a Stanley Cup. But the trade, for Jake Muzzin, with defenseman Sean Gurzi also arriving to L.A., has given Grundstrom new life, at least to start in the NHL.
"I saw it as an opportunity," Grundstrom said. "I think it was really good for my career."
Grundstrom's potential goes a long way for the Kings, who have had trouble filling out the left-wing depth chart in recent years. It's only been two games, but the 21-year-old could make Kings training camp all the more interesting come September.
In the meantime, he's having fun with countrymen Adrian Kempe and Tyler Toffoli on a newly formed third line.
"I think we play really good together," Grundstrom said. "All three play fast and want the puck. It's real fun to play with these two guys."
Kempe is on an uptick. Kempe's assist on Grundstrom's goal gave him 12 points in his last 18 games. He has six goals since Feb.1 and has generally gotten back to his tenacious forechecking and finishing.
It's a good sign for a young player who has been dogged by stretches of silence on the scoresheet as he figures out the 82-game grind of an NHL season. Kempe was scoreless in the final 33 games of last season and endured a 19-game drought from Dec.13 to Feb. 2 this season. He's making a statement in a lost season for the Kings, and this is as important a development time for him as any other if he's seen as one of their integral forward pieces for the future.
Sign up for our daily sports newsletter »
The Ducks didn't come to the party. For a team that almost always ratchets it up for its hated Southern California counterpart, and for a team that had scored 17 goals in its previous four games, the Ducks turned in their worst game in some time.
Their defensemen couldn't keep the puck in their zone several times, and at one point the Ducks iced the puck with no Kings' forecheck on the attack. It ran in contrast to the recent, somewhat ironic, uptick that saw the Ducks win three of four games and show well beyond that.
"In the last six or seven games, we've been the better team in the majority of those," Ducks assistant coach Marty Wilford said. "Tonight was a slow start, and it's tough to chase the game, as we've learned all year. It's tough to catch up, especially against a team like L.A. There really wasn't much space. They checked very hard. They played a good game. Credit to them."
Twitter: @curtiszupke
---
Get the latest on L.A.'s teams in the daily Sports Report newsletter.
You may occasionally receive promotional content from the Los Angeles Times.