Takeaways from the Kings' 4-3 victory over Ducks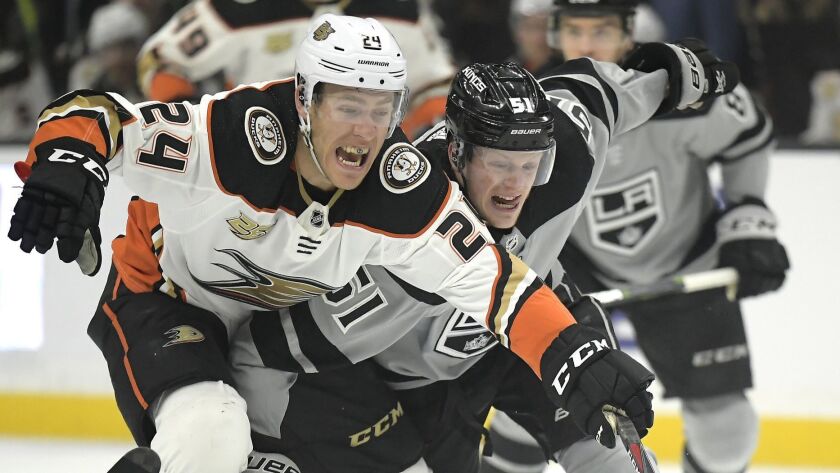 The Kings and Ducks kept adding Jengas to their latest wild, back-and-forth matchup, until the whole thing came crashing down to an end Saturday night.
Anze Kopitar scored the only goal in a shootout that also featured the silky hands of Rickard Rakell, Jakob Silfverberg and Adrian Kempe. But nothing makes sense in Kings-Ducks games, and this 4-3 Kings win followed suit.
Rakell dazzled with a buzzer-beating second-period goal. Kyle Clifford got the first power-play goal of his career. Jeff Carter continued to rise from the depths.
Both teams are headed for early summers, but at least they're making it interesting.
Here's what we learned:
The Kings didn't get their morale destroyed. A common phrase in the era of former Kings coach John Stevens was to not let one incident in a game effect the rest of the game.
Stevens' former pupils heeded his mantra when they did not let Rakell's terrific score with 0.9 second remaining in the second period deflate them. They did fall behind 3-2 but rallied on Carl Grundstrom's tap-in goal and prevailed on Kopitar's shootout strike.
That mettle is good to see but it's also too little, too late for the Kings. However, at least they're showing it when it's least expected, or required.
"I think the last couple of games we've been playing [with] mental toughness," Clifford said. "We're staying within ourselves. We're not letting things that happen within the game effect the way we're going to play. We're just keeping it simple. When things go wrong, we push pack."
Clifford can play on the power play. We can make that assessment based on the sample size of … one appearance? He was put on the second unit because Ilya Kovalchuk sat out by coach's decision and Brendan Leipsic did not play because of injury, and Clifford promptly redirected Alec Martinez's goal for his first power-play goal and power play point of his career.
"Nine years later," Clifford said.
Clifford shrugged off being put on the unit. He's a career fourth-line player who evolved his game this season to be more of a power forward. His nine goals are a career best. He doesn't care how he gets them.
"It kind of goes with the same as [playing] five-on-five," Clifford said. "Just be ready and know what you got to do out there.
"I don't really put much thought into that. Everybody's got their role on the team and I know what mine is. Whether it's being in front of the net on the power play or playing hard forechecking, or just being a good team guy. I don't really put a lot of thought into personal statistics."
Rakell's hands are still among the league's best. His 14th goal might have been his best this season. Rakell chipped the puck up in the air and batted it into the net. It conjured up a play from a lacrosse player, or a tennis player.
The latter makes sense because Rakell played tennis and soccer growing up in Sweden. His late grandfather, Ake, was a table tennis player who won a bronze medal in men's doubles in the 1959 world championships.
So maybe it's in the genes.
"I just wanted to try to get a quick shot off, but the puck lifted off the ice and I just tried to bat it out of the air," Rakell said. "It was nice to see that one go in."
Sign up for our daily sports newsletter »
Twitter: @curtiszupke
---