Kings move on without Jake Muzzin, and wonder what move might be next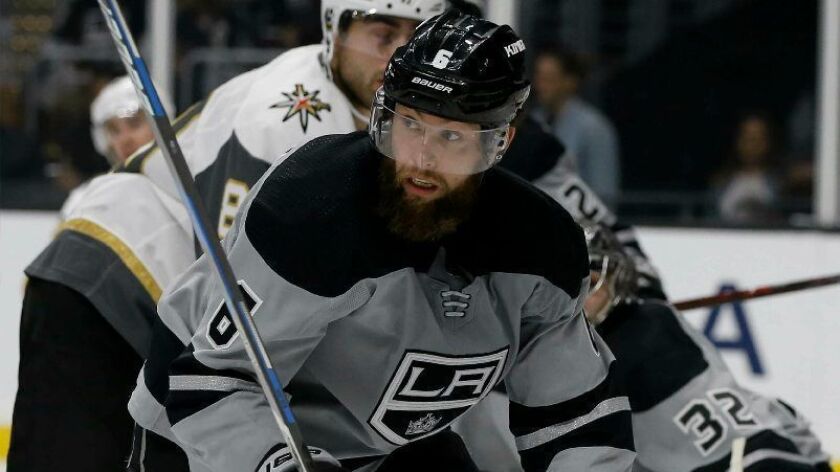 Reporting from New York —
The rink the Kings used for practice Friday had an unusually small locker room.
Players were packed into tight quarters at Northwell Health Ice Center on Long Island, so it was difficult to miss someone. It made it more glaring that, for the first time in years, Jake Muzzin was not there.
"That's one of the unfortunate things about this business is something like that can happen at the drop of a hat," Alec Martinez said. "Obviously we're going to miss him a ton."
Muzzin was traded to the Toronto Maple Leafs as the Kings' transition takes shape. They come out of their extended break rested but perhaps restless, knowing the Feb. 25 trade deadline is nearing as they sit in last place in the Western Conference, making for an uncomfortable ride to the finish line.
Here are five questions facing the Kings as they enter the final two-plus months of the season:
What is the reaction to the Muzzin trade?
Drew Doughty said he tried to reassure Muzzin but, deep down, he knew his longtime teammate would probably be traded. It was still jarring.
"He was at my card table," Doughty said. "He usually sat right beside me in the room. It's weird and it sucks. Now that it's here, it's kind of scary, because we don't know what's going to happen next. And we know there's probably something [else] that's going to happen. It's scary and it sucks, but it's part of the game."
Martinez maintains a long friendship with Muzzin. The two were South Bay neighbors and spent the summer training together two years ago to rediscover their successful partnership.
"It's funny," Martinez said. "I was with Muzz all day. We worked out together and went to lunch together. All of a sudden, a couple hours later, he's playing for a different team.
"Not just from a hockey standpoint, but just on a personal level, it was a pretty rough day, obviously more so for him. That kind of thing reverberates around the room and you develop relationships and friendships with guys."
Does this affect Doughty's outlook?
When Doughty signed an eight-year, $88-million contract extension last July (one that doesn't kick in until next season), the Kings were a playoff team that maybe had another postseason run left.
That fell to pieces in the first month of the season. The Kings are sellers, but Doughty on Friday gave his backing to the longer-term plan of general manager Rob Blake.
"I believe Rob will do everything in his power to get us back to where we once were," Doughty said. "I know he will. Unfortunately, we didn't perform to the best of our abilities, and this is why we're having to do this. This wasn't our plan at the start of the season, but stuff happens, and I'm in here for the long haul. I want to be a King the rest of my life. I'm ready for whatever has to happen."
What other changes will be made before the trade deadline?
Blake has conceded that they have to build toward the future. That means more moves with such return assets as prospects or draft picks.
Martinez and Jeff Carter have been the most frequent names mentioned, although Carter is believed to be apprehensive about a move given his disastrous transition to the Columbus Blue Jackets earlier in his career.
There is also Carl Hagelin, who is on an expiring contract and could be a rental player for a contender.
How does the defense look without Muzzin?
The only discernible constant in practice Friday was Doughty with regular partner Derek Forbort. It stands to reason that Paul LaDue and Sean Walker will get more ice time. Coach Willie Desjardins also said that Martinez will pick up Muzzin's role on the second power-play unit.
The Kings allowed nearly three goals a game with Muzzin, their best defensive player who averaged more than 21 minutes a game. No single player is going to replace that.
"I've always said, it's not who's out of your lineup," Desjardins said. "It's who's in your lineup that counts. So we just have to worry about the guys who are in."
Where do they go from here?
President Luc Robitaille admitted the organization's roster miscalculations to The Times' Helene Elliott last month, and it was notable that Robitaille this week wrote a letter to season-ticket holders that echoed the same thoughts.
Lost in that larger, organizational picture is that there are 32 games remaining in the regular season with an uncertain roster. Martinez said he can't be consumed with what might happen.
"It's no secret that there were going to be changes made the way this year has gone," he said. "They're probably not done yet. It's beyond my pay grade. It's out of my control. It's there but you've got to go about your business and be professional."
UP NEXT
AT NEW YORK ISLANDERS
When: Saturday, 4 p.m. PST.
On the air: TV: Channel 13; Radio: iHeartRadio (LA Kings Audio Network).
Update: Nate Thompson did not make the trip because of flu, according to the Kings, but is expected to rejoin them in the coming days. Desjardins said Trevor Lewis (broken foot) will likely play at some point on the trip but Jonny Brodzinski (shoulder) is doubtful. Islanders coach Barry Trotz is the frontrunner for the Jack Adams Award for best coach. The venue, Nassau Coliseum, strikes a chord with Desjardins, who said he always followed the Islanders because he was a teammate with former Islanders star Bryan Trottier for the Moose Jaw Canucks.
Sign up for our daily sports newsletter »
Twitter: @curtiszupke
---
Get the latest on L.A.'s teams in the daily Sports Report newsletter.
You may occasionally receive promotional content from the Los Angeles Times.