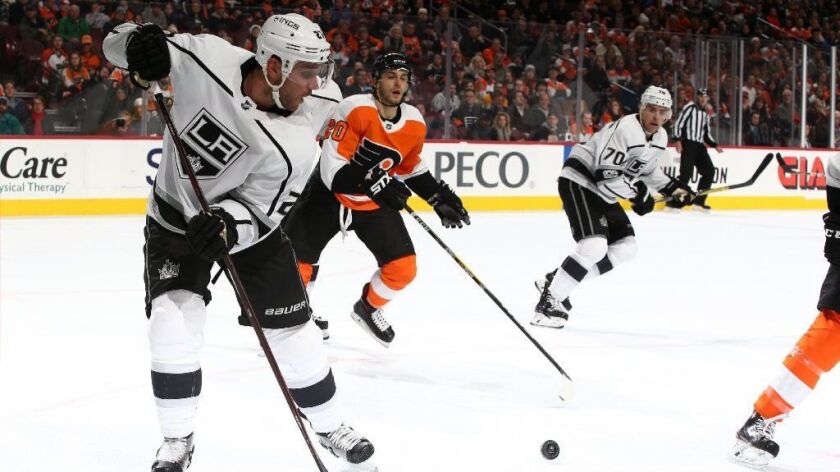 Reporting from PHILADELPHIA —
Adrian Kempe springing from the penalty box to score a key goal could be a metaphor for the Kings overcoming their penalty woes to end a winless streak.
But Monday's 4-1 win was really more about the team getting back to their checking game and defense in a somewhat emotional return to Philadelphia for coach John Stevens. The Kings also scored some big goals to go home happy from the finale of an East Coast stretch.
Here's what we learned:
Drew Doughty lives for this stuff
Doughty loves big matchups against world-class players. He also loves added responsibility, and he got it when the Kings lost Christian Folin to injury in the first period.
Doughty was nothing short of Norris Trophy-worthy when he broke up a three-on-two and a pass to Jakub Voracek late in the game. The one goal the Kings allowed came when Doughty blocked a shot that went right to Voracek for an open-look goal on the power play.
Doughty's 31 minutes, 36 seconds of ice time included more than five minutes of shorthanded play. In other words, it was the kind of game he talked about relishing when he was asked beforehand about his friendship with Flyers forward and former teammate Wayne Simmonds.
"We just have big hearts and we like to compete," Doughty said.
Anze Kopitar and Marian Gaborik are a thing again
Stevens reunited them a few shifts into the game, although Gaborik played fewer than 13 minutes because the Kings were so shorthanded.
The two have a long history of chemistry, and Kings fans might want to see this given a longer look if it further sparks Gaborik. Dustin Brown also had a good game overall for the line.
Recall could be coming
The severity of Folin's upper-body injury wasn't immediately known but it's generally a bad sign when a player cannot return to the game. If he's out for an extended period, the Kings would need to recall a spare defenseman.
Paul LaDue and Kevin Gravel would seem to be the candidates. The Kings just acquired Jordan Subban but he is recovering from an injury and has yet to play in the NHL.
A trade won't happen in the immediate future. The NHL holiday roster freeze goes into effect Tuesday and ends Dec.27. It prohibits trades during that time, but players can be recalled.
---