Kings on the brink of elimination after Vegas cashes in on a big third period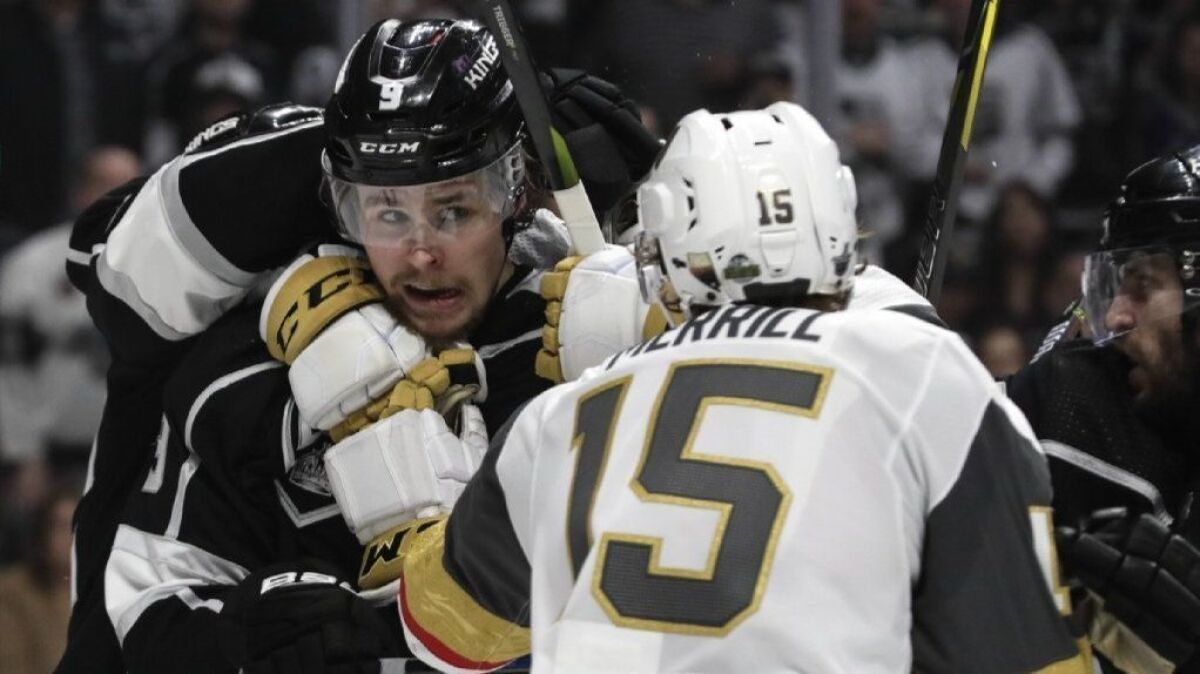 From electric, positive vibes to serious doubt.
The pendulum swing could not have been greater inside Staples Center on Sunday night, when a game that offered so much promise at the start ended in an alarmingly familiar place for the Kings.
They allowed three third-period goals, including two in a span of 21 seconds, in a stunning 3-2 loss to the Vegas Golden Knights in Game 3 of their first-round series that sent them back into awkward territory, down 3-0 in the series.
The Kings will go into Game 4 on Tuesday with the knowledge that they erased a 3-0 deficit in 2014 against the San Jose Sharks and went on to win the Stanley Cup.
"We're down but we're not out," center Anze Kopitar said. "There's at least one game left to be played. We've got to start with winning one, and we'll go from there."
The spotlight was ready for the Kings to get their first playoff win since 2016. They returned defensemen Drew Doughty, who missed Game 2, and Jake Muzzin, sidelined since March. They were back in the comforts of home ice and their 18,484 fans. Jonathan Quick was on his way to a shutout, with help from the first playoff goal from rookie Alex Iafallo, a scratch in Game 2.
Then this newfound rivalry, historic because of the play of the expansion Golden Knights, took a turn on third-period goals by James Neal and William Karlsson. Neal spun around Oscar Fantenberg on the right side and beat Quick between the legs at 14:23 of the period. Karlsson was completely unmarked to bang in Jonathan Marchessault's pass off a faceoff at 14:44 for a 3-1 lead.
Kopitar scored a six-on-five goal with 2:04 left, but Karlsson's goal was the winner. Wall play is a big point of emphasis for Kings coach John Stevens and he was disappointed that his team failed late in that area.
"Some critical errors at critical times and it cost you the hockey game," Stevens said. "It's unfortunate but we made a good push here tonight and created a lot more zone time and made [Vegas goalie Marc-Andre] Fleury work a little harder than he had to [to] this point in the series, but critical errors at critical times along the wall and it cost [us]."
It was the edgiest game yet in the series, and it might have crossed the line when Vegas' Erik Haula, the overtime hero of Game 2, clocked Kopitar in the face with the butt end of his stick after Kopitar cross-checked Haula. Stevens sounded off on the play, especially after Doughty was suspended for a hit in Game 1.
"We get a guy suspended for making a hockey play, and he [Haula] butt-ends one of the best players in the world in the face with the butt end of his stick," Stevens said. "So, if I was confused before, I'm bewildered now. That's an intent-to-injure play … you guys make the judgment, because it's a bunch of BS, to be honest with you."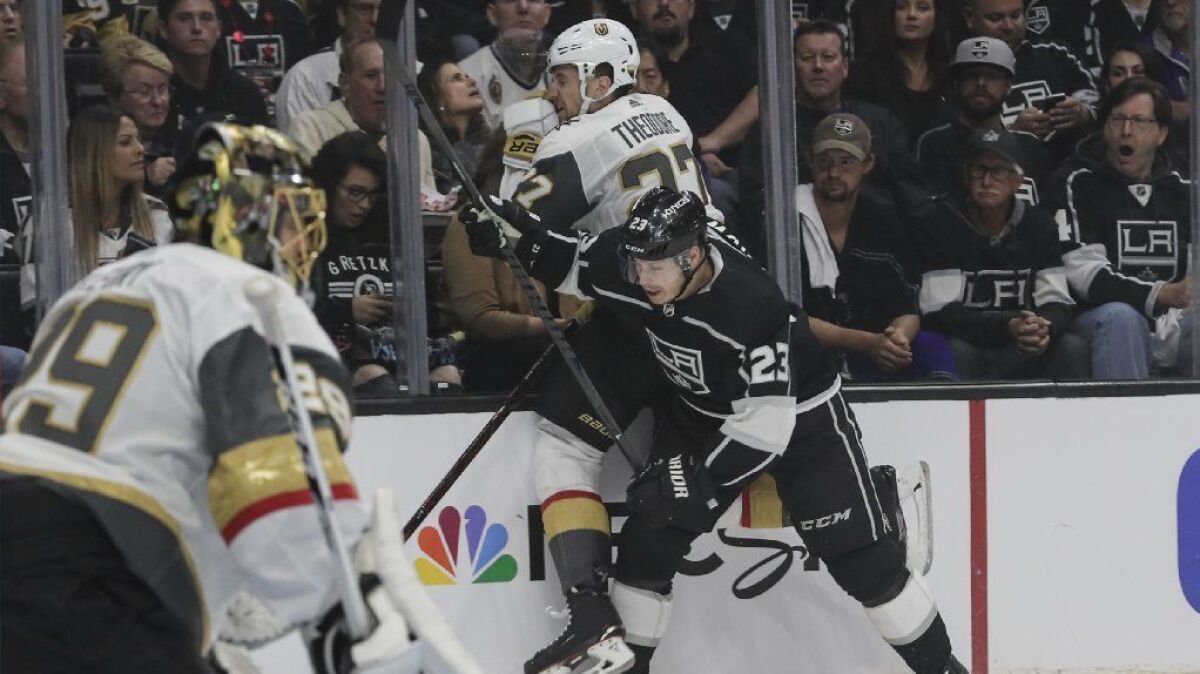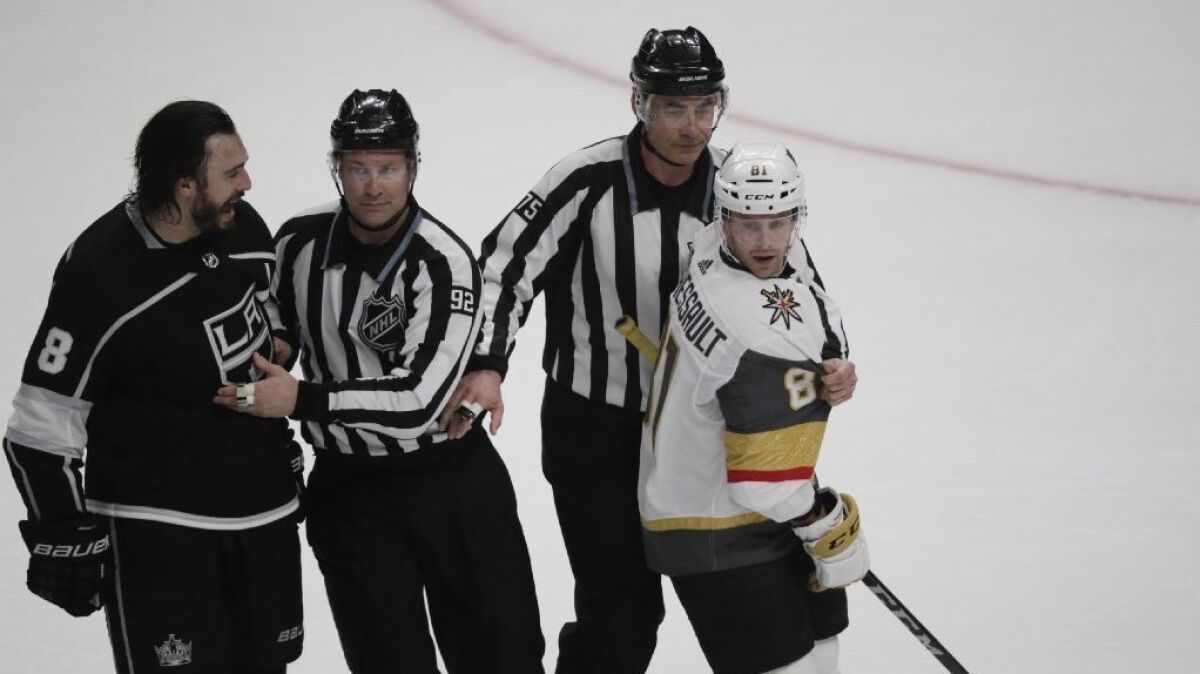 Cody Eakin's goal more than six minutes into the third period broke up what would have been Quick's 10th playoff shutout to break the record he shares with Mike Richter for most among U.S.-born goalies. It also quelled the uprising led by Iafallo's goal in the first period.
Staples Center was packed and ready, replete with a new video intro package, and after the physical tone was set, Iafallo struck. He swiped an airborne puck high into the net and it exited so fast that no stoppage took place amid the Kings' celebration, and the officials had to review it.
Replays showed it went in. They also showed Dustin Brown chasing down the puck behind the net to get it to Kopitar to feed Iafallo for his first goal since March 3.
It didn't matter at the buzzer. This is Iafallo's first playoff series but he's aware of the mettle and mystique around him.
"All the experience and veterans in this locker room, they've been through it all," Iafallo said. "They've been helping us young guys the whole way. We believe in them. We believe in ourselves and we'll be fine."
Vegas returned third-leading scorer David Perron and scratched Tomas Tatar. The former might have made the Kings' climb steeper, but they're not concerned with the opposition, nor the daunting 3-0 hole.
"This team has had some resilience all year," Stevens said. "I've learned that with this group, as long as there's time on the clock, there's time to take care of business."
Follow Curtis Zupke on Twitter @curtiszupke
Get the latest on L.A.'s teams in the daily Sports Report newsletter.
You may occasionally receive promotional content from the Los Angeles Times.