Kings tie season high in goals with 5-1 victory over Golden Knights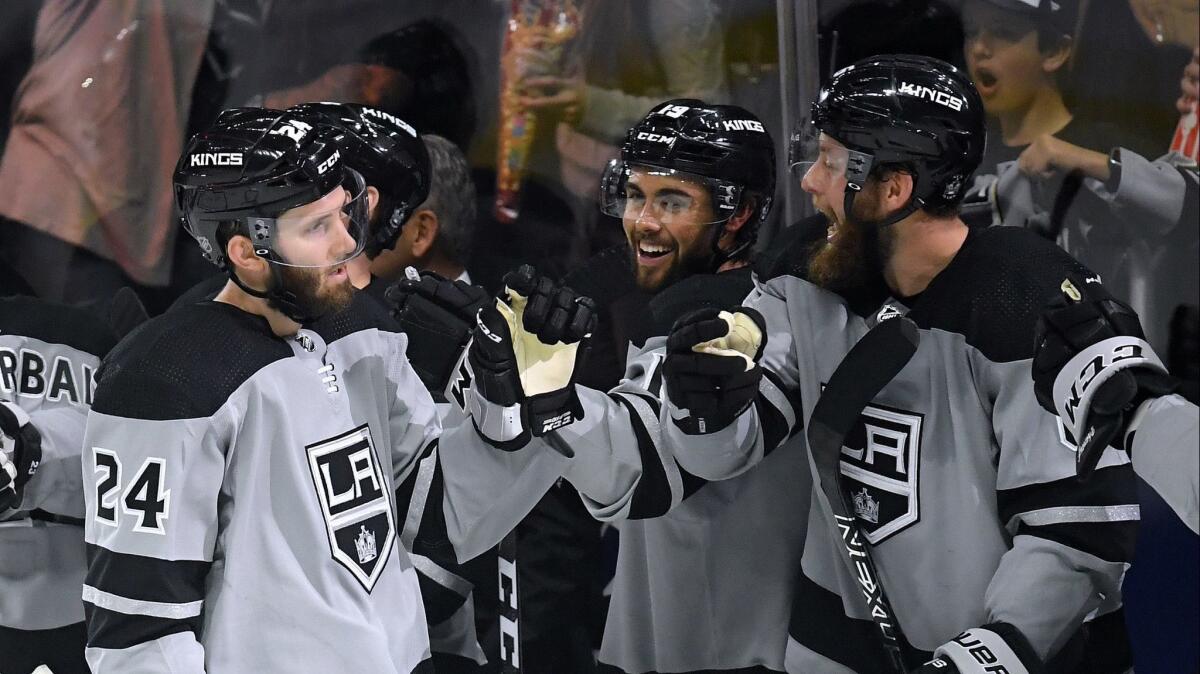 The pure joy and emotional release from the Kings took on several forms.
Nikita Scherbak knelt down to give a big fist pump. Matt Luff stood straight up and quickly jabbed the air with his fist. Jeff Carter's gap-toothed smile made for a great slow-motion replay.
Two months' worth of frustration, disconnect and change were erased, for one afternoon. Badly needing a win, the Kings got an authoritative one, against a quality divisional rival. A 5-1 triumph against the Vegas Golden Knights on Saturday at Staples Center still left them at the bottom of the NHL standings, but it felt like the lid taken off a pressure cooker.
"It's about time we put together 60 minutes," Derek Forbort said. "Jesus."
Arguably their most complete game under interim coach Willie Desjardins, the Kings got goals from three lines, plus Forbort's first score this season. Their five goals on goalie Marc-Andre Fleury were nearly double the total they scored on him in a first-round playoff loss in April.
"We talked about it before the game," Drew Doughty said on his 29th birthday. "They kicked us out. Let's get them back. It's not getting them back. It's not even close. But we won, so it's a start."
The bad blood from last season carried over and perhaps crossed the line when Vegas' Pierre-Edouard Bellemare caught Kyle Clifford with a shoulder to the head at mid-ice in the second period. Clifford left the game with an upper-body injury. He was seen walking out of the Kings' dressing room postgame in a suit with a bruise on his face.
"I heard it was pretty dirty," Doughty said. "I saw it full-time speed. I heard he got all head ...we have a history with this team, I guess, just because of me, so we'll see what happens."
Doughty was suspended for Game 2 of that series for an illegal hit to the head of William Carrier. Early last season, he stirred the pot when he said of expansion Vegas that "there's no way they are going to be a better team than us by the end of the season." Doughty's words seemed to factor into Saturday, too, because of his sharp criticisms of his team Thursday night.
Apparently his teammates listened.
Scherbak scored on his first shot as a King, on a shot through the legs of defenseman Nate Schmidt, inside the right post, to make it 1-1.
"[It's] definitely a weight off my shoulders and I definitely feel more comfortable," Scherbak said. "It's happy to see all the boys coming [over] and saying, 'Good job.' That's definitely an amazing sign."
Luff and Carter's goals happened after the struggling penalty-killing unit negated Nate Thompson's tripping minor. Carter caught Fleury moving too aggressively, and his shot banked in off Schmidt.
Luff completed a pinpoint passing play with Brendan Leipsic and Adrian Kempe on the power play. The rookie went to his knee to one-time Leipsic's feed and his celebration ensued.
"He's such a goofy kid, so it's hilarious to see what he does when he scores," Forbort said of Luff.
Forbort's shot found a way through an obstacle of bodies in the third period. Thompson got his second goal of the season late. Jonathan Quick put up 55 minutes of shutout hockey after an early goal by Oscar Lindberg. Eleven players made the scoresheet. None was named Anze Kopitar or Dustin Brown.
"Our young guys played well," Desjardins said. "That's always a good sign. Usually if we're going to win, it's always Kopitar and Brown and guys like that … it's nice to win with some young guys. That's something that we need to see more of."
Twitter: @curtiszupke
Get the latest on L.A.'s teams in the daily Sports Report newsletter.
You may occasionally receive promotional content from the Los Angeles Times.