What we learned from the Kings' 6-1 loss to Carolina Hurricanes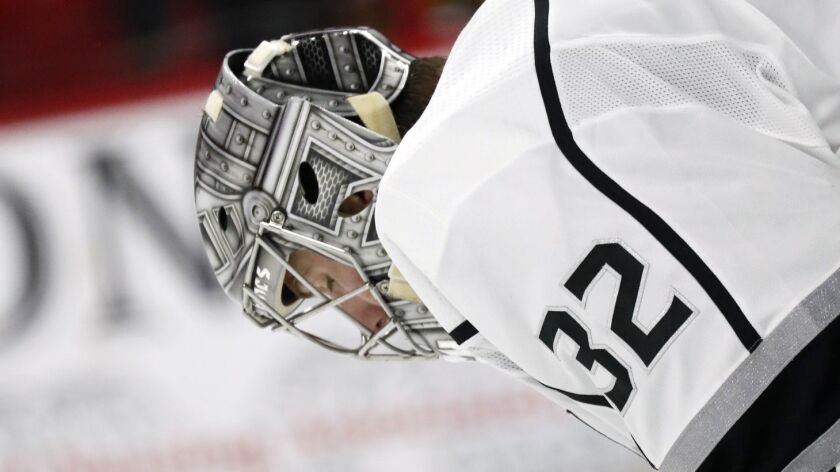 Reporting from RALEIGH, N.C. —
Given the lows that this Kings season continues to hit, it was inevitable that a truly embarrassing episode would unfold in public.
That arrived Tuesday night when Jonathan Quick confronted coach Willie Desjardins over his non-challenge for goalie interference on the Carolina Hurricanes' first goal at PNC Arena in Raleigh. The moment only lasted seconds, but it cemented the image of the Kings' season in everyone's minds.
There are 19 games remaining for the team to conjure that pride and character they've talked about so extensively. Now if they can only get through a game without yelling at each other like they did Tuesday, during a 6-1 loss that marked the team's third-longest losing streak (0-6-3) in franchise history
Here's what we learned:
The leaders aren't following their own advice. The Kings no longer have the excuse of the trade deadline hanging over their heads. They were fresh off a re-energized performance against the Tampa Bay Lightning the night before, so there was reason to believe they could compete with Carolina.
And yet they weren't the same after the Quick episode and couldn't avoid another 2-0 deficit, which escalated like wildfire. General manager Rob Blake called on the veterans to lead the way out of this, but, outside of their goaltenders, it's been a challenge with what those same veterans admit is simply a bad team.
Dustin Brown scored their only goal Tuesday and has been one of their few noticeable leaders lately. Anze Kopitar went point-less on the trip and was minus-3 on Tuesday. Ilya Kovalchuk played one shift in the third period in an apparent benching following his three giveaways.
The Kings were outscored, 18-6, in the four-game Southern trip. Brown on Monday reiterated that this was uncharted territory for his peers, and that's really the only explanation for the Kings descending into laughingstock status in the NHL.
"I touched on this a few weeks ago," Brown said. "There's a lot of guys that have never been in this situation. Unfortunately, I have. It's important for guys, from a selfish standpoint, from an individual standpoint, [to] make an impression."
The only impression made Tuesday was that of a beaten-down team too familiar with its place as the league's doormat.
"Tonight was pretty embarrassing," Derek Forbort said. "We've got to come out next game and play hard and definitely show that we have some character in this room, because that was pretty pathetic."
The goaltending plan is vague. Desjardins has leaned on Quick, even as the ship has sunk further. He's started Quick in 10 of the last 14 games, and one of the non-starts was when Quick was ill.
Is it time to give Quick a break? Desjardins has been vague on this point. Asked if he'd split the duty more between Quick and Jack Campbell, Desjardins said, "We'll look at the different options. He deserves a lot. He's put up so much for this team. We got to be better in front of him. We're just not good enough in front of him right now."
It's Justin Williams' world and we're just living in it. Williams was front and center throughout Tuesday in perhaps one of his last games against the Kings. Images of him and the three Stanley Cups he's won, one with Carolina and two with the Kings, were shown frequently, along with photos of Williams as a mite hockey player. There was also testimony from former teammates on Williams as a player and a person.
In television interviews, Drew Doughty called Williams a "smart, smart man." Brown said of Williams: "His general attitude about the game, and what he brings to a team is … really unique in today's game, and he always has a really good way of bringing humor to the room in tense moments."
Sign up for our daily sports newsletter »
Williams was seen sharing a laugh with a Kings staffer during pre-game warm-ups. He looks as happy taking part in Carolina's "Storm Surge" celebrations as he does in any other part of the game.
At 37, Williams is clearly in a good place with a Hurricanes team that has set its sights on the spring. His last trip to the Stanley Cup Final was five years ago, with the Kings. There's no more glaring an example of how far Williams and the Kings are from that glorious spring of 2014 than Tuesday night.
Twitter: @curtiszupke
---
Get the latest on L.A.'s teams in the daily Sports Report newsletter.
You may occasionally receive promotional content from the Los Angeles Times.