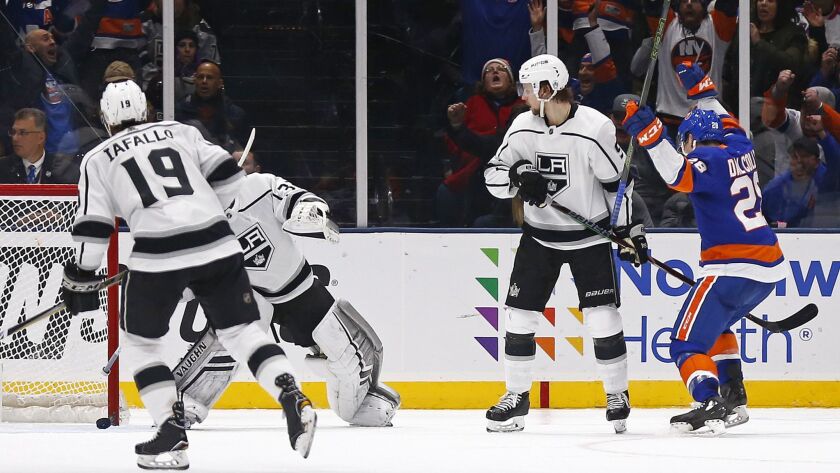 Reporting from UNIONDALE, N.Y. —
For years, the sight of Nassau Coliseum sent shivers that still reverberate through opposing players.
The New York Islanders' dynasty teams of the early 1980s didn't just beat but intimidated visitors. Black-and-white photos from those legendary days adorn parts of the modern-era Coliseum, and the banners still hang proudly in the 47-year-old venue.
The Kings didn't face a dynasty in a rare appearance there Saturday, but a first-place Metropolitan Division squad with plans for an extended spring was challenge enough. Shrugging off aura, an ailing captain and a defense void of Jake Muzzin, they gamely matched the Islanders for much of the night, only to flub the ending in a 4-2 loss.
"We played probably good for 55 minutes, what-ever it was," Dustin Brown said. "We're not a good enough team to be able to play 55 minutes and win games. It's got to be a full 60."
Goals by an ill Anze Kopitar and Ilya Kovalchuk gave the Kings a 1-1 tie and 2-1 lead, respectively, before the Islanders' Mathew Barzal and Michael Dal Colle scored with less than seven minutes remaining.
In dropping the first of six games on the East Coast, the Kings also dropped two good storylines: Kopitar's rally and a surprisingly decent defense in their first game without the traded Muzzin.
Kopitar was questionable for the game because he became ill after Friday's practice. He said he didn't get much sleep that night and didn't go to the game-day skate.
Coach Willie Desjardins had a contingency plan of Alex Iafallo at center with Brown and Kyle Clifford on the top line, but Kopitar played and got the Kings' first goal on a nicely executed rush play triggered by Brown's soft pass out of the Kings' end. Kopitar completed a give-and-go with Iafallo by tapping in Iafallo's return pass.
Kopitar said he ran on some adrenaline but "it's one of those [things] where you kind of pick your poison sometimes. You don't go head [first] through the wall if you don't have to. But, all in all, I felt fine."
Kovalchuk, moved to the top line in place of Iafallo in the third period, had Brown's shot go in off his skate at 13:15. Barzal responded 31 seconds later with a one-touch strike that made it through Jonathan Quick. Four minutes later, Dal Colle redirected a shot for the winner.
Both goals happened on defensive breakdowns, but the Kings adjusted with increased roles for Alec Martinez and Oscar Fantenberg to make up for Muzzin.
Martinez swept the puck out of harm's way twice in the third period. The Kings blocked 14 shots and calmed down after allowing the first goal to Casey Cizikas.
"I was pleased with our game until the last five minutes," Martinez said. "It's cliché, but you've got play 60 minutes in this league if you want to win. We didn't do that. That's what happens when you don't do that."
Cizikas continued his penchant as a Kings nemesis with his fifth goal in 12 games against them. He made a drop pass for a shot up top and was in position to kick the puck up to his stick and lift it past a sprawled Quick.
The play almost gave credence to a telling remark Muzzin made to reporters after his Toronto Maple Leafs debut Friday, following his trade from the Kings.
"It's going to be an adjustment for me, because this team is a faster team," Muzzin said.
But Saturday was more about finishing than speed.
"One-[goal] game with six-and-half minutes left," Kopitar said. "You've got to find a way to lock it down and win the game. That's just the bottom line."
Sign up for our daily sports newsletter »
Twitter: @curtiszupke
---