Ilya Kovalchuk is ready to bring some star power to the Kings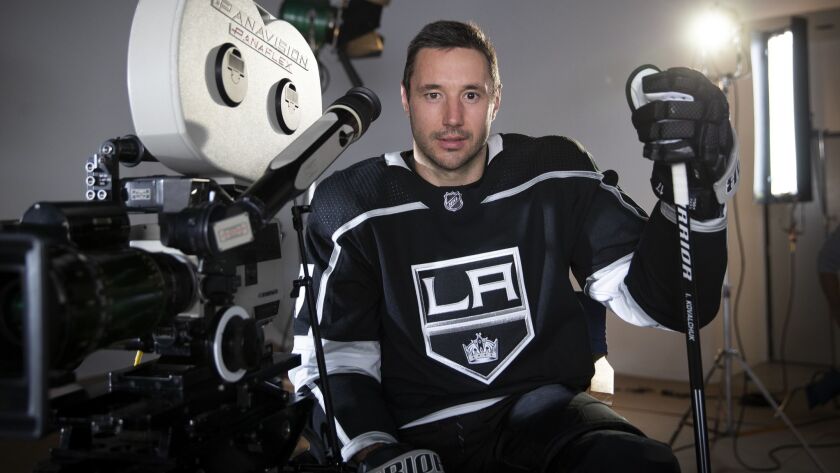 He was in full uniform, shoulder and shin pads, helmet and stick, as he waited for the signal to make his way to the bright lights.
Ilya Kovalchuk would soon walk down a hallway in his skates, ready for action, like so many times in his career. Only this time a nearby voice from a staffer solidified that this was far from a hockey rink.
"Ilya's in makeup," the staffer said.
Kovalchuk was about to shoot a video, in a nondescript studio in Torrance. Without giving away too much, the commercial is a fun, Hollywood-themed take on the newest star attraction for the Kings, whose promotional work in his previous NHL stops typically didn't have a comedic slant.
"In Atlanta we did something, but in [New] Jersey, they were more serious," Kovalchuk said. "I love [doing this]. We're playing for our fans, and they want to see us in different situations."
Kovalchuk is ready for his star turn as the Kings' major offseason acquisition, a veteran expected to address a franchise need as an elite finisher on the left side. He's signed to a three-year, $18.75-million contract, settled and delivered as the Kings begin training camp Friday.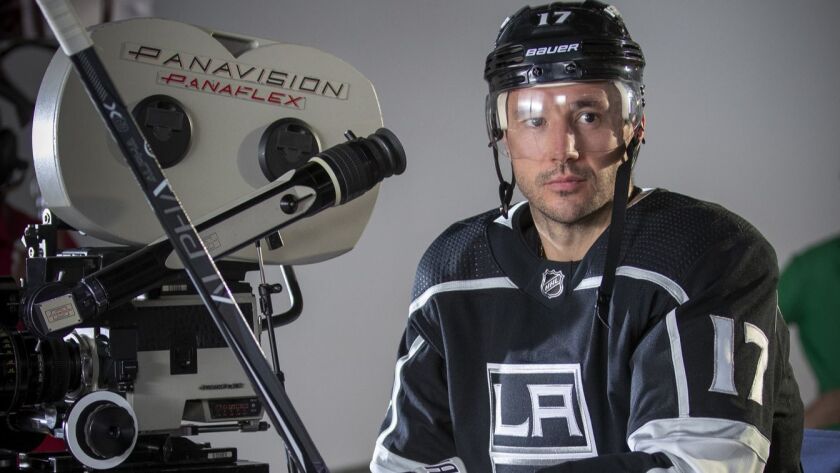 Kovalchuk found a home in Beverly Hills with his wife, Nicole, and four children, ages 3 to 12, who are enrolled in school. His commute to El Segundo for practice isn't bad, especially compared to his native Russia.
"So far I wasn't late," Kovalchuk said. "I'm used to Moscow traffic. It's nothing."
No one recognized him at the airport when he arrived in Los Angeles on Sunday. But Kings fans would like his face to be ubiquitous, preferably in goal-scoring celebrations and wins.
How much Kovalchuk, 35, has left is one of the tantalizing questions of the upcoming NHL season. He's returning from a five-year break from the NHL during which he played in Russia. Kings general manager Rob Blake and President Luc Robitaille said 25-30 goals is the realistic expectation, but the prevailing motive with Kovalchuk doesn't have a number attached to it.
"He really wants to win," Robitaille said. "That's very important. He has an opportunity to be one of the few guys in sports that can be in the triple gold club [having won] the world championships, Olympics [gold] and a Stanley Cup. He's hungry to have an opportunity. The hole he's going to fill, he can really help us win. But at the same time, he can be himself and play his game."
The Kings retain eight players from both their Cup-winning teams but have won one playoff game since 2014. Kovalchuk sees the Cup pedigree, and it got his attention when countryman Alex Ovechkin won his first Cup in June.
The two are longtime friends and have similar career numbers, but Ovechkin has not stepped away from the NHL for an extended period like Kovalchuk. The rare comparable to Kovalchuk is Alexander Radulov, a 32-year-old winger for the Dallas Stars who returned to the NHL from a four-year break in Russia and has scored 18 and 27 goals the last two seasons.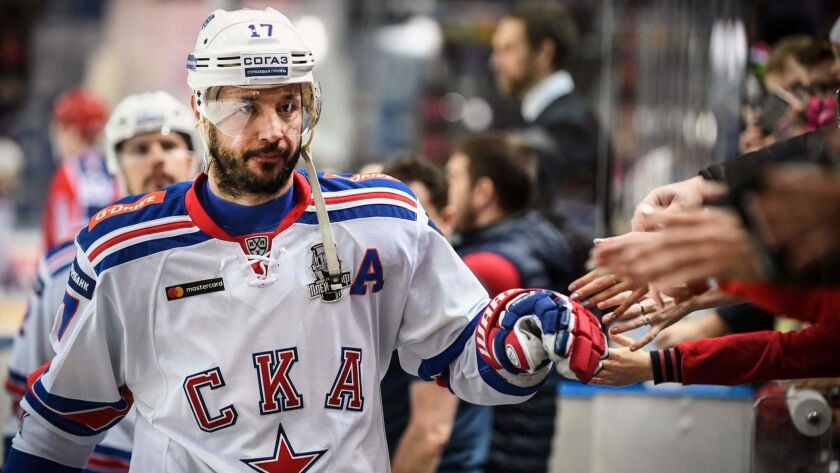 Kovalchuk spent the last six weeks training with Radulov and Evgeni Malkin of the Pittsburgh Penguins, and said Radulov told him, "You'll be in good shape" for his second act in the NHL.
"I think we all pushed each other, and when you train with those kinds of guys, [it helps because] they're a little younger."
Kovalchuk's regimen hasn't changed. It involves a lot of running, lifting and strength work but he did start his skating program earlier "because they say the NHL is getting faster."
But for all the talk about his legs, it's Kovalchuk's hands that are crucial for the Kings. A right-handed shot who plays the left side, Kovalchuk was one of the league's top scorers in his prime. He ranks 18th all-time at 0.51 goals per game, and his career shooting percentage of 14.1% tops Ovechkin (12.4%).
Blake is tight against the salary cap but has begun to rebuild the Kings' depth and has no reservations about putting all their eggs in the Kovalchuk basket.
"The scoring on wings was something we wanted to target, and we feel Kovalchuk can fill that," Blake said.
Kovalchuk began skating informally with the Kings this week, in his No. 17 jersey. It was formerly worn by Jonny Brodzinski, but Brodzinski switched back to No. 76 when Kovalchuk asked him for 17.
"I'll do something nice for him," Kovalchuk said. "The number is always big for any athlete. It means something."
Kovalchuk looked sharp in No. 17 on this day, in between repeated takes and dabs of makeup. At one point during the shoot, the blaring of a freight train's horn could be heard in the distance, not unlike the goal-scoring horn heard in Staples Center.
Twitter: @curtiszupke
---
Get the latest on L.A.'s teams in the daily Sports Report newsletter.
You may occasionally receive promotional content from the Los Angeles Times.