What we learned from the Kings' 5-2 victory over the Penguins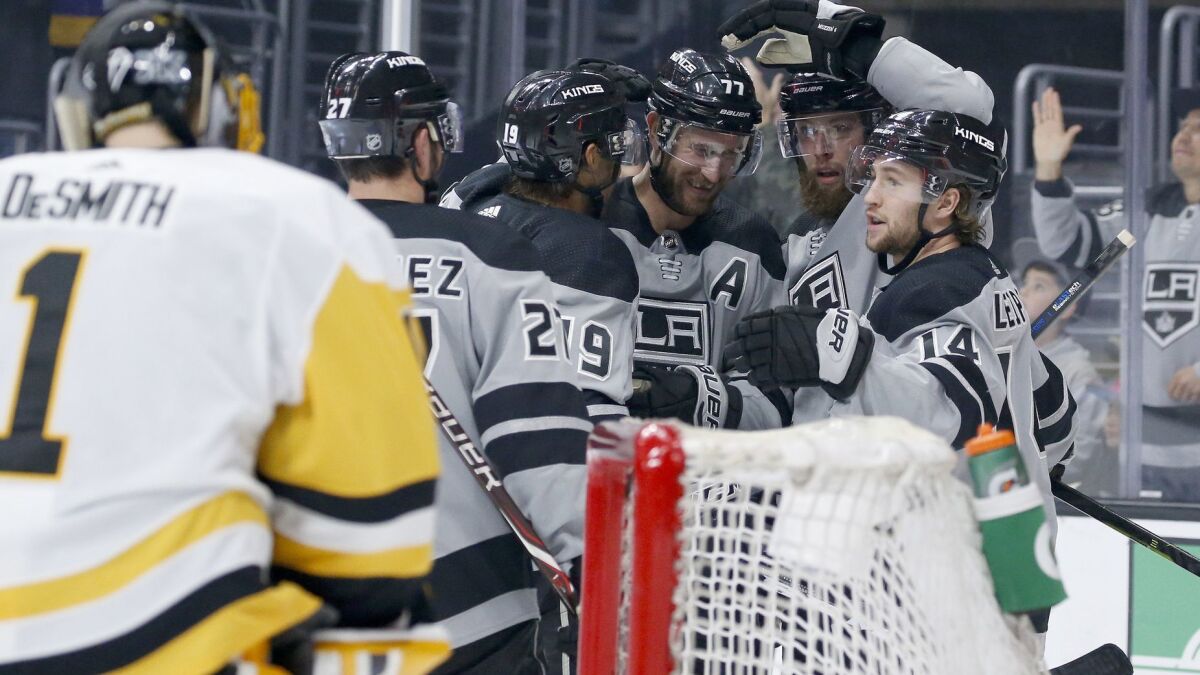 It's not very often that a team gets well against the Pittsburgh Penguins.
The winners of two of the last three Stanley Cups do not fit that prescription, even on the second of back-to-back games, but the Kings erased the embarrassment of their previous loss with a 5-2 win at Staples Center on Saturday.
They scored five goals and survived a third-period attack by Pittsburgh to gain two points and a morale boost before a trip.
Here's what we learned:
Jake Muzzin does the little things
The defenseman has arguably been their best blue-liner this season, and Saturday was representative of why. He's adept at keeping the puck in the zone, and he did so by a less than an inch on Brendan Leipsic's goal, which was challenged by Pittsburgh for offside.
Muzzin also made a big hit on Dominik Simon early in the game. He finished with two assists, a plus-3 rating with five blocked shots and two giveaways in 20 minutes and 8 seconds of ice time.
Ilya Kovalchuk is doing the right things
He hasn't scored in 10 games, not since his two-goal game against the San Jose Sharks on Dec. 22, but he's been noticeable and he made a deft assist on Brendan Leipsic's goal with a nuanced touch pass on Muzzin's shot.
Kovalchuk had a glorious scoring chance late with a toe-drag move around a Penguin, but lost the puck. No longer in coach Willie Desjardins' doghouse, Kovalchuk is able to at least generate more chances.
He played 20 minutes and 53 seconds, the third most this season.
More Snoop Dogg, please
The rapper was everywhere. He was the guest deejay for warmups, made the ceremonial puck drop and appeared on the television broadcast with Alex Faust and Jim Fox.
"Somebody got to be willing to take a shot!" Snoop Dogg said during a Kings power play. "It can't be all passes. Somebody got to want that money! Who want the money?"
Later, Snoop Dogg implored Dion Phaneuf to go after the Penguins during a scrum that broke out from Matt Luff's scrap with Marcus Pettersson. Fox explained how the referees handle those situations in a priceless teaching moment.
Snoop Dogg summed up how tough hockey players are during his on-air segment when he said, "You got to be a hundred percent man to play this game."
Twitter: @curtiszupke
---
Get the latest on L.A.'s teams in the daily Sports Report newsletter.
You may occasionally receive promotional content from the Los Angeles Times.