Kings' overtime win over Nashville pushes win streak to seven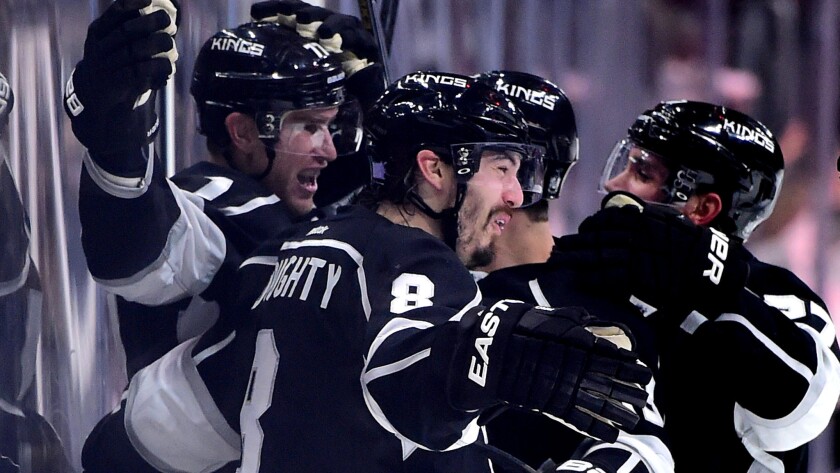 Drew Doughty, the defenseman and truth teller.
"We don't know what to do yet," he said.
The irrepressible one was talking about the novelty and almost blank tablet of three-on-three overtime hockey. They've been managing to handle the chaos on the fly, however, beating Nashville when Kings center Jeff Carter scored on a breakaway, giving them a 4-3 overtime win over the Predators on Saturday at Staples Center.
Carter's goal with 18 seconds remaining in overtime extended the Kings' winning streak to seven games, the sixth-longest run in franchise history. Tyler Toffoli scored twice, his team-leading eighth and ninth goals, and center Andy Andreoff recorded his first of the season.
In overtime, Doughty made a stellar play to set the events in motion, getting his stick on Predator center Mike Fisher's pass to deflect it over to the left boards. Pursuing the puck, Doughty flicked it ahead to Carter who patiently outwaited goalie Pekka Rinne and lofted the puck over him.
"I was turning and going," said Carter, who scored his fourth of the season. "That was my first thought. Drew's a smart player. He know it's a three-on-two. He knows someone's back deep. It was a good play by him to get right up."
It's hard to argue with Carter's efficiency. One shot in the game and one goal.
Said Doughty: "Really, he had whole ice in front of him. The slowest guy on our team I still think would have got that breakaway.
"He made the read to stay up there, perfect read. And if someone can break it up, get it up to him, it's going to happen."
Doughty had six shots on goal, was a plus-two and played his usual big minutes, a game-high 29 minutes 10 seconds. This was a byproduct of overtime and an upper-body injury to his teammate, defenseman Christian Ehrhoff.
The Kings were forced to go with five defensemen after Ehrhoff was hit hard behind the net with 1:02 remaining in the second period. Nashville's Mike Ribeiro received a boarding penalty on the play. Sutter said he thought Ehrhoff was fine but declined to elaborate.
Ehrhoff set up Toffoli's first goal, on the power play, making it 1-0 at 4:28 of the second period. Toffoli's second goal came at 7:06 of the third period, tying the score, 2-2, and Andreoff put the Kings ahead a little more than three minutes later.
Nashville defenseman Ryan Ellis tied it at 3-3 with his shot from the top of the right circle at 13:56. Of note, this was the first game the Kings have won after trailing heading into the third period since Jan. 1, at Vancouver.
They are 7-3 and the Kings' Jonathan Quick, who faced 34 shots, has been in goal for six of the wins. Before Saturday, Quick had just two career wins against the Predators.
The Kings are still trying to figure out the unruly nature of overtime. Carter called it "never-racking." Considering the Kings were 2-8 in the shootout last season, their modus operandi this season should be: ABS, anything but shootout.
"It opens it up for sure," Carter said. "The league got what they were looking for in trying to reduce the number of shootouts and whatnot. It's been exciting. You can see the fans are into it."
Said Sutter: "I do like it. Whatever you can do to not get to a shootout is a good idea."
Still, he handed out his usual heavy dose of sarcasm after a line of questioning about adjusting to overtime and tactical approaches going forward.
"We're geniuses at it because we're 2-0," Sutter said. "We know everything about it. We've got it figured out."
The Kings' 2-0 record in overtime includes an Oct. 16 victory at home against Minnesota. That game started the current winning streak. Last season, the Kings had an eight-game winning streak.
Twitter: @reallisa
---
Get the latest on L.A.'s teams in the daily Sports Report newsletter.
You may occasionally receive promotional content from the Los Angeles Times.