Kings need more from their roster as season begins with injuries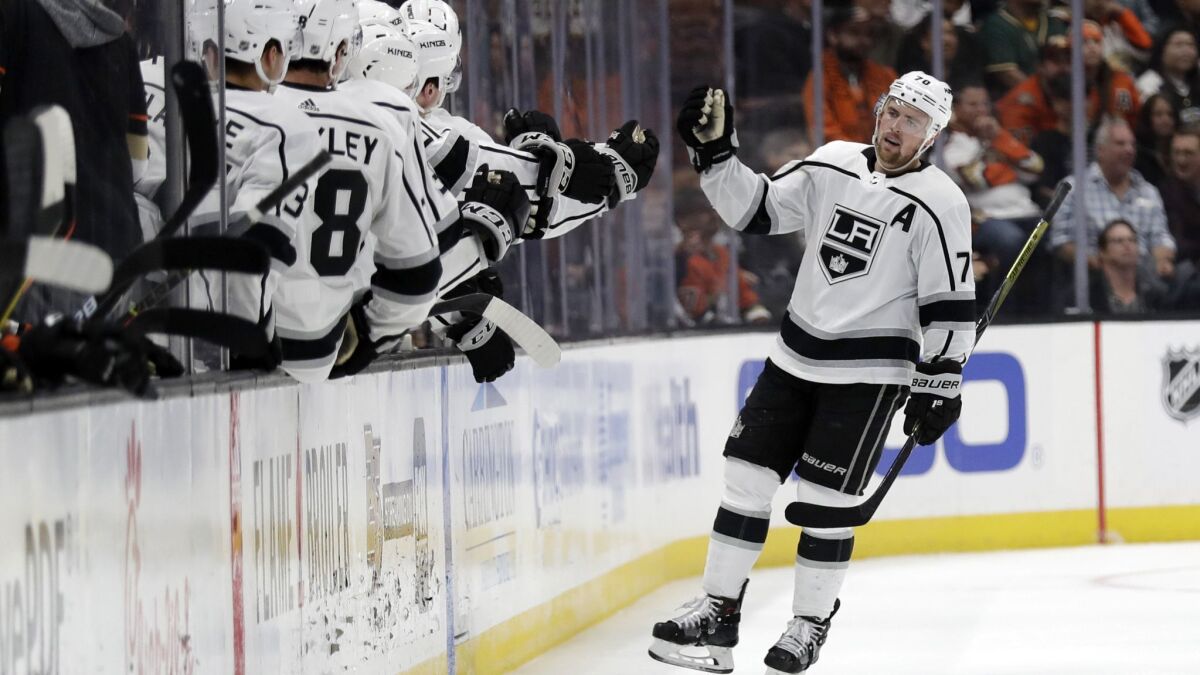 Their preseason featured more red flags than red lights.
The Kings went scoreless in their final two games, a painfully familiar statistic, and they looked out of sync at times. They lost three forwards to injury, including second-leading scorer Dustin Brown, and their playmaker of the future, Gabriel Vilardi, still hasn't practiced with the team.
No doubt, the Kings will need to rely on their depth players even more as a banged-up start to the 2018-19 season gets going Friday against San Jose at Staples Center.
If there's a silver lining to the black-and-blue injuries, it's that some of those players are ready for more responsibility as the Kings continue the search for scoring. Not only do they need Tanner Pearson and Tyler Toffoli to have strong seasons, but they also look for more from Adrian Kempe, Alex Iafallo and Michael Amadio.
"It's guys stepping up into bigger roles," Brown said. "That's how good teams stay good, is they have young guys fill roles and become part of a team and aren't looked upon as younger guys anymore.
"If we're going to be the team we want to be ... you know what you're going to get from a lot of guys, but those younger guys need to step into their roles and take a hold of it."
Vilardi was expected to inject some jump into the lineup but remains week to week with a back injury that has clouded his future and prevented him from being evaluated in practice or game situations. He skated on his own in pads Tuesday and will start the season as an injured non-roster player.
Coupled with the other injuries, it opens doors.
"Someone's going to get an opportunity to play, or someone's going to get an opportunity to play more and assume that responsibility because Brownie plays in all situations," coach John Stevens said. "It's a good opportunity for other players to get more ice time or get more responsibility or just get in the lineup."
General manager Rob Blake said that Iafallo and Kempe are ready to help offset another early injury bug following their expanded roles last season.
"They're past that stage of depth," Blake said. "Those guys are NHL players … Amadio's put himself into that position, too."
In lieu of Vilardi, Austin Wagner and Jaret Anderson-Dolan made the final cut Tuesday and could provide that young spark. Blake said Anderson-Dolan is still being evaluated "but he's also earned" a roster spot.
"He's played well enough," Blake said. "I thought his best game was his last game, both him and Wagner. We weren't good against Anaheim [last Saturday]. Those two guys were good."
Stevens welcomes any player, young or old, who fits into the play-fast ethos he implemented last season, and he's been nothing but meticulous in his pursuit of scoring. During the summer he met with such college coaches as Jerry Keefe of Northeastern and Scott Sandelin of Minnesota-Duluth to brainstorm.
"[It's about] what they believe in, philosophy, how they look to create offense," Stevens said. "Some of it was on power play, where they see the game going, what changes have they've seen. I think you can learn a lot in those settings."
Stevens helped boost the team's scoring to nearly three goals a game in his first year and got 189 points from his defensemen, up from 155 the previous season. But Stevens is under some scrutiny after the Kings were shut out twice and scored three goals in a sweep by Vegas in the first round of the Stanley Cup playoffs.
"We got cold," captain Anze Kopitar said. "Scoring three goals in four games, that's certainly not going to do it. You think of giving up seven goals, it's really disappointing that we couldn't muster a few more to at least make it close. Come playoff time, the depth is obviously huge."
The veterans will carve the path as the Kings try to keep pace in an improved Pacific Division. The X-factor is Ilya Kovalchuk, a 35-year-old star reviving his career in the new NHL. One NHL Network analyst thinks Kovalchuk still can crank it like he did a decade ago and help in the right situations.
"He shoots rockets," Kevin Weekes, a former New Jersey Devils goalie, wrote in an email. "I think if he's willing to play off the puck sometimes at even strength and [the] power play, he may [be] even more effective."
Because of the injuries, the Kings could roll out a top line of Kopitar, Kovalchuk and Iafallo on Friday. It would be symbolic of their team makeup: an MVP candidate next to a promising youngster, beside a former dynamic scorer in his third act. Meanwhile, the clock keeps ticking on 33-year-olds Brown, Jeff Carter Jonathan Quick, 32, Kopitar, 31, and Drew Doughty, 28.
"Those are still really good playing years," Kopitar said. "We still have a few years in front of us where everybody's locked in now. We feel very comfortable in the position that we're in right now, team-wise and core-wise and personnel-wise."
Etc.
Brown (broken finger) underwent a procedure Monday, Blake said, and was placed on injured reserve, along with Jonny Brodzinski (shoulder). … Emerson Etem's tryout contract with the Ontario Reign is 25 games. … Anderson-Dolan changed his jersey from No. 50 to No. 28.
Twitter: @curtiszupke
Get the latest on L.A.'s teams in the daily Sports Report newsletter.
You may occasionally receive promotional content from the Los Angeles Times.