What we learned in the Kings' 4-1 victory at Detroit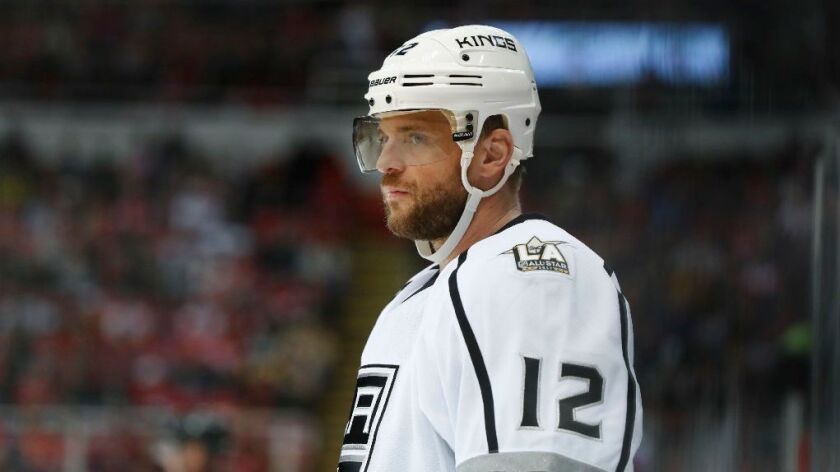 What we learned from the Kings' 4-1 victory at Detroit on Thursday
Darryl Sutter's doghouse might have an escape hatch
Jeff Zatkoff fell — no, plunged — far from the good graces of the Kings' coach when Zatkoff pulled himself from a game at Ottawa on Nov. 11. He was classified as injured for three games but then simply sat for a while and watched Peter Budaj carry the goaltending load. He didn't appear again until Dec. 1 at Arizona. Zatkoff lost to Carolina on Dec. 8 and played part of the second period of the Kings' 6-3 loss at Buffalo on Tuesday before getting the start in Detroit, a chance he appreciated because he was born and grew up in the area. He didn't have a lot of work in the team's 4-1 victory but Sutter noted that the Kings "got a save when we needed one." For Sutter, that's practically gushing.
Team meetings sometimes work
Players called a meeting after the loss at Buffalo because they were upset about how badly they had started this road odyssey, in which they will play seven straight road games before Christmas and two more immediately afterward. Apparently, their venting hit home, as did reminders to each other about the impact this trip could have on their playoff hopes.
"We talked about the start of this trip being big and important and the Buffalo game was not nearly as close as we needed to be, effort-wise, you name it," center Anze Kopitar said. "Coming in [Thursday], it was definitely nice to get a win."
But their work, like this trip, continues. Next up are the defending Stanley Cup champion Pittsburgh Penguins. "We feel a little better, but it's one game," said right wing Tyler Toffoli, who ended a 10-game goal drought by scoring twice and adding an assist. "We've got to refocus and we've got a really good team [Friday] in Pittsburgh. And we know what they have to offer, so we've got to be ready to go and ready for the test."
Drew Doughty agreed that they have no time to become complacent and that they can't let up. "The guys played really well from start to finish," he said before the Kings boarded their charter flight to Pittsburgh. "It's really impressive that third period, not holding back and getting a couple of goals to kind of put it away. We're really happy but we've got to refocus and let this one go already because we play [Friday]."
Time marches on
Joe Louis Arena will be history soon, replaced by a gleaming, new downtown arena that will house the Red Wings and the NBA Pistons. But it appears that the Red Wings' glory days already are ancient history. Their 25-season playoff streak is seriously on the line. It seemed to be in jeopardy the last few seasons but a combination of muscle memory and an infusion of youth got them to the playoffs each of the last three seasons, though they lost in the first round. Through Thursday's games they ranked 29th in scoring, with an average of 2.19 per game, and 16th in goals against per game, at 2.74. They've had many great players over the years but the pipeline seems to have shut down.
The Joe had its charms
It has grown dingy and lacks the amenities fans expect in new arenas, but Joe Louis Arena has an authentic and gritty feel that's missing in many of the newer NHL arenas. Most of those buildings lack character and could be almost anywhere in North America; the Joe, which opened in 1979, was purely Detroit and once was a forbidding place for visiting teams. I won't miss the press box, with its high stools and tables and inadequate restroom facilities, but I'll miss the way that avid Red Wings fans could rock the joint, and the way Igor Larionov, Steve Yzerman and Nick Lidstrom commanded the ice there.
Follow Helene Elliott on Twitter @helenenothelen
---
Get the latest on L.A.'s teams in the daily Sports Report newsletter.
You may occasionally receive promotional content from the Los Angeles Times.