Kings' Tanner Pearson finally sees his hard work pay dividends
The number has hung above Tanner Pearson's head in different ways.
He scored 24 goals last season, a career high and the third straight season he increased his total for the Kings. It set the bar for his production and broached his potential as a 30-goal scorer like linemate Tyler Toffoli.
But Pearson has found goals harder to come by this season despite a lot of hard work and unfortunate bounces led to inevitable frustration.
"For sure, when you have expectations for yourself and you don't exceed those, you just kind of try and stick with it and not let it bug you too much," Pearson said. "When you're in a slump, you kind of just try to get back to simple things like getting to the net. You know one, eventually, is probably going to go in. Just get it there."
Pearson finally got tangible results Thursday for his strong play around the net with his first goal since the All-Star break, which ended a 15-game scoreless streak. That gave him 11 goals in 65 games, well off a 24-goal clip but not reflective of the work he's done as a 6-foot-1 traffic cone in front of opposing goalies.
It cannot be measured in any statistic, but Pearson's obstructive presence has been noticeable the last few weeks, especially on the power play, where he's assumed the role previously occupied by Trevor Lewis. Pearson has combined with Dustin Brown as the most effective Kings players near the crease.
"We look at net front as a real key to our hockey team," Kings coach John Stevens said. "It's a starting point for our offensive game. I think Tanner's one guy that's really embraced that role. I think he understands how important it is. I think Brownie's been a good mentor for him in that."
It's easy to surmise that Pearson's dip in scoring is related to the absence of Jeff Carter for 55 games. But Pearson, who signed a four-year contract extension last May, has been bitten by near misses and some struck goal posts. He was previously centered by Adrian Kempe, who, like Carter, attracts attention with speed down center ice.
"We created a lot of chances but we didn't really score as much as we wanted to," Kempe said. "I think you go back to playing hard and staying around the area in front of the net. You're going to score. Maybe he hasn't been scoring as many goals as he wanted, but he's been helping the team."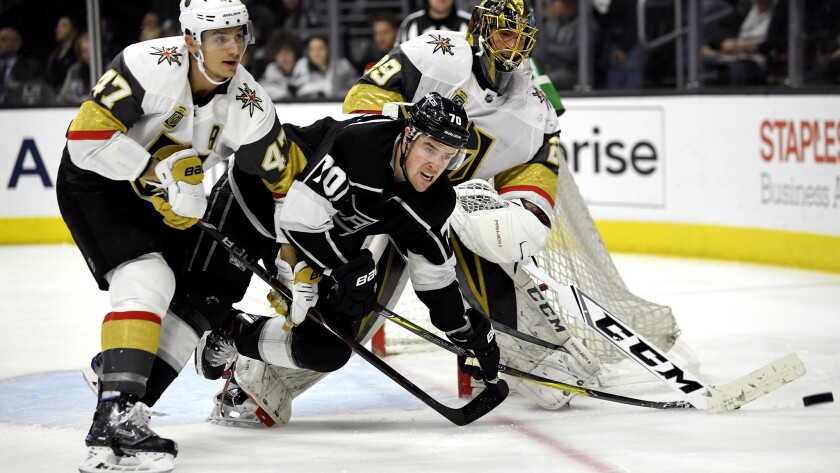 Pearson still has 17 games to up his goal total, plus Carter is back as his center.
"In the National Hockey League, you can't expect to score 25 goals every year," Pearson said. "It's nice to [do that], but my game comes from work. When I can have a bit of urgency in my game, it benefits me. I've got to learn it that way."
Lewis practicing
Lewis practiced on a line Friday and took some contact as he works his way back from an upper-body injury. He is believed to be a week or two away but said there is no timetable yet.
"We haven't really talked about that yet," Lewis said. "It's kind of go day-by-day and see how it reacts and go from there."
Lewis was hit into the boards by Jared McCann of the Florida Panthers on Feb.9. General manager Rob Blake has said it is not a concussion.
UP NEXT
VS. CHICAGO
When: 1 p.m., Saturday
On the air: TV: FS West; Radio: 790
Update: Chicago lost its seventh straight road game Thursday. Forward Matthew Highmore became the fifth player to make his NHL debut this season for the Blackhawks.
Twitter: @curtiszupke
---
Get the latest on L.A.'s teams in the daily Sports Report newsletter.
You may occasionally receive promotional content from the Los Angeles Times.