Kings coach Willie Desjardins has good memories of his time in Vancouver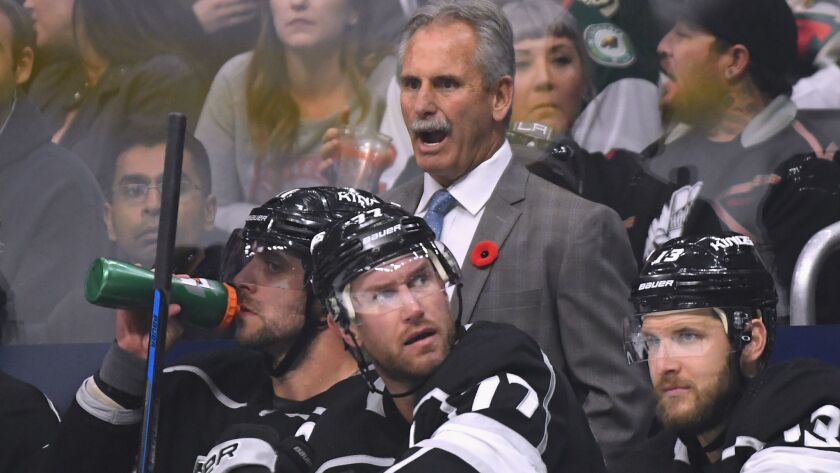 Reporting from VANCOUVER, Canada —
A gorgeous fall morning welcomed Willie Desjardins when he made the ride to Rogers Arena. The sun came through the clouds and shined on the wet streets. A part of Desjardins could appreciate being back in familiar surroundings.
"It brings back lots of good memories," Desjardins said. "I enjoyed my time in 'Van,' and I'm grateful for the opportunity here."
Desjardins makes his return to Vancouver as interim Kings coach Tuesday. After coaching Vancouver to the playoffs his first season, he struggled with an older team that was also trying to mix in younger players, and it resulted in two straight non-playoff seasons.
Fired in 2017, Desjardins coached Canada's Olympic team, then waited for the phone to ring. Desjardins said that was difficult following his Canucks tenure.
"I think Vancouver had its challenges," Desjardins said. "I never left here thinking that was the reason the team didn't do well. I never felt that. They had to make a move, and I was the one they decided to make. That's the way it goes in our business. It's never that I felt I didn't do a good job. When I left, I thought I'd get a chance [elsewhere]."
Desjardins' time in Vancouver was marked by curious lineup decisions, specifically a tendency to play bottom-six role players. That's carried over to the Kings and his decision to put Ilya Kovalchuk on the fourth line. Kovalchuk skated there again Tuesday morning, with Sheldon Rempal and Nate Thompson.
Desjardins said, "I think it gives us the best chance down the road," but also said it's a difficult decision to make with a 422-goal scorer.
"When you've always been a top-two line guy, for sure, all of a sudden somebody puts you on the fourth line, it's going to be hard for him to find his game," Desjardins said. "So it's not fair to him in some ways, either. I'm making him play to his weaknesses. At the same time, I've got to look after the team and I've got to find where he fits in those lines."
The Kings haven't figured it out yet. They are 4-6 under Desjardins and 3-3 since they traded Tanner Pearson to the Pittsburgh Penguins for Carl Hagelin, who will be out four to six weeks with a sprained knee. They will try to avenge a loss last Saturday to Vancouver, which ended the Canucks' eight-game losing streak.
Vancouver coach Travis Green wished Desjardins well.
"I consider him a good friend of mine," Green said. "I'm happy that he's back and getting another chance."
Quick activated
The Kings have activated goalie Jonathan Quick, general Manager Rob Blake announced today. Quick is returning from a torn meniscus in his knee. He participated in the morning skate opposite Cal Petersen . Peter Budaj was not on the ice and did not have a locker in the dressing room. He was assigned to the Ontario Reign.
"I feel healthy out there," Quick said. "I'm happy to be practicing with these guys full-time and get the opportunity to come on the road. It's been a while since I've been able to do that with these guys."
Vilardi in Ontario
Gabriel Vilardi skated with the Ontario Reign in the first step toward a conditioning assignment, general manager Rob Blake said.
Vilardi has been out since the summer with a back injury.
Twitter: @curtiszupke
---
Get the latest on L.A.'s teams in the daily Sports Report newsletter.
You may occasionally receive promotional content from the Los Angeles Times.